We are committed to bringing you the best quality at the lowest price in the most convenient manner.
For immediate response or urgent orders please call us on Ph 07 3277 2802 - 8am to 4pm Monday to Friday.
Your day begins and ends with your boat trailer performing at its best; some of our options and accessories can make that day just a little more easier and special.
Convenient tool for docking and mooring and aids in the release and retrieval of mooring lines from around cleats.
Part number 0071 features a soft red rubber pushing tip to minimize the scratching of pontoons or other vessels. The Manson Boss punches above its weight and takes the new generation anchor into an entirely new league. After months of testing in Australia to the Australian Standards for portable fuel containers, MW has enjoyed a reso..
We reported back in July about our intrepid maritime travellers Jack and Jude, setting out to circumnavigate Au.. Snapper fishing kayak with paddle , Life Jacket , 5 rod holders,fitted Garmin echo 300C fish finder and battery.
The StingRay™ Hydrofoil Junior Stabiliser applies the laws of physics to provide the extra performance small boats need.
I ran Armstrong Siddeleys from 1947, the first being a 1929 15HP side-valve and later a Whitley was used to tow a trailer for my business.
As far back as the late 1940s and early 1950s, a number of Armstrong Siddeley owners were interested in meeting other owners, long before the Branch was formed, my long-term friendship with Cliff Grice being just one example.
In the June 1977 edition of The Southern Sphinx, Penn Bradly enthusiastically announced the inaugural meeting of the Queensland Branch.
Events were held at Toowoomba, Merengaden, Moogerah Dam, Buderim, Coolangatta, Hinze Dam, Brisbane, Bribie Island, Somerset Dam, Lake Perserverance, Tenterfield, Maleny, Ivanhoe Dam, Pomona, Ipswich, Southport, Mt Tambourine, Toogoolawah, Fernvale and a safari at Miles. Distances of over 200 kilometers were often travelled by members to attend meetings and outings with as many as twelve cars present at some events. Paul Caro, David Liffin and Geoff Hillion organised a significant event called Motoring of Yesteryear - a gathering of old cars that was so successful that the event continued. The Queensland Branch has hosted four Federal Rallies, two at Toowoomba (1982) and 1992, one at Stanthorpe and one at Cherrabah - the first Federal Rally where all meals and accommodation were catered for. The Branch has been in semi-recession for a few years now with only a sprinkling of activities. If you have any comments or suggestions, or would like some free advice on your next trailer project, please feel free to contact us. We are a platinum Club Marine dealer and can offer special insurance rates & Aust wide extended Warranty.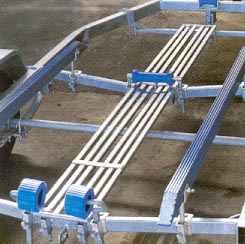 When the Grices moved to the Toowoomba District they made contact with a number of other Armstrong Siddeley owners based in that area. The meeting organisers were Cliff Grice and Simon Gilliland and the venue was Athol and Coral Duncan's home in Brisbane.
George Baden-Powell, Kev Bartenstein, Ken Skilton, Bill Stephens, Clyde Newman and Geoff Clarke were amongst the 23 people present.
With several new members (although geographically scattered) and a new Chairman, Wayne Lander, we are working hard to revitlise the Branch.
In the early 1960s a rusty Star Sapphire could occasionally be seen parked near the river at Kangaroo Point. The event was moved to Anzac Park in Towong for a few years and then to Mt Gravatt showground where attendances reached 600 cars. The owner, Bill Stephens was the captain of a ship that travelled between Brisbane and New Guinea (now Papua New Guinea) and sometimes carried the Star Sapphire on the boat.
Before long there were members from the South Coast, Beaudesert, Brisbane, the North Coast, Toogoolawa, Ipswich and Toowoomba.