Hi, I have at last had a play with my new Wayland folding Kayak, and a closer look at the sailing kit that came with it.
The lee board looks so tiny on these canoe designs, but i guess not much narrower than a Topper dinghy.
Hi STU9000, Sorry, I have not even had it fitted onto my Kayak yet, like I said first time out of the box, so have no idea about sailing at all, not a jot,so have some new skills to learn. Hi stu9000, I have not had the kit fitted to anything as yet,like I said,first time out of the box and I could not wait to share it with SOTP members. Hi Ian, At the moment I only have the pics I included in the thread, when I next have the Wayland setup I will do some more closeups of the sail setup, for now, a bit I could reach easily in my garage is this,the mast mount for the Wayland, it fits on the front end of the spryskirt,yours on the Klepper is the alloy casting with the hole in it,the mast pole just sits in this. I'll be interested to see how you go about attaching the sailkit to your open canoe when you eventually tackle that.
Looking at your pictures, it looks like there might be enough room in front of the front paddler for our dog.
But who hasn't been paddling on a windy day and thought about turning it to one's advantage! PS Wayland's autumn sale is on again, but their prices have certainly increased significantly--or is it just the worthless pound? Mast - The 10' Sail spars are jointed and shock cord connected to break down to three pieces.
The rig was very responsive in light airs; made forward progress with almost undetectable wind.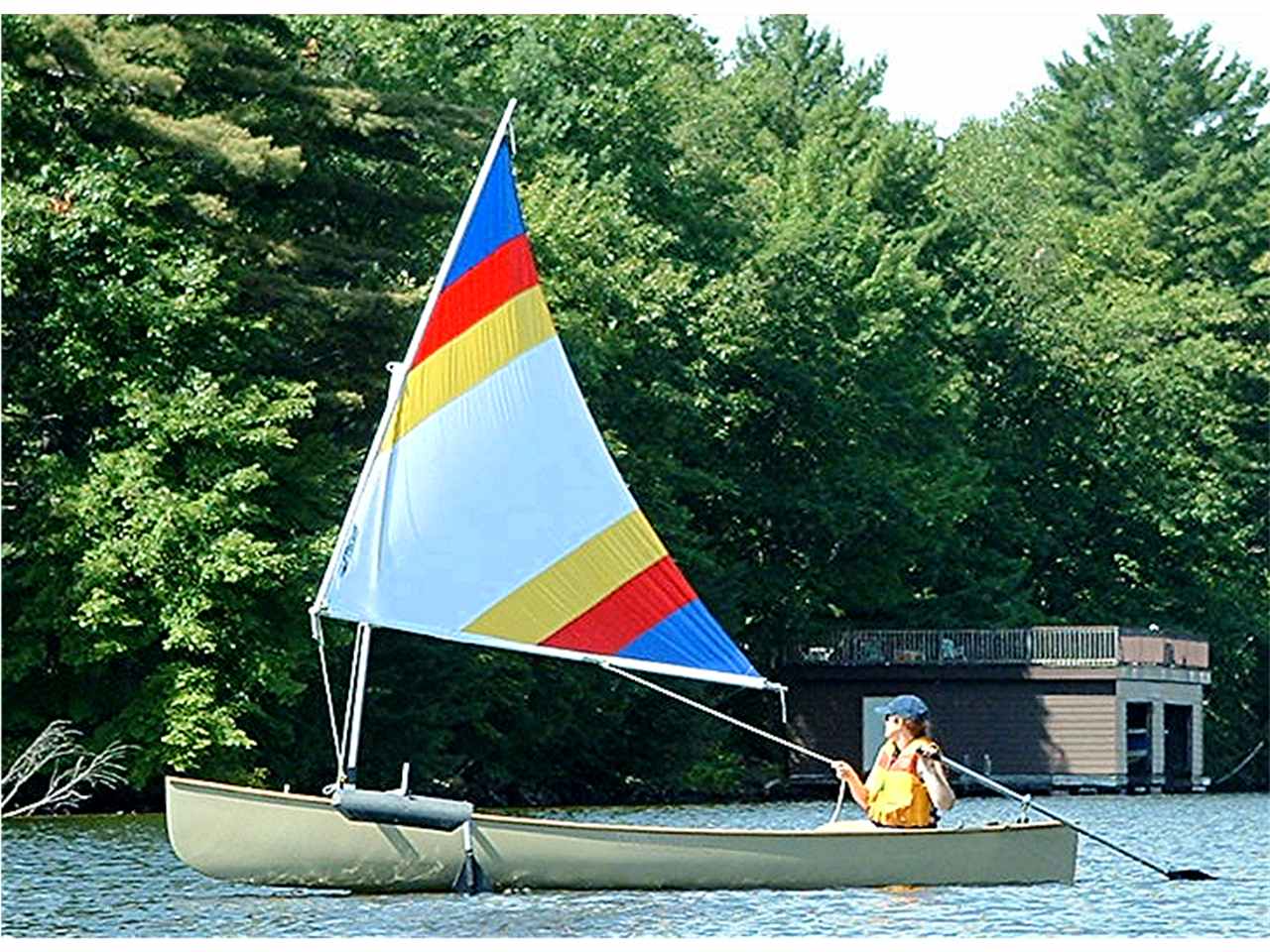 This entry was written by Richard, posted on January 4, 2011 at 9:18 pm, filed under General, Reviews, Technology, Video. My Klepper T-9 hasn't anything similar, nor a mounting point on the floor, though as the floor is wooden it would be easy to add some sort of a mounting point there. I am thinking of buying one but am unsure how big it will be, do you think I could take two people and a collie sized dog in the cockpit Is there much stowage space onboard? As I have been off the water for a while due to new knee operations, I will put the sails on the Wayland and take some pics, and mabe a mockup on my Oldtown 140, which I think would not be to difficult to fix the sail kit to, a crossmember for the mast mount being the major consideration. Hope your knee operation went well and that you've had a good summer playing with your handsome kayak. So do you sail it much downwind, or does it all end up being too much hassle and easier just to paddle? We focus on kayak sail kits that will never slow or weigh you down that come with impressive sailing performance. So the weather being fine I opened it out on my drive and was very impressed with the full kit that only cost ?150, I dont think anybody could put this piece of gear together for the money. The leeboards are about 24 inches long at a guese my drive is 8 foot wide so might give a better idea of scale. The T-9 coaming lacking the above piece may suggest it was never meant to be sailed, unlike presumably the Aerius (I'm guessing that is what your son has). I confess I am captivated by the idea of sailing, but do wonder whether the additional kit necessary would simply make it more complicated to get out on the water.
The set that came with my Klepper had a split blade, so I've been paddling it with a very cheap aluminium and plastic set. If you have a falcon sail kit on your kayak or canoe, it will not hinder you from doing all of your usual paddling activities.
In which case, if I'm likely to find I don't use it as much as I imagine in my head, perhaps I'd be as well saving my (very limited) money and just enjoying my paddling. They do the job just fine, but I do like the look of wood and the Wayland ones seem reasonably priced, so it would be tempting to buy a set if I'm buying something from Wayland anyway. And maybe it would be possible to put together something similar to slip over the coaming on my hull.
I imagine the challenges would be much the same ones I would face trying to set it up on my Apache (or Klepper).
I have put some pics up for anybody that might be interested in a sail kit for a canoe,which after having a closer look could be made to fit most canoes.
If you want to go to no sail mode, you can stow (without going to land) the sail in seconds.