The cookie settings on this website are set to "allow cookies" to give you the best browsing experience possible.
This interesting toy can be constructed from generally available household materials, or with items that can be obtained at most craft or hobby supply stores. Use caution operating the helicopter, and protect the eyes of the operator or anyone in the operating vicinity by having them wear safety goggles.
To make the helicopter look realistic, you can paint the windows and windshield in black or gray. Children of all ages (and adults) have taken to making these fun bracelets, and I couldn't be happier. If you continue to use this website without changing your cookie settings or you click "Accept" below then you are consenting to this.
With adult supervision, the rubber band helicopter can be assembled by children over the age of 8. Set the angle of the rotors at a 30 degree slant from the perpendicular, slanting in opposite directions from each other.
Slide the wire hook through the straw and pull the rubber band through the straw until a small loop of the rubber band is left sticking out the bottom of the straw. The materials used are light and durable, and the rubber band "motor" can be easily replaced if it breaks after continuous use. Thread the wire through the plastic bead, and then bend the wire at a 90-degree angle just above the bead. Pull the rubber band the rest of the way through the straw until it meets the straight pin.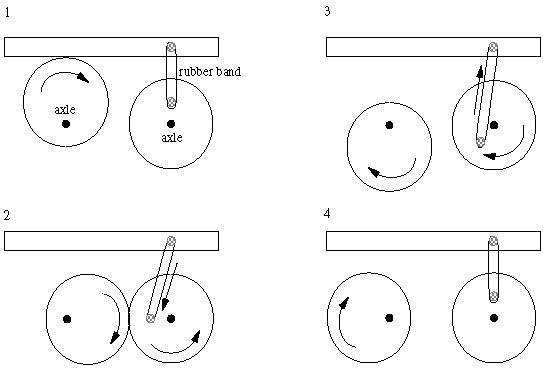 To operate the helicopter, hold the assembled unit with the thumb and index finger grasping the bottom end of the straw and bottom rotor, while turning the top rotor to twist the rubber band inside the straw. Turn the rotor in the proper direction so that the upper edges of the rotor will be the leading edge as the rotor turns. When the rubber band has been twisted sufficiently, toss the helicopter into the air and watch it soar. My youngest son who is 16 made the black and white one, and the green, black and yellow one.