Location: Australia The i550 has a real buzz around it at the moment with over 200 plan sets sent out. Location: Ontario I doubt a lifting keel that size will pose much of a problem. I haven't seen the actual boat, but her specs suggest a heavily canvassed, relatively light boat that could be pretty exciting in a bit of a breeze.
Location: Pagosa Springs, Colorado cox's bay skimmer Wow, that thing is very cool. Maybe also google the Compass Careel 18, because it's a similar size of boat that's very comfortable (if one hell of a lot slower than the i550!). The i550 was designed as a Micro Cupper; the Micro Cup class is still strong in Europe and their website may have some interesting ideas. When making potentially dangerous or financial decisions, always employ and consult appropriate professionals.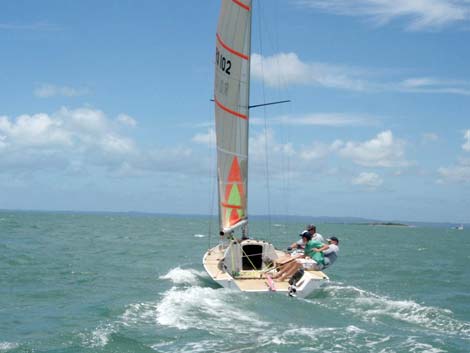 We love it when asskicking tech gets into the hands of the everyman and with winter on the way, we've found the project for you. If built to the maximum sail area it will be quite heavily canvassed and probably require attentive sailing. For practically pennies you can pick up plans and a hull number for the i550 Sportboat ($150), the new standard in one-off Sportboat fleet racing. I know performance would suffer with that big gash in the bottom of the boat, but by how much? Of course you don't need to put every square centimeter of sail on it to make it easier to handle with just two.
I'm not sure about compliance within the class rules either though there does seem to be some room to customise. Contact us for all the details.Very competitive pricing for a production boat of this size, compared to other boats in the same size and performance range.
As of this first weekend in November we've just sent plan sets #246 and #247 out to Britain.
The i550 uses stitch and glue method to turn ordinary plywood into sailing badassery in as little as a month. In US Funds, at today's exchange rate, which changes daily and not including bank fees, as those vary. I've got a bit of experience working with pre-preg carbon doing rowing shafts, blades and whatnot. I was thinking about going with a short alum spar to begin with, then adding a nice bendy top in carbon for some backstay tuning fun down the road.