It was almost sink or swim in Lyme Regis today as a group of boat builders with little experience put the boats they'd created on the water for the first time.
A large crowd watched as the students from the town's boat building academy marked the end of their course with a mass launch. The boats are designed and built by the students, many of whom have little or no woodworking experience before they start the course. Hundreds of hours of planing, chiselling, stretching and shaping have taken place in the workshop. Some students are looking for a new career or a change of direction knowing the skills they'll learn are in short supply in the industry.
Celebrate with the Boat Building Academy's Class of March 2014 as they launch boats built as part of their intensive 38 week training for the first time into Lyme Regis Harbour. Some nice pictures of the Auk taken last Autumn at Lyme Regis on this thread if it's of any use.
I have not decided on the paint job on my boat yet but I figuer I still have plenty of time before I have to worry about that. Hi Guys any one had any experence with using Norglass filler to do fillets on the lapstrakes.
The white stuff is Norglass which I find much easier to use but I have discoverd that bote cote will disolve it.
The floor beams are oregon which I am not all that happy about, but at the moment it is a matter of using what I already have.
I went over to the timber mob at Windsor to pick up some more goo and they showed me some 150 x 10mm red silkwood that they suggested might be ok for floor boards.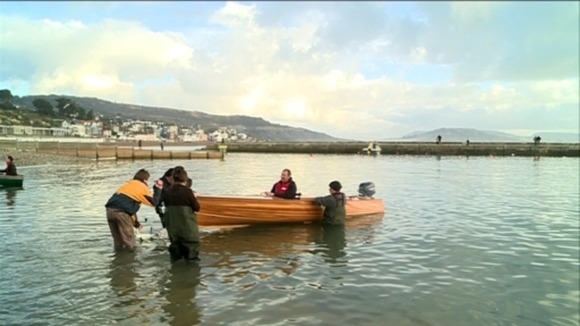 Started to try and fit the centre case and found that I fitted the keel some 10mm of centre.
It is still a bit cold up here so I will have to pull out the acme gloo heater (see pic) and fit the centre case, which belive it or not, I dry fitted last night with out to many build adjustments.
I have made a few variations to Iain O's plans of the centre case as I was worried about getting a good seal through the keelson.
Reader Brian Pearson has kindly given me permission to put up a few of the photos he and his son took of the Boatbuilding Academy's student launch day last Saturday.
There will be more when principal Yvonne Green manages to send some over together with details of the boats, as I hope she will – and perhaps with luck the students themselves will chip in also. I must say there are some delightful pieces of work here – particularly the pram with no metal components of any kind. Have you got news for us?If what you're doing is like the things you read about here - please write and tell us what you're up to. Classic Sailor is a new magazine about traditional and classic boats from ex-Classic Boat editor Dan Houston and colleagues that promises rather more coverage of the traditional craft around our coast. Enter your email address to subscribe to this blog and receive notifications of new posts by email. Follow me on TwitterLooking for something?This is a busy weblog, and what you're looking for is probably still here - just a little way down the list now.
Our Faversham-based friend Alan Thorne can help with boatbuilding projects - constructing to plans in very tidy stitch-and-glue or more traditional techniques. Five boats built in just six months will be walked in procession from the Academy's workshops on Monmouth Beach to Lyme Regis harbour at 1200 on Wednesday 3rd December.
I was impressed at how well she looked on the water with 2 adults in her, as this is a bit of a worry for me (tall small for me plus the admiral).
I have been testing Decks Ole on the big boat for a couple of years, but I am not all that impressed with the wear, it appears that the Tassy pines will not suck enough oil into them. I am having a hard time doing fillets using botecote as I just can't get the consistency right and using the sawdust trick is a disaster. I have sealed the laps with bote cote then filleted in the norglas and I will paint over it.
The plans call for a 6mm strip to be laminated over the floor beams so I figure by the time I glue a strip of poly saturated Maple (which I have heaps off already 6mm) the whole thing should hold together. Try scrolling down, clicking on the 'older posts' button at the bottom of this page - or try the search gadget! I was told the hhelm was a very experienced sailor so I guess he was just enjoying how much abuse this little boat could take.
I found half a tin of Norglass filler that I used to fix a gap around a chain plate on the big boat, after some mongrel ran in to it on the mooring, and it is still water tight after 4 years.
The finish I get on the norglass fillets after just a couple of rubs of sandpaper are perfect, and I plan to just paint the inside of the boat so uv should not be a problem. I have just emailed the Norglass mob and asked all the usall dumb questions , like fillet stength and compatability with bote cote, but there is no beter advice than someone who has actually used it, so over to you wizards.