Congratulations to all our anglers today… especially our youngsters for an outstanding job!!! The summer is winding down but not the fishing!!  Another fantastic week with wonderful groups… Thank you all so much!!!
Captain Jeff Ross grew up fishing New England waters, working on 85 ft headboats for big bluefish and school bluefin tuna, and private sportfishing boats for giant bluefin tuna, sharks and marlin. Since moving to the Outer Banks in 1982, and during the time he was a fisheries biologist for the NC Division of Marine Fisheries, Captain Jeff worked as a freelance mate on charter boats fishing out of Oregon Inlet. Andrew fishes with us quite a bit and has caught numerous sailfish, white marlin, and even a 300 lb blue marlin.
Elle also enjoys fishing and won the "Junior Angler" award during the Bi-Op-Sea's 3rd place finish in the Alice Kelly Ladies Tourney for her release of a 200 lb blue marlin.
This is a access ramp now covered in sand fences and walkways that used to go over the dunes!
Mike Boyette, from Madison Heights, Va & his crew from Virginia enjoyed a calm fall day with some decent tuna and wahoo action.
Richard Moseby and crew from Virginia boated a nice catch of 15-25 lb yellowfin tuna after a slow morning during which I just could not get over the fish, but we got going after lunch and ended up with a boxful of tuna.
I told Jim McCurtain, Bud Armstrong & Crew from northern VA that the seas were 7-10 ft and wind was 20+ but supposed to fall out and they said lets go, and I needed to make some money so with only 2 other boats venturing offshore, we safely got across the inlet bar which was adventureous, and though we only made 17 knots heading offshore, fishing conditions were better than I expected and we even boated a nice catch of yellowfin tuna inspite of having some tuff luck, pulling hooks on a couple and getting raped by a few big wahoos. Yesterday was the first day boats got out after a spell of rough weather and tuna fishing was very good with several boats catching their limits! After great tuna fishing and an impressive sign of fish over a 8 miles on Friday, we Jerry Dew, Sr and crew headed offshore on Saturday hoping to match his son's crew's catch on Friday.
I sure hope rest of the fall season tuna fishing is like what we have right now, which is great fishing earlier than usual. We ran around 80 miles on Tuesday, found some good water, but the concentrations of marlin are still north of us and out of range. Mikail Zubarev, from Arlington, Va, with one of the 4 white marlin he released Saturday, when his crew caught 14 white marlin. After the 4 day northeaster moved off, we finally got offshore yesterday and the white marlin fishing was outstanding.
Debbie Spiro, from Newton, PA and her crew were as reluctant as I was to head offshore this morning, with the wind stiff out of the east and a steady rain falling and forcast for the entire day.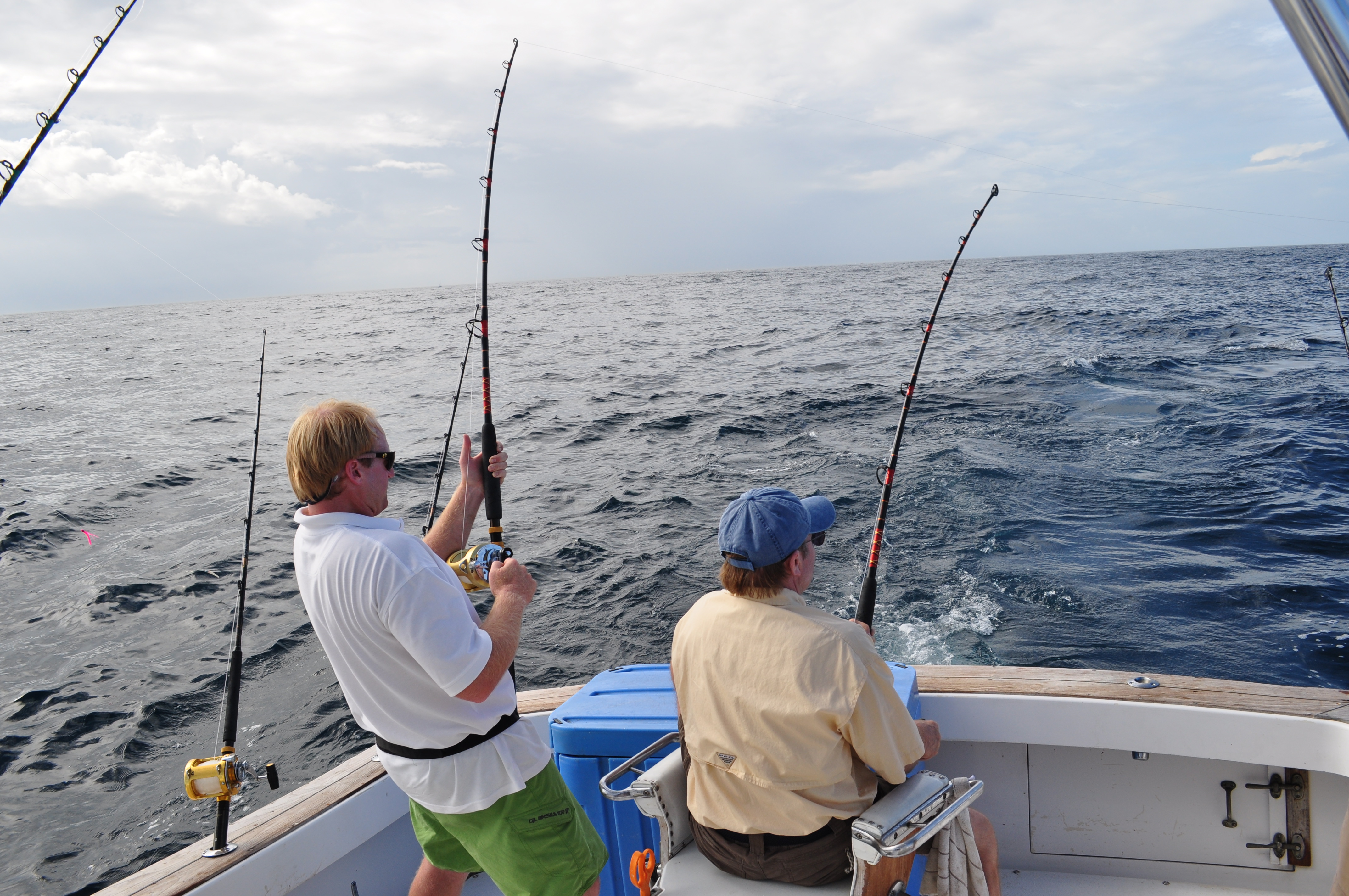 Thank you all so much!!  A great day for Spanish and Blues… Our crowd did an awesome job bringing in dinner!! He has won various other levels and money in the Big Rock Blue Marlin Tournament, the Pirates Cove Billfish Tournament and the Virginia Beach Billfish Tournament.
Dembosky previously owned the "Aut-Top-Sea" in Charleston, SC and has fished up and down the East Coast as well as the Caribbean.
Of course today it is blowing 25-30 Northeast and we a blown out again, which sucks cause every day we get out we come up with a good catch of tuna but the damm winds have been unrelenting. We ran back in shore and caught a few more yellowfin tuna, a few blackfin tuna and a 25 lb wahoo to give us a 4 species meatfish slam!! WIth no charter till this weekend, boatwork, varnishing and catching speckled trout on the beach took me in!
After dodging heavy rain and lightning storms all the way out, weather moderated somewhat and we had action immediately, hooking 4 yellowfins right out of the gate, but only boated one of these. Jerry Dew and his crew from Richmond Va enjoyed sunny weather, calm seas and plenty of action.
Boats out of Ocean City and Virginia Beach had outstanding fishing and hopefully these fish will work their way south to us as they typically do.
My makeup group boated 650 lbs of fish, including 9 yellowfin tuna, 4 blackfin tuna, and some mahi-mahi. With him was Matt Holway (Round Hill, VA), who caught two white marlin, Jerimiah Yotte (South Riding, VA), who caught 2 white marlin, Bryan Downer (Ashburn, Va), who releaed 3 white marlin, and Mikhail, Zubarev (Arlington, VA) who released 4 white marlin. Ryan and Rosemary Budd, from Silver Springs, MD boated a 66 lb yellowfin caught on 30 lb line after a 45 battle.
Nevertheless we headed offshore, and could not get to where we were trying to get, so we stopped in shallow water around alot of baits and birds and ended up releasing 6 sailfish and a white marlin and some dophin, including 2 15 lb fish. The Obsession also won a trip to Costa Rica for catching the most billfish on circle hooks in the combined Big Rock Blue Marlin and Pirates Cove Billfish Tournament, and won the most billfish on circle hook prize two years in a row at the Virginia Beach Billfish Tournament. He and our other owner Craig Johnson make up part of our tournament team which has had great success over the recent years. In the evenings, I go into the village to see my friends, have a few drinks, play the guitar, and sing a few songs. MIght have had more yellowfins but just about the time they started biting, the wind picked up and conditions deteriorated, and the bite shut off!
Anyway we had a good day, with Randy Williamson and Mike Stokes from Kill Devil Hills, NC catching a doulbe header of Atlantic Shortbill Spearfish, first ones for the Obsession this year, and Daniel Hensley, from Batavia, Oh catching his first white marlin ever.
A few boats had decent days on white marlin and a few sailfish, so hopefully things will get going when the weather settles out. Michael Spiro, Jewan Oh & Daniel Appleton all released one sailfish, Jason Appleton caught 2 sailfish, and Debbie caught a white marlin and a sailfish. I have a full life."The American interrupted, "I have an MBA from Harvard and I can help you! Fishing off course was excellent and they boated a limit of yellowfin tuna including a 55 and a 70 lb fish.
You could tell we got desperate at the end of the day, boating 3 blackfin tuna that you might get a can of bumble bee out of!
We also caught a few dolphin and while circling a board catching them a 7 lb tripletail was swimming under it, so we backed up and Mike threw a chuck of bait caught the tasty critter. In spite of rough miserable weather the crew toughed it out and even caught a triple header of sailfish in very trying conditions! Linda, Angela and Andrea, all from New Mexico, kicked the guys butts in the process of catching most of the fish!! Jim Goff, Virginia Beach, Ken Abby, Leesburg, VA & Joe Hill from Gaithersburg, VA all caught 2 white marlin, while James Vant, Matt Hufnagle & Matt Downer, all from Virginia each caught one. We pulled the hooks on two more and had a few other shots and also boated 30 school dolphin. Today I met my party at the boat, but with 20-25 knot winds offshore and a 9 ft seas, no boats were able to get out.
Instead of selling your fish to a middle man, you can then negotiate directly with the processing plants and maybe even open your own plant. You can then leave this little village and move to Mexico City, Los Angeles, or even New York City!