I visited Porthleven with my father (82) to take a look where he was bilited during the second world war as a an evacuee. The fishermen here use traditional boats although I have no idea what they are called in terms of their design. When you tell life long friends what you've bought and they look at you like you need a therapist, you've had your first Wooden Boat moment. I'd like to visit Cornwall on day , my family on my fathers side came from there , in the 1870s .All miners , not fishermen . The price of tin completely collapsed several times during the 19th century, starting around 1830. Census information is available online and you could trace the exact whereabouts of your family, probably their old house is still standing as Cornish houses are stone built and largely preserved over the years. As many of the mine engine houses are still standing as well I'm sure it would make a memorable even emotional trip.
The UK has very high standards of road signage, but they are not consistently applied around the country. It was one of our favourite places to go with the children on the annual trips to visit relatives in the 1970s and 80s. I'm interested in preserving information on traditional working craft and collect photos whenever I can. You must have JavaScript enabled in your browser to utilize the functionality of this website. Cornish gaff cutter built by Kitto of Porthleven, Cornwall in 1898 as a sailing fishing boat.
The design typically features a long keel with considerable drag, straight stem, occasionally even fractionally raked aft and a slightly raked transom stern with transom-hung rudder, good freeboard and generous beam. The mainsail was usually loose-footed and the tack could be triced up to spill the wind or they would scandalise the gaff while hauling the lines like the Falmouth oyster boats.
The hookers had a cock-pit aft, a fish hold and net hold midships with the net on a transverse roller and even  the smaller boats had a small cabin forward with a bogey stove as they would often spend a few days at sea.
Only a few of these lovely boats have survived and this is certainly one of the best examples, slightly bigger than the average hooker and now extensively rebuilt. She worked for a while in Falmouth as an oyster dredger but was reckoned to be too deep for the grounds.
In previous 20 year ownership up to October 02, Pat Crockford from Falmouth gave her a major rebuild when the deck was replaced, a new rig fitted, engine and interior replaced, all documented in a 6 page Classic Boat article, December 1993. Planked in yellow pine fastened with galvanised boat nails to 3" x 4" sawn oak frames in futtocks at 14" centres.
The appearance of the underwater shape indicates that the draft has been increased by the addition of an oak keel of approx 9" depth below the original oak keel with an iron shoe of approx 4" depth below it, the whole secured with galvanised through bolts checked within the last 10 years. In addition, there is a quantity of internal ballast carefully stowed in triangular section  lead ingots laid across the frames clear of the planking. The deck laid in the Falmouth refit in solid teak, narrow planks swept in and joggled to the cover-board, caulked and payed in butyl rubber. The coach-roof deck is double planked with scrubbed teak externally over internal painted pine boards. Wrought iron tiller with varnished hand grip.  Pegs in the aft coaming form a simple self-steering.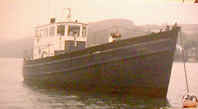 Gaff cutter rig built new in the Falmouth refit on varnished spruce pole mast stepped through the main deck onto the keel. The lower section of the mast is squared to above deck level with a square stainless steel collar box on deck to keep the apperture watertight.
Single cap shroud round the spreaders to external chain plates alongside the forward lower chain plates.
Runners on tackles usually set up alongside the shrouds but with deck eyes aft when in use.
Fore stay to a very substantial galvanised stemhead fitting which reaches well down the front of the stem and round over the top of the stem. Bowsprit gammon iron set to port with opening upper half of the rig allowing the bowsprit to be steeved up. Varnished spruce main boom with stainless steel end collar pivots on a vertical galvanised pivot post between twin heavy section galvanised steel mast bands very adequately spread the loads of this long boom and powerful mainsail.
Double tailed main sheet with varnished wooden blocks to a stainless steel sheet horse on the aft deck.
Bronze track on the fwd face of the mast with stainless steel ring on bronze car to take a pole.
Substantial fixed boom gallows on bronze tube verticals with hand-hold turns and scrubbed teak cross bar. Centre-line installation under the bridge deck with stainless steel shaft angled to 9" stbd off-set prop. Very nicely varnished teak deckhead with varnished, carefully shaped and finished deck beams.
T&G varnished pine bulkhead from port side across to the mast leaving the stbd side open for access. To port of the mast a Taylor's drip-feed, diesel fired cabin heater on the bulkhead with lagged flue to deck.
Saloon cabin with generous port and stbd settee berths with stowage under accessed either from the front or from above with the cushions lifted. Upholstered seat backs with shelves and lockers under the side decks above the seat back lockers. Galley in the after port corner with smart almost new stainless steel Voyageur 2000 2-burner, grill and oven gas cooker, gimballed with crash bar. Foot pump to the galley sink from 30 gall stainless steel water tank under the stbd settee berth.
Engine box between chart desk and galley serves as a seat when working at either and a step down from the cock-pit.
Built for fishing in Mounts Bay, this boat is similar to but slightly bigger than the nearby Falmouth oyster boats and heavier built for the open sea work with double frames all through. She was in the same family ownership with 3 generations of the Laity family for 80 years until decommissioned and laid up in 1978 during which time she was mostly dredging oysters in Falmouth. She was bought shortly afterwards by Pat Crockford, a Falmouth fisherman with years of experience with the oyster dredging and took on a new lease of life. A new taller mast was fitted, the sail area increased, the ballast increased, much of the planking replaced, the deck replaced, a cabin top built and the cabin fitted out below. To get WoodenBoat delivered to your door or computer, mobile device of choice, etc, click WB Subscriptions.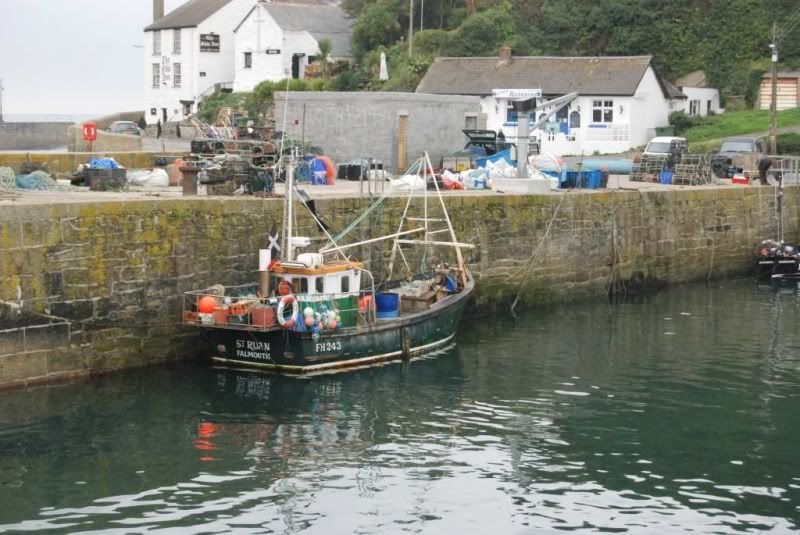 It's great to see boats of this type still in use, their productive lives probably spanning 3 generations.
I haven't yet been west of Falmouth on any visit to the UK, but purely for the reason of wanting to save the area for when I have enough time to explore it properly.
What a marvellous little harbour ..the infrastructure is impressive for such a small number of boats !
What a marvellous little harbour ..the infrastructure is impressive for such a small number of boats ! My mother's side of the family originally came from Cornwall (the emigrating miners you speak of), so whenever the name is thrown about, my ears perk. A perfect addition to this lovely collection inspired by the coastline of the south west of England. The melamine coasters are resistant to normal household stains, and are scratch and scuff resistant. These little boats from this area were commonly known as hookers and worked a few miles off-shore with long lines. They carried a high peaked gaff cutter rig on a pole mast setting a large topsail on a yard and the bowsprit was set running. This is a very tall mast, certainly taller than her original working boat mast but allowing her to set the sail which gives her her reputation for speed.
The door is skewed so even with the door closed the Jabsco affords a comfortable seat though sitting head-room only.
Due to the position of the heads compartment fwd to stbd and the galley aft to port, the settees are slightly staggered. Open space under the bridge deck and either side of the engine box for stowage of odd bits. The cabin top is the full width from seat back to seat back so giving a good feel of space. The oyster industry had collapsed, she was no longer viable as a working boat so Pat converted her for leisure use. My wife spent a lot of time around there when she was young so it's a treat that I am looking forward to. They are documented in Edgar March's book Inshore Craft of Britain in the days of Sail and Oar. They were working boats so had to be practical and functional, they stood up well to their canvas and the buoyant bows would rise to the swell to keep them dry. Over the next 10 years he gradually changed and improved her until she became the fastest boat in the fleet and a regular race winner. Very comfortable, safe deep cock-pit, proper West Country gaff rig, surprisingly spacious and practical cabin and the weight to make her a comfortable boat in a blow.