Includes 2 pedistal swival seats ( 1 removable center swival seat) 3 life perservers, extra seat cushions, fire exstinguisher, 2 oars, rod holders. In order to be able to post messages on the Pensacola Fishing Forum forums, you must first register. Please enter your desired user name, your email address and other required details in the form below. In order to verify that you are a human and not a spam bot, please enter the answer into the following box below based on the instructions contained in the graphic. Location: Lucedale, MS 16 ft jon boat made from home milled oak boards Anyone have plans for a 16 foot plank and frame jon boat? Location: Iowa You do realize that the tree you cut today and rough mill won't really be useful until sometime late next year or preferably the spring after. Location: Beaufort, SC and H'ville, NC By all means make the frames out of oak, but plank a jon boat with something else.
Location: USA Oak is not the best planking material due to excessive movement.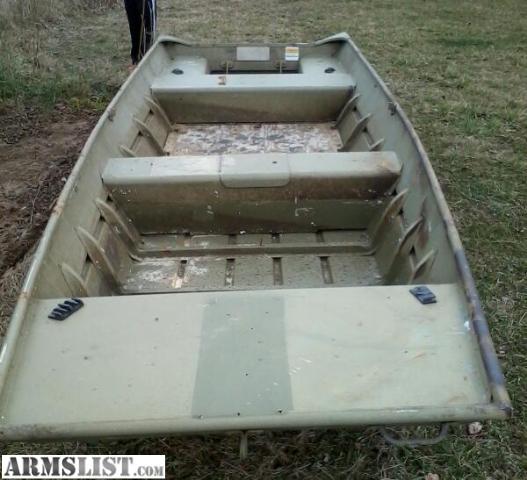 When making potentially dangerous or financial decisions, always employ and consult appropriate professionals.
Usual southern US boatbuilding woods are Live or White Oak for framing and long leaf yellow pine for planking. I know a caulker who worked on the CONSTITUTION repair and he said the garboards are 14" thick.
It must be properly stacked and stickered (separated by sticks to allow air flow) and allowed to dry down to somewhere in the mid to low teens moisture level. Don't try to re-invent wooden boatbuilding for your own convenience as the laws of shrinkage and warpage will retaliate. Oak is infamous for crawling around unless it is very well seasoned, out of the sun and quite stout in scantling.
At ends cut a tapered dado in upper edge of garboard so plank lap disappears at ends, or just keep the lap all the way to the end but this looks clunky and catches on things.
Oak makes great planking for warships and large tugs, LLYP more suitable to smaller craft and widely used in the past.
If frames are close, not necessary to fasten laps, but if spaced widely put a thin copper rivet through the lap between frames. If I could do it all over again, I would have gotten an aluminum boat and put my own decking in it.
Stack it and stick it for air circulation, paint the ends with paraffin to slow checking, cover the stack from sun with tarpaper stapled on, with a little pitch so rain runs off. Double or triple up at the shear or put a scuppered wale in (all those holes are handy spots to tie to).