The Jiffy V-22 is the result of the many requests I have had from builders who liked the character and appearance of the Jiffy 22, but who needed a soft riding hull for more exposed waters.
The plans include six large sheets of drawings, showing the hull at various stages of construction, full size details, cabin layout, and other information. Includes blueline drawing and booklet describing all the Jiffy designs and their construction.
The epoxy kit comes from System Three Resins, and provides you with all the resin, hardener, fiberglass cloth, additives, measuring pumps, brushes, rollers, and other items that you will need. The Jiffy 22 was first described in articles in National Fisherman, in November and December, 1993. Like the Jiffy 9-7, the Jiffy 22 requires no building jig, and no frames; you simply cut the deck to shape, add a stem and transom, and a set of fore and aft members (which I called keels, for want of a better word), and glue and screw or nail the bottom to them. The Jiffy 22 plans include nine sheets of drawings, showing the shapes of the hull panels, and the hull at different stages of assembly.
Alton used okoume plywood, clear spruce for framing, white oak for rubrails, stem facing and external cleat, and mahogany for beams.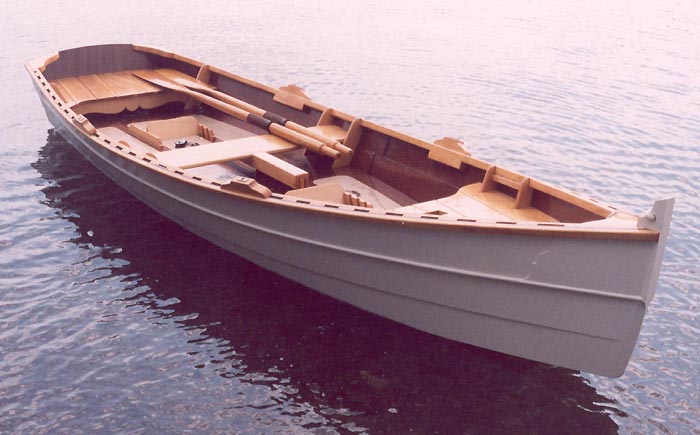 Alton reports that he and his family are very pleased with the boat and her performance and handling. In this method the hull is built upside down over a series of bulkheads and temporary frames. Full size patterns, printed on Mylar, show the stem, transom, bulkheads, building frames, girders, and other items. No lofting is required; the shapes of the various parts are laid out on the plywood from which they will be made. Also included is an illustrated building manual, which takes you step by step through the building process.
I wondered about a new building method - why not build the skiff from the inside out, starting with a watertight deck? Other drawings show foredeck and side deck construction, the outboard motor well, and construction of the cabin trunk and wheelhouse. The plywood bottom planking is glued and screwed or nailed to the girders, and to the keel, chines, and bulkheads.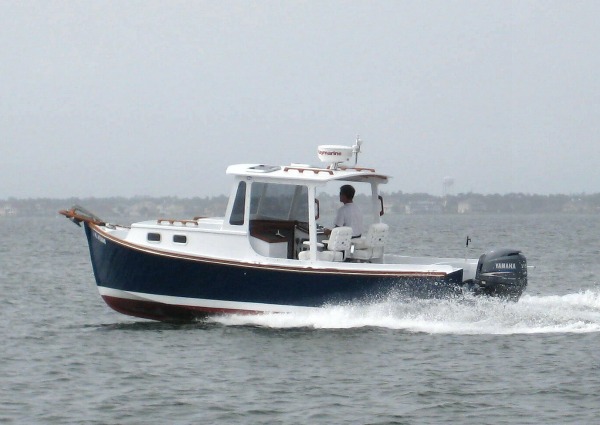 It includes specifications, a list of materials, sources for marine plywood, and other information. A 32 page illustrated building manual describes each operation, and includes specifications and a list of materials. The result is a very strong, light hull, with the strength concentrated where it is most needed, in the bottom. The absence of framing elsewhere helps make the most of the accommodation space in the cuddy cabin.