As a boy, I spent many hours rowing a heavy, flat bottom rowboat built by my Great Uncle Richard. Pictured are, from left, Pete Hall MMF Treasurer, Tony Lea Director Jamestown 4-H Center, and Nancy Roche Mathews Extension Agent.
The Six-Hour Canoe was in kit form with all pieces and parts pre-cut and ready for assembly. Photograph from the book Building the Six-Hour Canoe is used by permission of Tiller Publishing. With interest from adults and children in the county to learn to sail and the lack of boats on which to learn, the Foundation decided to offer a sailboat in kit form. The chosen boat was a 10' sailing dinghy called a "Nymph." It is an adaptation of a boat designed by William Atkin in the 1930's.
Members of the Foundation previously built a Nymph during the Gwynna€™s Island Festival on June 28th of this year.
The event was open to anyone with the desire to build a boat with the help of a professional boat builder. Family and friends were invited to build a boat together in 2-3 days, and then take it home with them.
My "Uncle Ice" (Howard Merchant, twin bother of my mother) and his good friend Dick Hill had a cabin on the pond.
The idea for this project was conceived in January of 2010 when MMF learned that the Jamestown 4-H Center was planning to establish a sailing program as part of their camp offerings and was looking for a fleet of suitable sailboats. The Piankatank Ruritan Club and the Mathews Yacht Club adopted a boat each; and contributions from individuals, marinas, and others were sufficient to fund a boat.
Youth who build these boats will see their work and will be able to witness how their work is benefiting others when they attend camp. The canoe is the brainchild of Mike O'Brien, editor of "Boat Design Quarterly," from the publishers of Wooden Boat magazine.
It was hoped that families with children and parents interested in learning to sail might also enjoy building their own boat. Family or even groups of friends were invited to build a boat together in one to two days, and then take it home with them. It's not ten families building ten boats but rather ten families seeing to it that ten boats get built. This year's event was held in conjunction with Wooden Boat Magazine's 3rd Annual Family Boat Building Week.
Participants worked together with the help of a professional boat builder to build the Bevins skiff, a 13 ft.
Neither the service provider nor the domain owner maintain any relationship with the advertisers. Because I loved the water, and could swim, I was left unattended to play in and around the pier, and rowing the boat.
MMF had some boat kits left over from our Family Boat Building event, and so decided to partner with the Mathew 4-H to contact individuals, marinas, yacht clubs and the like to solicit a€?adoptionsa€? to fund a fleet of six boats.
In 2011, three of the six boats needed were built and delivered to the Jamestown Camp and were commissioned in a ceremony on June 29 of that year. There is nothing like the experience of building a boat and the pride of accomplishment one feels showing it to family and friends.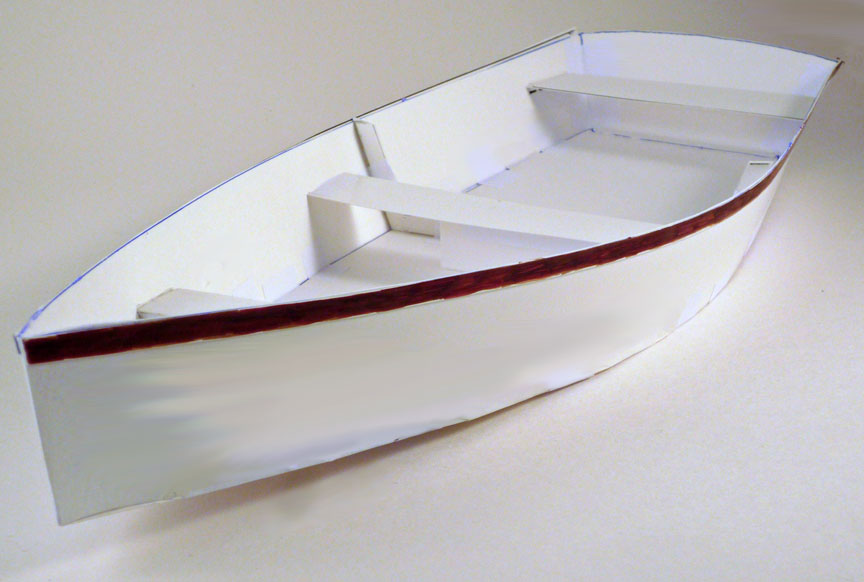 The kit was priced at $1250 and included the hull as well as the sail, spars, rigging hardware, dagger board, rudder, tiller, and two 6' oars with oarlocks. Family and group members developed a strong sense of pride in each other as they saw the value of each person's contribution to getting the task done. It's an excellent all-around canoe, stable but fast and easy to paddle and capable of carrying 600 pounds." The canoe was in kit form with all pieces and parts pre-cut and ready for assembly. In case of trademark issues please contact the domain owner directly (contact information can be found in whois). The boat, a 10a€™ William Atkin design called the a€?Nympha€? is a flat bottom hard chine boat quite suitable for kids learning to sail.
Family and friends were invited to build a boat together in a weekend, and then take it home.
She is light and easy to carry and handle, and was an ideal boat for an introduction to boat building. A third boat, a a€?Nympha€?, was donated by the Johnson family of Mathews who had purchased the boat built at our Family Boat Building event in 2008.A  Construction of two new boats and restoration of the donated boat began in January of 2012. All three boats were delivered to the Camp in June in time for the first camp session of the summer.