Like anyone else who would sell one of his kidneys for a day on the water, I wanted -- needed -- a small fishing boat. It wasn't a boat that I found, but a new bait feeder reel I needed to replace my spent one that Mike G.
The trailer was easy -- new (new to me) fenders and brackets, new running lights, new studs in the wheels, one new tire and I'm in business. I'm trying to get this baby in the water for Hammapaluza so I can meet everybody as well as chauffeur Zach and a bait bucket full of crappies to victory, but we'll see. Well, I obviously missed the Hammapoluza trip in order to get some things done, and after checking out the posts from the get together, I really hope this is going to be worth missing that!
After glassing in the floor, I had to do something about the seams, as they would allow the floor to flex -- a definite no-no if I want to keep carpet in there for any length of time. Another trip to AutoZone and I picked up the fiberglass version of Bondo body filler -- the same stuff I had to use on the nose.
Joist mounts worked to stabilize the top portion of the platform, which was cut for two pieces of wood.
For the dashboard, I traced the originals onto a solid piece of pine, cut, and rough sanded with 80-grit sand paper, followed by glass resin to finish them. By the time you guys tied into those giant slobs of stripers at Hammy, I was making my first cuts on the carpet. Unfortunately, I ran out of daylight to snug and glue in the carpet, so this is as far as I got this past weekend. Remember, all this was and still can be done avoiding marinas all together, as all of the materials used were from hardware stores, Wal-Mart and auto care stores, helping to keep the cost down.
Not having $2,000-$3,000 kicking around for something ready to hit the water, I started looking into some fixer uppers.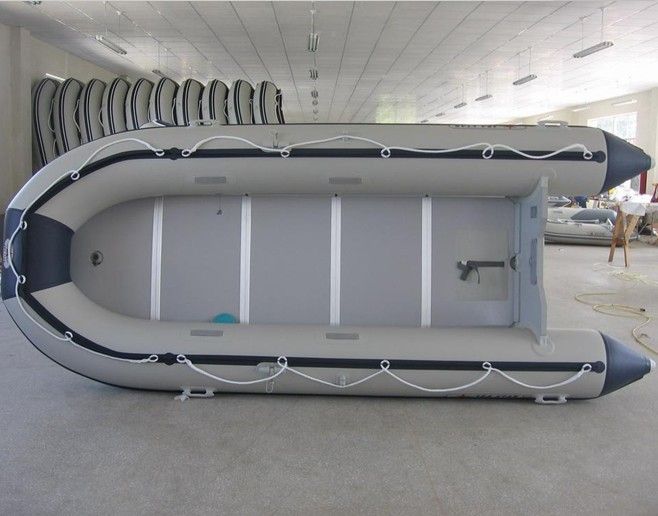 I know, it looks pretty spent, but something about the hull of this rusty beer can made me want to fix it.
For the boat, wire wheeling it down to the aluminum and stripping out any attempts at old repair jobs, as well as the factory seals, which were completely dried out & cracked. Not having a clue what to use, I dove into a Boat US catalog looking for some sealant and came across 3m 5200 marine grade sealant (The stuff that dreams are made of!).
The transom was easy because it was a hole that was cut out in order to feed a live well (a 1-inch bolt, 4 washers and plenty of 5200). I ground it out, used some automotive 2-part epoxy (the stuff they use to seal cracks in engine blocks), which is like clay until it cures.
In my floor plan, I went with a rear bench, front casting deck layout, just because I like an open boat. The rear bench will actually be nothing more than a platform for mounting seats, but gives the hull even more rigidity.
Hopefully, my next article will be my last and I'll be sending photos of the finished product. I promptly responded and we got together for the transaction at a Duncan Donuts off of Route 8.
A lot of thought (and measurement, did I mention beer?) went into building the front deck in order to get rigidity and still have some storage. Hint, invest in stocks from the Bondo company before you start a project like this -- a little return on investment! It's fast and stable design make it great for off shore fishing or just cruising around in the harbor.
The only reason I went with a front opening door as opposed to a top side door was just for added strength.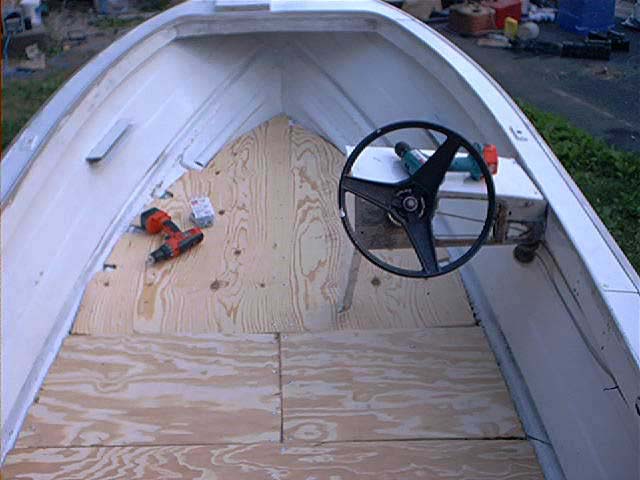 The floorboards and stringer were rotted, the motor had 40psi in each cylinder (oh well, no biggy), trailer fenders were rusted in half, and one wheel looked like a bullseye for target practice.
Sorry Zach, looks like you'll have to win another two tourneys before you can make a shot at a trifecta. They are center cut with a 2-½ inch hole in the middle so the pedestal mount would allow enough room for the seat mount to fit in without going through the bottom of the boat (Jim always comes up with the cool sh*t!). The gas motor is a 2 stroke 5hp Eska motor that has a self contained gas tank so you don't have to have a gas tank. The boat is carpeted, has a large center storage area (could be converted to a live well with a cooler or liner), has numerous fishing rod holders including the ones that run through the center storage area. I will also include the lifejackets (4), 2 collapsible oars, fire extinguisher, plugs, extra ropes and some extras. The trailer has springs, a winch, new tires and rims, a spare tire and tire mount, and a wheel on the front tongue.
The batteries and all the electronics and equipment was bought new in 2013 (most in the fall).
I am unsure of the Year and model as it has been covered with carpet so it was registered with an estimated date and model.