It was a piece of 1X4, I cut a square out of the back and a point on the front with a scroll saw, then found a thin piece of wood in the scrap bin for the paddle. KEY LARGO, Florida Keys — Visitors to Key Largo can decide what floats their boat during a wacky spectator event where teams race boats constructed out of household materials. Resourceful crews of two, four or more people are expected to reuse, recycle and regenerate materials found around the house — literally anything that floats — to construct their boats. Teams even can use a roll of all-purpose duct tape to hold it all together and old T-shirts to hoist as sails, as long as all participants are contained within their vessel.
Boats and team members are to navigate a half-mile buoyed course from Key Largo's Caribbean Club to Sundowners and back.
Prizes are to be awarded in categories such as best-costumed crew, most creative vessel, fastest vessel, best hard-luck story and vessel containing the most participants that still floats.
Location: canada making a mold, 8ft speedboat(55 kph) 20 hp, homemade myself and my brother have built a fun little speed boat.
Location: Sacramento My impression from these small boats is that smooth water no problem, but in a chop, sitting down will pound your *** to death, unlike a jetski where you can stand and let your legs work as shock absorbers.
Making a mold is well documented in many places, key to it mostly is having the shape so it doesn't have 'undercuts' (which is probably the wrong word). Location: canada I'm still not very versed in all nautical terms but the porpusing is aided by some flaps with actuators on each tunnel of the hull and it only porpuses if you take a sharp turn at 45 kph or more, anything under and it handles whatever you put it through. I have had the boat in about 1 foot chop and it was a little uncomfortable but at half foot or less I is quite a fun ride at high speed and only my mother reduced the speed to less than full throttle in that chop.
Considering you designed the boat yourself, you are fortunate to have an animal that doesnt have really dangerous habits at hi-speed. However, to take it to professional performance, you are going to need to get a professional design - porpoising, weight distribution, wave penetration etc are all professional problems, and not one you can cure in an informal forum discussion. The cheaper option would be to buy an existing design, where the mysteries of fibreglass moulding should be explained. If you have a fair bit of spare cash, consulting with an experienced designer would be the best option. Location: canada I have modified plans for a new hull and deck that should address some of the weight redistribution. Originally Posted by hardcopy I have modified plans for a new hull and deck that should address some of the weight redistribution. When making potentially dangerous or financial decisions, always employ and consult appropriate professionals. Materials might include wood, PVC, jugs, buckets, pool noodles, plastic wrap, lawn furniture or cardboard. Both waterfront locations offer excellent viewing areas for spectators to watch the wacky water race. Building a boat at home requires a lot of preparation and time, but it's not as complicated as it seems.
I got the rudder installed and I just finished installing the stuffing tube, shaft, and motor.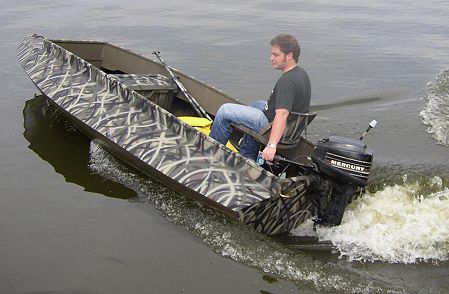 I hooked up the electronics (I ran a servo extension to the servo and plugged the motor into the ESC) and it is now ready for testing!
The stuffing tube was then just slid through this slot in the hull with the oil port facing upward. I guess what I'm looking for is advice on how to recreate this boat but make it lighter and have a diferent shell on top. I then used a large amount of hot glue to hold the stuffing tube in place and make the hull watertight.
Then I marked the holes where the bolts will go that will hold the motor to the steel rectangle and drilled them out.
I apologize for this being a repeat thread but I have looked trough the archives and haven't found anything that fully helps understand the process. After bending a less-than-90° angle in the metal, I mounted the motor to the steel bracket and the hotglued it in place on the boats hull. When I got the shaft into the stuffing tube I marked where the end of the shaft comes to on the inside of the boat.
When I get a battery I'll post how the testing went, and hopefully get some video of it in my pool or in a pond or at the lake.