Please search again or telephone Simon Walworth on +44 (0) 7855 787561 to find a suitable boat for sale. Humphreys One Design 35 (HOD 35) built under contract for Havoc Yachts at Westerly Yachts and launched in 1999.
The HOD 35 still remains a highly competitive boat under IRC whether racing offshore or around the cans. This Humphreys One Design 35 (HOD 35) has been with the same owners from new and has been updates and modified throughout her ownership.
One of the of the race proven HOD 35 has been regularly maintained and upgraded where ever required.
Fourth in class 2 in 2006 Round Britain and Ireland two handed race, sailed by owner Paul Peggs and Morse Blaker. Electronics: navigation center, radio, compass, cockpit speakers, cd player, gps, autopilot, vhf, plotter, vcr, log speedometer, wind speed and direction, depthsounder, radar. Electronics: cd player, cockpit speakers, vhf, gps, plotter, wind speed and direction, log speedometer, depthsounder. This Humphreys One Design 35 (HOD 35) has a bowsprit for assymetric spinnakers in addition to her ability to fly symetric spinnakers.
Her SCRIMP construction makes a very solid and powerful hull and she offers a highly competitive sail wardrobe for both shorthanded and fully crewed racing with asymmetric (including bowsprit) or symmetrical spinnaker options.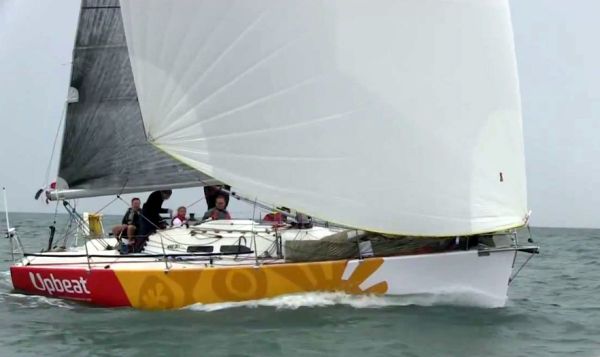 The many upgrades include a faired hull and keel, carbon pole and a large inventory of sails.