Charles Papish is building his Didi 40 on Johnston Atoll in the North Pacific from a kit that was supplied from half-way round the world, by CKD Boats in Cape Town, South Africa. Australian builders of wooden boats have long achieved remarkable results and occasionally international fame. One of the most highly regarded of the Aussie wooden boatbuilders was Harry Hammond, who began building ski boats with his brother Jim at the end of WWII. Jim eventually moved north to Ballina, where he built fishing trawlers and other boats, while Harry found demand for his ski boats after setting up a business in the Sydney northern beaches suburb of Brookvale. Mark actually worked with his father building boats in the 1970s, by which time the world had changed and fibreglass had taken over from wood as the preferred construction material for boats.
Before fibreglass took over though, Harry had built his boats using maple and later Bruynzeel marine ply.
Typical of the time, there were no full-size plans and hull lines were simply (but cleverly) drawn on lengths of timber or ply. In 2006, Mark received word about a ski boat that had been stored on the NSW south coast for nearly 30 years.
His first meeting with owner, Tony lasted much longer than expected and the pair soon developed a mutual respect and appreciation for the boat.
Two weeks later, Mark got the phone call he was waiting for, Tony agreeing to part with his classic craft on the condition that he would have first option on it if Mark ever wanted to sell. Mark and Di Hammond are justifiably proud of both Miss Australia and of the restoration they have carried out. Of maple and ply construction, Miss Australia was fitted with a 600hp supercharged Chrysler V8 supplied by famed engine builder, Keith Black of KB Engines in Los Angeles and fitted by John Sofilos of Unlimited Marine.
O'Neill later sold the boat after removing the thundering Chrysler and installed a Ford Mercury V8. The venerable Ford engine was still with the boat when Mark unloaded it at his workshop, but it was in bits and piled in a tin box with various other odd pieces.
The dash panel was restored and a particular challenge was sourcing speedo and oil temperature gauges to match the other vintage VDO dials.
Much cleaning and sanding followed, including removing the inevitable accumulated oil stains in the bilge.
A major contributor to the resto project was Graham Mason, who is well known in ski racing circles for his craftsmanship in metalwork and for rigging fast boats. Top: The original supercharged Chrysler V8 has been located but is not for sale, so a new 502 Chev was beautifully prepared and installed. The engine drives through a Casale top loader V-drive gearbox with a straight 1:1 ratio and was, at first, spinning a 12in by 14in, right-hand prop during trial runs.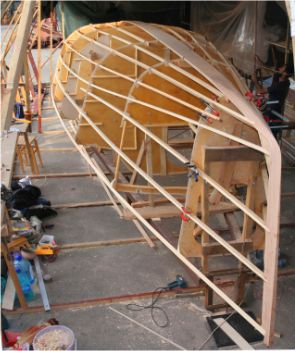 Harry Hammond witnessed the return of Miss Australia to the family fold and the start of the restoration project, but sadly passed away in 2007, aged 92, before Mark had completed his labour of love. I did not know that PI, but this rather struck me in the light of today's H&S legislation.
For those of you that want to ride in a sidecar but don't want to associate with motorcyclists?
Paraplegic canoeing acquaintance runs a Harley trike and a 4 wheel motorbike with floatation tyres, so he can go fishing.
There's a bloke here in town with small trike that he can operate from his wheelchair, a very useful bit of mobility. She was the experiment which developed into the radius chine plywood method used for the Didi range of designs.
In this photo you can clearly see the cleats that have been fitted to the bulkheads to receive the joinery and the settee tops have already been installed. The first was named Zooma, and Harry used it to commute between Saratoga, on the NSW Central Coast, and Palm Beach on Sydney's Pittwater to court his future wife, Lorna. Unlike many wooden boatbuilders of the time, Harry survived the transition to 'glass, although he cleverly retained his popular style and design and used coloured gelcoats to give a similar outward appearance to timber. In the Hammond Brookvale workshop there remain original templates of some sections of the old timber hulls. Before the days of GST and computer hard drives, boatbuilders rarely worried about documenting what boat was built when and for whom. It was thought that it could have been one of Harry's as the steering wheel boss carried a Hammond plaque, but there was doubt as the boat was much bigger than a typical Hammond. The possibility that this long-stored Hammond might be that boat had Mark's heart racing. O'Neill had seen high performance boats in the USA, but wanted a more stylish design and asked Harry to build him one.
The boat's history is a mystery after that, although indications are that there were at least two other owners before Mark re-acquired it. Most of the timbers were still in good condition, but the deck needed replacing and that proved challenging, with Mark's wife, Di assisting to get everything just right. The hull bottom was repainted and the deck and topsides now glow under 20 coats of hand-rubbed clear polyurethane. He sprayed the multiple coats of clear for Mark, fabricated the water-jacketed exhaust system and other parts and built a new trailer, which is, in itself, a work of art. Above: Master-metalworker Graham Mason built the trailer which is a work of art in its own right.
Into that compartment, Mark has fitted a new 502 cubic inch Chev V8 – not quite as potent as the original supercharged Chrysler, but more than enough for pleasing performance for a boat now into its sixth decade.
The classic wooden Hammond is an absolute credit to Mark and Di, who have worked so diligently to bring it back to its original glory.
To get WoodenBoat delivered to your door or computer, mobile device of choice, etc, click WB Subscriptions. He is rapidly regaining that lost time because he has been able to continue building through rain and snow, which would have stopped him for long periods. The majority of Hammonds were used for social skiing and some were raced quite successfully. Best-guess estimates are that he crafted about 150 wooden ski boats between 1948 and 1969, and around 165 fibreglass Hammonds between 1970 and 1984. When finished, he had it shipped to the US and named it Miss Australia, because he wanted Americans to know where it came from, and show that Aussies could build boats as good as, if not better than anyone in the US.
He has since managed to locate the original KB Chrysler V8, but is undecided about what to do with the racing powerplant.
Although the workshop still had crates of copper nails and roves left over from the days of wooden boat building, very few were needed in the restoration – further testimony to the quality of the original construction. We were fortunate to have use of this boat as our camera platform for the photos you see on these pages. And, of course, the boat is a credit and testimony to the life and craftsmanship of Harry Hammond, whose boatbuilding masterpieces have brought so much happiness to so many owners, crews and admirers. In fact, Hammonds enjoy a strong following amongst classic boat enthusiasts (see Harmony of Hammonds, P46) and are now considered highly collectible.
One should also realise that everyone was learning at the time - it was a miracle if the engine ran at all; test-bed operators were unmarried volunteers! Nearly all were around 16 or 17ft long, but some larger wooden ski boats were built to special order ?– one more special than the rest. He secretly hoped that Tony would agree to part with the boat that had been owned by Tony's own father, and harboured an ambition to restore it in honour of both their dads, if Tony agreed.