If you wish to add more photos (or videos) to your post or if you have any problems loading photos use the link below (there is no need to resize or adjust your photos). So, before selecting your photo please use the 'Message Box' to indicate to which post the photos belong.
A brand new vantage point for Seattle fireworks launches this year at The Center for Wooden Boats 35th annual Lake Union Wooden Boat Festival. Activities for the kids include Toy Boat Building where they can to build and decorate their own model boats and Pirate Storytime aboard the historic tug boat Arthur Foss; featuring the nautical yarns of Pirate Lou. Boat Building Demonstrations: Watch master craftspeople as they build kayaks, canoes, rowboats, and more. Quick and Daring Race: Are they amazing, or just crazy?  Watch teams built a boat in 24 hours and cheer them on as they launch and race on Monday.
NW Seaport: Tour 1889 tugboat Arthur Foss.  The NWS gift shop has maritime music CDs, t-shirts and more! The Center for Wooden Boats gratefully acknowledges the support of our sponsors in making it possible to bring so many wonderful boats and boat lovers together over the holiday weekend. Over 200 wooden boats from dinghies to sailing schooners over 130 feet in length are on public display throughout the festival. Zodiac  160-foot two-masted gaff rig schooner built in 1924 that competed in the 1928 Trans Atlantic Sailing Race. Adventuress  133-foot National Historical Landmark schooner built in 1913 for the founder of the Yellow Cab Company. Spike Africa  79-foot gaff rig schooner won honors throughout her racing career and has starred in films such as Joe vs.
Mycia  73-foot schooner designed and lofted in 1997 by local boatbuilding students at the Northwest School of Wooden Boat Building in Port Townsend.
Flying Cloud   52-foot locally designed Monk motor yacht originally built for the President of First Seattle Bank and later served as a sub-chaser during World War II. Mistral 39-foot Seaborn sloop built in 1929 and local regatta standout which has two Swiftsure International Yacht Race titles to her credit. We invite sailors and boat-lovers from near and far to join us in Baltimore in May 2015 for a weekend of sailing, talking, learning and partying in true West Cork style! Run in conjunction with Baltimore Seafood Weekend, on shore there will be the best of food and drink in the restaurants and bars. Dale Appleton dropped into the Wooden Boat Festival at Geelong, Australia the other day, and tells me he'll send over a brief report soon.
Dale Appleton sent us these photos of some almost absurdly good looking Couta boats racing in the warmth of the Australian summer off Queenscliff, Victoria. He says that the Coutas are now highly sought after as a pleasure and racing boat, and even as a status symbol to some, and adds that there is a traditional builder making them to order. Well, in an amazing coincidence it seems that dinghy has turned up on a beach at King Island, part way between mainland Australia and Tasmania, and I gather it is being fixed up by local boatbuilder Jeremy Clowes, who sailed with the Mystery crew after she reached King Island – I gather he has replaced the upper planks and various other bits and pieces using parts donated by local wooden boat enthusiasts.
Surrounded by unaccustomed ice, I've been reflecting on how grateful I am that people like Dale and many others are so willing to send in their photos and stories.
Have you got news for us?If what you're doing is like the things you read about here - please write and tell us what you're up to. Classic Sailor is a new magazine about traditional and classic boats from ex-Classic Boat editor Dan Houston and colleagues that promises rather more coverage of the traditional craft around our coast. Enter your email address to subscribe to this blog and receive notifications of new posts by email. Follow me on TwitterLooking for something?This is a busy weblog, and what you're looking for is probably still here - just a little way down the list now.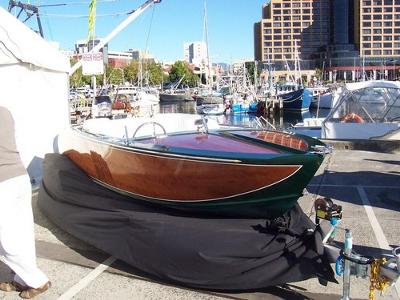 Our Faversham-based friend Alan Thorne can help with boatbuilding projects - constructing to plans in very tidy stitch-and-glue or more traditional techniques. The four day Australian Wooden Boat Festival began on Friday 11th Feb with a Parade of Sail and ends with the Hobart Regatta Day. Attendees can also learn to steer by the stars, sharpen their chisels or tie a "turks head" knot in our skills classes and booths.
Kids will also be able to build a kite and fly it from the festival grounds, and sail model boats in the park's new boat pond.
New in 2011 is an expanded beer garden run by Jillian's Billiards where people will be able to wet their whistle with four different beers while they play nautical trivia. In the meantime he has put some photos on his Flickr account, including these of the newly restored Ruby Merle, a Port Philip Couta boat. Readers may remember that Pete Goss's Spirit of Mystery expedition recently had a nasty experience when their recreated Cornish fishing lugger suffered a knockdown as they approached Australia. Thanks Dale and the rest – your efforts are greatly appreciated, and I hope you know how much you add to the sum of human happiness in the boating world. Try scrolling down, clicking on the 'older posts' button at the bottom of this page - or try the search gadget! Nearby food venders will fill a growling stomach.  And they'll be open leading up to the fireworks on Lake Union Monday night, the 4th of July. One crew member on deck at the time broke his leg and their boat lost its clinker-built dinghy made from off-cuts from the Mystery herself.