This Yankee 30 is a beautiful Sparkman & Stephens design and one of the highest quality US production boats of its time. The batteries have been replaced and secured under the settee next to the engine, and an automatic battery charger added. Smaller boats lower costs and are easier to handle, especially when sailing short or single-handed. I added two Andersen 12 ST FS winches on the mast to work the halyards, plus a clutch for the headsail halyard. The lines I run to the cockpit include the main outhaul, boomvang, main topping lift, and the two clew reefing lines.
Self-Steering: A Monitor windvane steers the boat when sailing and consumes no electricity. Refrigeration: I removed the refrigeration unit, and all of the associated wiring, and gave it to a friend.
This greatly reduces electrical consumption, freeing me from being a slave to recharging the battery bank. Watermaker: A Pur watermaker is available for use in dry cruising locales, such as the Sea of Cortez. High-Frequency Radio: A high-frequency ham radio and a Pactor modem at the nav station provide for long-distance communications, email, and weather information.
Electronic Equipment: Enhancing safety at sea are digital radar, VHF DSC marine radio with AIS receiver fed to the chartplotter, and AIS transceiver when transmitting position is desired. Dickinson Newport Propane Cabin Heater: This heater works excellently and is an appreciated luxury when sailing in cold and wet weather.
Bilge Pumps: An 800 GPH electric pump at the bottom of the bilge operates by a float switch. Liferaft: An inflatable liferaft came with the boat, and is stored in a hard canister forward of the mast.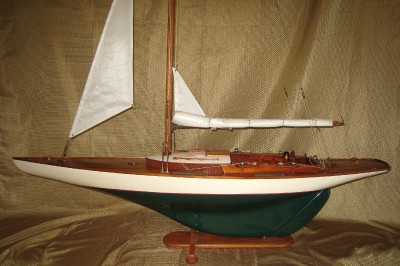 I share the view of some cruisers that a liferaft may not add to overall safety and could even be a net safety minus.
Nonetheless, the liferaft provides some psychological comfort when far offshore, and I can imagine an unlikely scenario, such as hitting a whale and sinking in calm conditions, when deploying a liferaft may succeed. Propane Storage: Fiberglass propane locker is external, hung off of the stern pulpit, which I prefer for safety to an internal vented locker. Holding Tank: Integral fiberglass tank can be emptied by a deck pumpout or by discharge overboard using a manual overboard pump. Luke Feathering 3-Blade Propeller: Reduces drag when sailing, and more robustly built than the Max-Prop. US Yachts was formed by original O'Day investors in part to represent George O'Day in sales and marketing for the Dolphin 24.
There was a brief period when they imported and sold Sheerwater catamarans that were built by Fairey Marine in Hamble, England. Thus Grampian commenced building not only the US Yachts line, but also (for the Canadian market only) the O'Day line of day-sailers.
During the late-sixties, O'Day approached Grampian Marine with an offer to buy them but Jim Bisiker turned them down. The stout bow rollers and other hardware, design of anchor locker and placement for a windlass, plus foredeck space and security make an excellent set-up for anchoring. I decided on a cruising boat size that was the smallest size that met my minimum space and carrying capacity requirements.
This gets the tank and the associated hoses out of the way for working on the mechanics; the old hot water tank blocked access to the steering quadrant -- not acceptable in my mind for a cruising boat.
Getting the head all wet by trying to take an awkward shower in it seems like a bad idea to me. The AIS chartplotter feed can be selected as from the VHF radio AIS receiver or from the AIS transceiver via a DPDT switch, which avoids a problem of the vessel's own AIS target chasing the vessel and setting off alarms when the transceiver is operating.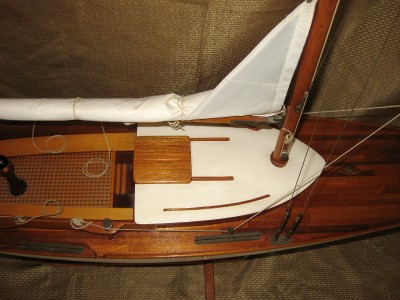 Partway up the bilge is a 2000 GPH electric pump operated by a float switch, with an audible alarm sounding if it ever operates. The name came from the Grampian Mountains in Scotland where Jim Bisiker's grandmother lived in Aberdeen.
I created this site mostly for my own browsing pleasure, but if you like it too - all the better. This little sloop is well suited to both racing and cruising, with a tall keel-stepped mast and high aspect sail plan to make it go fast in light air, high ballast to displacement ratio to make it stiff and dry to weather, and a bustle and skeg-mounted rudder for ideal handling off the wind. Stability and an easy motion, whether sailing short-handed or with a crew make the Yankee 30 an ideal boat. Three handheld marine GPS units, several iPhones running navigation apps, iPads connected to a Badelf sensor GPS running navigation apps, and laptop computers connnected to a sensor GPS and running navigation programs, provide more GPS redundancy. I installed a big red LED warning light, which is on whenever the propane is on, on the panel beside the switch. We were interested because it has a Dolphin leading its cove stripe, it was sold by US Yachts, and its lines (except transom) are similar to the Dolphin 24. Grampian Yachts had a very close connection to US Yachts and O'Day, and at one point O'Day tried to buy Grampian. Although out of production for a quarter century, the Yankee 30 is still a highly desirable sailboat.
They began building boats for US Yachts in the early 1960's which were sold under the name US Yachts. Apparently Grampian (thanks for that hint to look there) made the Eagle 27 for US Yachts from 1963-67.