Find a guy like your dad
One interesting thing I have noticed in SharePoint 2013 preview is that when you create a new site there is an option to select the site experience.
You can also see from the image that there is a new site template (Product Catalog) available in SharePoint 2013 for publishing sites.
Now that I have determined that the publishing template simply creates a Team Site with the publishing features turned on, I dove in and started editing the page.
I added some content to the page to test out the built in styles like the headers and callouts. My first impression is that SharePoint Online is very much targeted for the quick creation of collaboration sites.
I will be certain to share more thoughts, tips and tricks as I dive deeper into SharePoint Online. When you select 2010 template, your page will refresh and will only show the two site templates Publishing Portal and Enterprise Wiki. I had poked around the Team Site template already but I was really curious about how a publishing site would behave.
The templates that they choose to feature were focused on collaboration, communication and contact management. Nothing is quite as terrifying as staring at a white, blank page, especially if you are potentially working with a new system. Everything looked pretty standard and the classes that are applied are consistent to what are being used for SharePoint 2010. I found it curious that it used the (Welcome Page) Table of Contents page layout as the default page layout. Unfortunately the power of the publishing infrastructure, upon which a rich Intranet experience can be built, is not immediately evident. Which is inline with what I would expect when targeting small to medium size businesses wanting to consolidate these aspects of their business.
I was hoping that Microsoft would have taken this opportunity to add some welcoming help content as a way to guide people through the experience. Once in edit mode, everything looked like it normally would right down to the fact that the Welcome Links page layout was the default used when you create a new publishing sub site.
This makes me happy since I already have design patterns that target these classes and structure.
I can't imagine that being very useful for people that have chosen to create a publishing site. Imagine how improved the initial experience could be for people that have never used SharePoint before if there was a guided process to help introduce them to the power of the platform upon the creation of a site. What would have been nice to see here was a bit of an explanation about how to get started with SharePoint. How to edit and publish a page, what a web part is and how to add one, or explain the difference between a site and page.
So, I went ahead and changed the default page layout to something more useful for a publishing site, the (Article Page) Body only page layout.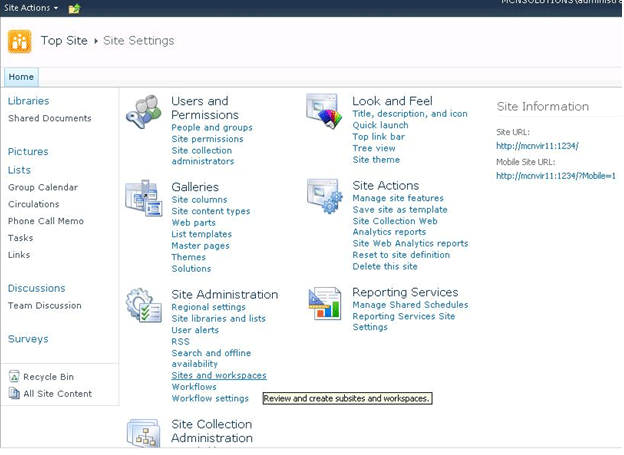 Comments to «Create publishing site template sharepoint 2010 visual studio»