Maybe I'm being paranoid, but this just seems a bit much to get back into my online bank account (which I accessed just fine on Friday).
It's a long time since I've used Natwest online, but that does look vaguely familiar to me.
Not seen that before, last time I locked myself out of the account I had to wait three or four days for a new activation code to arrive via the post. Will phone them tomorrow - am in the US currently, but have been here since May and this is the first time I've had this message on my online banking.
TBH I had to call them to get my debit card re-authorised after they blocked it when I tried to take money for a 2nd time - the amount of information the woman wanted over the phone surprised me.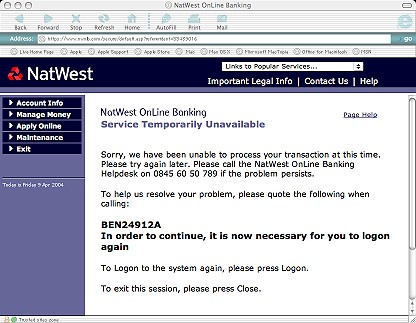 I definately would not enter any details into that, it looks really like some has installed a trojan onto your machine.
I believe that the IOM bank is part of the same group - certainly the web interface looks the same. Never had a problem with that since & I've only locked my account out once, after 3 attempts at putting the wrong password in. Currently churning my way through a full scan, 0 results so far so presumably nothing in memory. I know that you can fall prey to DNS redirection(?) so is that likely your machine has anything dodgy on it?
There's been warning plastered all over mine recently that this sort of thing is happening and to be aware of it.
It didn't throw up a form, just told me to contact the phone bank to unlockg, didn't even supply a number.