Today marketing is a multi-faceted pursuit combining good old-fashioned salesmanship, quality content, social media, and site metrics. Marketing Grader: this hubspot tool assesses the target site in terms of social media, SEO, lead generation, mobile compatability, and blogging and condenses the reults into an overall score. Compete: a series of analytic tools that provide insights on user behavior, overall site views, and comparison between sites. Pinterest Business Analytics: monitor your Pinterest presence by seeing how users interact with your Pins, what content is the most repinned, clicked, or recent. SocialMention: real-time social media search that aggregates trends by keyword from most major social media platforms.
Google Ads Display Network: a set of reporting tools that let you know which of your Google Ads get the most clicks, bring the most sales, and what your conversion rates are. CPC ROI Calculator: this tool calculates cost-per-click ROI to help you establish how you can profitably pay for ads.
PPC Web Spy: this tool uncovers the Google AdWords keywords your competitors are using, so you know where you should compete. Spring Metrics: two groups of tools, one focusing on e-commerce conversion, and a second focusing on social, content and coupons. On-Page Optimization Tool: a number of tools that allow you to quickly spot your metadata and important SEO content the same way a search engine spider crawls your site. WordStream Keyword Tools: a number of tools providing related keyword ideas, negative keyword identifiers, and niche finders. YouTube Keyword Tool: Originally for videos, find related keywords that can improve your campaign performance. Anchor Text Over Optimization Report: use this tool to identify anchor text diversity, and highlight areas where anchor text is over optimized. Constant Contact: edit templates, track interactions like email opens or donations, and connect customers to your social media.
Scope: go behind the scenes of competitors emails, seeing how other campaigns make beautiful and compelling messages.
Komfo: analyze your Facebook comparing fan penetration, and viral amplification across your posts. Rignite: monitor your presence on Facebook, Twitter, and Youtube (more platforms being added currently), share accounts with teams of 3-6 people, view social media stats in a graphic interface. Social Oomph: track keywords, utilize url shortening, purge previous tweets, and make recurring tweets on up to five Twitter accounts.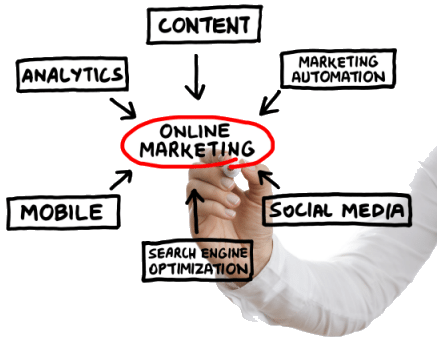 Piwik: the leading open source web analytics platoform offering almost every metric as data over time.
AWStats: generate reports on web, streaming, ftp, or mail server statistics graphically, and with data over time. We use WordPress to publish and manage content, increase leads and grow your business organically. Our custom website designs are Search Engine Optimized for the best online marketing results.
Search Engine Optimization, commonly referred to using the acronym SEO, involves directly improving the content of your website to increase the visibility of your website in the organic search engine results. Search Engine Marketing differs from SEO efforts in that this form of marketing typically seeks to promote your website and increase visibility through the use of paid advertising, paid inclusion, or contextual advertising. Social Media Marketing involves promotion of your brand or business through social media channels such as, Facebook, Twitter, and Linkedin just to mention a few. Referral Marketing focuses on what many times proves to be the most value of all marketing efforts – word of mouth.
Display Advertising is the act of purchasing paid advertising banners on other websites and blogs to drive traffic to your website and create product or brand awareness. Email Marketing involves the use of email as a mass communications tool to connect with your customers or prospects.
Affiliate Marketing is the use of a system of incentives to reward one that provides prospects, leads, or sales. Calvert Design Group has been providing Southern Maryland Internet Marketing services for 10 years.
Internet marketing has the same goal as traditional marketing, with the only difference that this way you don't need to leave your room but you will still accomplish great things. The main goal of internet marketing is to use the power of the internet to advertise a product or a service and reach as much people as possible. Social networking websites are widely used, so internet marketers use this potential to advertise products on facebook and tweeter. Since millions of people don't go out of the house without mobile phones, produce a mobile, simple version of your internet site your mobile phone market can easily access. This can be used in many different ways because you can create many incentives that will keep everything interesting.
The view port for mobile devices is actually small, consequently simply add the most important information near the top.
Before you hire an Internet marketing consultant to assist you it is a good idea to gain a better understanding of the field and how it applies to your business. You can leverage this to provide your prospect insight into your products, services, or process in an engaging and entertaining medium. It cannot be done by an amateur, since it requires great efforts that only professional can direct in the right way.
The prime thing that should be done is determining target audience and creating strategy with that in mind. If lots of people like the things you do, the information will spread and more people will know about it. Hack your way to the top by working smarter, not harder at online marketing with our 50 essential online marketing tools. Many businesses are fearful of the high production costs, but some of the most effective video campaigns are the ones without large production budgets and that speak in an authentic voice. In order for any company to do anything in this field, a thorough strategy should be created and you can't expect results over night, since it takes time for a strategy to take effect. Doing a little bit of research will surely provide you with many useful information, like the websites that your audience likes, the approach they appreciate and the designs they love.
Make the most of YouTube and create an online video that explains to the viewers the way your business may benefit them. This is an effective way for you to mention special promotions as well as programs that only subscribers can access.
Sharing ideas has become quite a popular activity, and social networking makes it very easy.
The live presentation can produce an even bigger impact on your target audience than plain text on the page. However, you should be moderate, since no one likes to have dozens of promotion emails every day. Make sure to encourage them to visit your internet site, so include your URL of your website in an easy-to-read format with your video clip and brief description. Be wise and choose interesting content that will attract the reader who will gladly visit your page and maybe even become a loyal customer.