Starting on July 17th, we took note of a change in how videos are displayed in search results. Soon, we'll probably start seeing lots of blogs and articles suggesting you move all your videos to YouTube to get snippets and improve your SEO. Video snippets, much like authorship photos and other rich snippets, were part of Google's constant testing and iteration on the cosmetic appearance of search results. With video snippets suddenly becoming much rarer, we are reminded that we should never get too comfortable with the search engine status quo.
There is no one-size-fits-all strategy, and every business should be making their own choices on how to implement a comprehensive SEO strategy that includes video. Even if Google's rich snippet changes are just a test and we eventually see video snippets increase again, we stand behind this as a stronger overall strategy. When thinking about where to host your videos, ask yourself where your business achieves conversions.
If someone searches for one of your products, ideally, they should land on the product page, where a conversion can happen.
Putting the time and effort into making great content with great media should be rewarded and helps grow the authority of your site: another reason to lock that media down to your website rather than YouTube.
Even if your customers convert on your website, you can still use YouTube to build brand awareness that doesn't compete with your efforts on your own website. Maybe this video makes you feel like you should call your mom and say thanks, but also thank her for buying all those Proctor & Gamble products over the ages.
GoPro is a great example of someone who is using YouTube correctly while still selling a product. If you look at GoPro's entire YouTube channel, there are no product descriptions or reviews of their cameras trying to convince people to buy them. What are some ways to drive brand awareness on YouTube without competing with your conversion efforts on your website? Use YouTube to rank with snippets for different keywords than you're using for conversion. Building an effective video SEO strategy is a long term game now that video snippets have been removed for most websites. Using YouTube for brand awareness videos in conjunction with self-hosting for your product videos means you can have the best of both worlds. Nathalie Nahai is a web psychologist, author, and host of the Guardian's Tech Weekly podcast. We get excited when our partners and customers use our APIs to build products and tools that enable new, powerful uses of video. While we wouldn't call ourselves experts, we've already learned a handful of new production tactics for this immersive, unforgiving medium.
Ankle dorsiflexion is a fancy term that essentially means moving your foot so that your toes get closer to your knee.
It seems like Google is no longer showing video snippets for anyone but a few big brands and YouTube. However, the core of SEO strategy has always been and will continue to be building an authoritative domain that you own and control. We should always be monitoring and diversifying in case something happens to a traffic source we depend on.
At Wistia, we believe in focusing on a long-term strategy versus looking for short-term wins. We invest lots of time, energy, and resources in our website to make sure that it is the primary destination for visitors hoping to learn more about Wistia, particularly those interested in purchasing our product.
Here are a few ideas for how you might structure your SEO strategy in a post-snippet world. If you place your product videos on YouTube and your product pages on your site, which result do you think people will click on?
You don't want to compete with your product videos on YouTube, so don't put them there!
Videos have been proven to increase the number of people linking to a given piece of content. Even without snippets, you can create descriptive meta title and description tags that let searchers know you have a video worth watching on your page, which could drive more search traffic to your site. Videos that are likely to create social buzz or have the potential for being well-linked should most likely be placed on your website to help build your domain authority.
When you're using video on your site, make sure to use inline transcripts or captions or accompanying text so Google can index your content accordingly.
That great content will generate links and social shares which are important in making your site authoritative. It's a video that connects with a wide audience and introduces or reintroduces them to your brand.
This one has me thinking about heading to the beach in my best beach gear and just hanging out. Doesn't this video make you want to go out and do crazy bike tricks or learn to ski and record it on a GoPro? They are creating unique videos that get people excited about their product and then drive that audience to their website to convert. In situations where your videos need to be placed on both your website and your YouTube channel, target different keywords for each instance of the video so you don't end up with the YouTube video snippet cannibalizing your clicks. There are tons of keywords related to your industry but not necessarily connected directly with your products.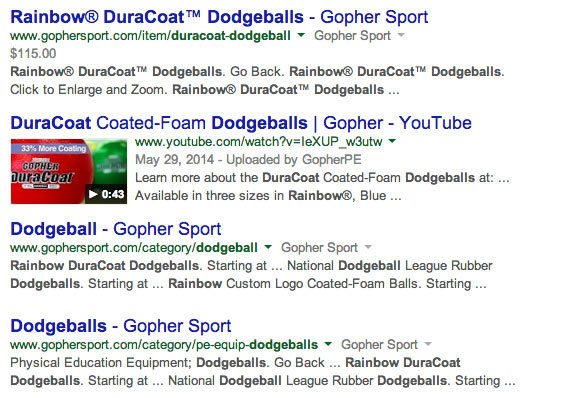 Creating great content with amazing media will build links and social shares to build your site's authority with the search engines. In actuality, you need to shift your video SEO strategy to include YouTube along with your own self-hosted content.
The audience that's looking for you on YouTube will find your presence and gain a unique sense of who you are, humanizing your company. YouTube is the world's biggest video platform, it has 1 billion users per month and it's owned by Google, so it must be good for SEO, right? That's why, today, we're especially excited to launch our official Wistia integrations page!
Regardless of whether this is a short-term test or a permanent change by Google, this seems like a good time to re-evaluate how video best fits into an ever-evolving SEO strategy.
You can accomplish this by integrating video with your overall content strategy and focusing on link building, social shares, and brand awareness. A few basic tweaks will help you get your site on the right path to becoming authoritative in your niche.
Building an authoritative domain that you own and control over time will always be more valuable than a few rich snippets.
Continue to make the content that your audience engages with and that will eventually lead to conversions for your business. Save YouTube for brand awareness videos and other videos that don't lead to direct conversions. I did a study while working at Moz that showed content with a video, images, and lists receiving 4 times more links than those with just text. The main goal of this video isn't to encourage them to buy your product, but to connect with them on a different, human level.
Make videos specifically for the YouTube channel, where people are primarily searching for entertainment and education, rather than treating it as a dumping ground for all of your video content. Consider making content around these keywords and see if you can get some traction directly on YouTube or via search. The audience that wants to learn more about you and your product and convert will consume your product videos on your website, where you have complete control over the experience. Make sure that the content you put out is something that your audience will be willing to share or link too. In the long term, building a website with a bunch of authority will outweigh the short term gain of video snippets on YouTube.