admin 07.03.2015
Petroleum & Other LiquidsCrude oil, gasoline, heating oil, diesel, propane, and other liquids including biofuels and natural gas liquids. Natural GasExploration and reserves, storage, imports and exports, production, prices, sales. ElectricitySales, revenue and prices, power plants, fuel use, stocks, generation, trade, demand & emissions. Consumption & EfficiencyEnergy use in homes, commercial buildings, manufacturing, and transportation. CoalReserves, production, prices, employ- ment and productivity, distribution, stocks, imports and exports.
Renewable &Alternative FuelsIncludes hydropower, solar, wind, geothermal, biomass and ethanol. Total EnergyComprehensive data summaries, comparisons, analysis, and projections integrated across all energy sources.
Analysis & ProjectionsMonthly and yearly energy forecasts, analysis of energy topics, financial analysis, Congressional reports. Markets & FinanceFinancial market analysis and financial data for major energy companies. InternationalInternational energy information, including overviews, rankings, data, and analyses.
Over the past three decades, the share of residential electricity used by appliances and electronics in U.S. Initial federal mandatory efficiency standards were enacted between 1988 and 1994 for all major appliances, but energy consumption by household appliances nearly doubled between 1978 and 2005.
While most home appliances have become more efficient over the past 30 years, the average U.S.
DVD players and Digital Video Recorders (DVR), which did not exist 15 years ago, are now widespread.
The primary sector uses less than one tenth of the energy consumed by all businesses in New Zealand. These fuels are used by most organisations, small or large. The services sector has a large number of smaller organisations, which together contributed a relatively high proportion towards the overall fuel use.
The public administration and safety industry had the second-largest energy use – with a small number of large users. Arts and recreation services, and administrative and support services, are industries that reported low energy use.
As for other sectors, service organisations were more likely to purchase petrol and diesel from a petrol station than have it directly delivered (95 percent for petrol, and 70 percent for diesel). Services sector organisations used relatively small amounts of solid fuel, compared with other sectors (primary, and industrial and trade). Approximately 60 percent of organisations indicated they had current energy-management initiatives in place (eg monitoring energy use or cost).
About 60 percent of all organisations said they had room for further energy savings. Nine out of 10 organisations in public administration and safety reported further savings were possible.
The data collected for the services sector in 2010 completes a three-year programme across the entire economy – the services, industrial and trade (2009), and primary (2008) sectors. Adding results from the three-year survey cycle estimates the New Zealand economy's energy use (excluding households) at 393,000 TJ annually. This release presents the results for the second year of the New Zealand Energy Use Survey (NZEUS) which was carried out in early 2010 to collect information for the 2009 financial year.
The reference period for this survey is the last financial year for which the business had results available at May 2010.
The NZEUS data was collected from businesses via a paper questionnaire, posted out to a random sample of businesses in the industrial and trade section of the economy.
Each industry uses energy in different ways and in various quantities, as the activities they undertake vary. Within the industrial and trade sectors, manufacturing businesses used 167,000TJ, which is just over half of the energy used by the industrial and trade sectors. The other fuel type category which includes coal, wood products and steam had the highest reported use (80,000 TJ). Electricity was used by all business groups to some degree, and totalled 65,000TJ across all surveyed industries. While all petroleum fuels have similarities and have a degree of substitutability, particular uses tended to use specific fuels.
The transport, postal, and warehousing industry accounted for 38,000TJ of the 67,000TJ total of diesel use in the industrial and trade sectors.
The main use of diesel was for mobile on-road purposes, accounting for 77 percent of total diesel use in the industrial and trade sectors.
Two major groups contributed to the 14,000TJ total of petrol used by the surveyed industries.
In the industrial and trade sectors, 95 percent of petrol use was by vehicles on public roads. Overall, natural gas made up 12 percent of the total energy use by the industrial and trade sectors.
The survey asked businesses to indicate what energy saving initiatives they currently had in place and the areas of the business where they could reduce energy usage, as well as priorities relating to energy management. According to the RECS, New York uses about 15% more energy than the national average, consuming about 103 million British Thermal Units (BTU) per home each year.  BTU is the measurement of energy required to increase the temperature of 1 pound of water by 1 degree Fahrenheit, at normal atmospheric pressure. Most energy consumption goes to running appliances and electronics in California, marking 40% of total energy use. An average Texas household uses approximately 77 million BTU per year, about 14% less than the national average. Compared to the national average, Texans use about 12% more energy for air conditioning and cooling systems, totaling 18% of their energy use.
There were many factors the EIA took into account when researching and surveying information. Enter email to subscribe to Your Energy Blog and get the latest in energy news, stories and events.
Rising electricity costs have had the heaviest influence on rising energy costs over the past decade.
Energy Manager Today is a leading energy management news and industry analysis resource, featuring daily trade publication news to keep corporate executives fully informed.
Energy management news, policy and industry analysis by Business Sector Media, LLC - Copyright ©2016, all rights reserved. Diesel was the energy type used in the greatest quantity, accounting for 50 percent of the primary industries' energy use. This total is roughly equivalent to the energy used inside all New Zealand homes each year. However, many of the larger organisations in the services sector used a relatively low amount of energy. Roughly the same ratios existed for how petrol and diesel was used by organisations – the majority was used by vehicles on public roads (93 percent of petrol and 67 percent of diesel). Most organisations were not sure of the form these fuels were in – particularly what form of coal they used. However, for wood it was clear that the two most-commonly used forms were sawmill residue or fuel wood, and oven-dry wood or pellets. The public administration and safety industry had the highest rates of energy-management initiatives – 9 out of 10 organisations had initiatives in place.
Results showed that organisations with energy-saving initiatives in place were more likely to see opportunities for further savings, while those that had not thought of energy savings before didn't see a place for them in the future. In 2010 the final section of the economy, the service industries, will be surveyed. The NZEUS collects information on the amount of energy used by businesses in each industry group. A terajoule of energy is roughly equivalent to filling a 40-litre petrol tank 700 times, or the total electricity used by 35 households in one year. At the highest level, the total group of businesses in the population are split into the industrial sector and the trade sector.
During the 2009 year, businesses in New Zealand's industrial and trade sectors used 287,000TJ of energy.
The manufacturing industry accounted for 50,000TJ of electricity usage. Within manufacturing, primary metal, and metal product manufacturing businesses were the largest user of electricity. There are many reasons for this tendency, including economic, environmental, and fuel quality requirements. Mobile off-road diesel use accounted for 14 percent, and other, which includes marine and stationary use of diesel, accounted for 9 percent. These were construction which used just over 4,000TJ and then transport, postal, and warehousing which used just over 3,000TJ worth of petrol. Almost all (98 percent) of the petrol used in the industrial and trade sectors was purchased from a petrol station or truck stop.
Three quarters of all natural gas used in the industrial and trade sectors was by the manufacturing industry, which used 25,000TJ. The most common initiative was monitoring energy use or cost, with over half of respondents stating this. One-third of respondents stated they had no energy saving initiatives in place. How much and where exactly that residential energy is used was the question the US Energy Information Administration (EIA) wanted to know. Despite using more energy per year, residences use less electricity than the national average.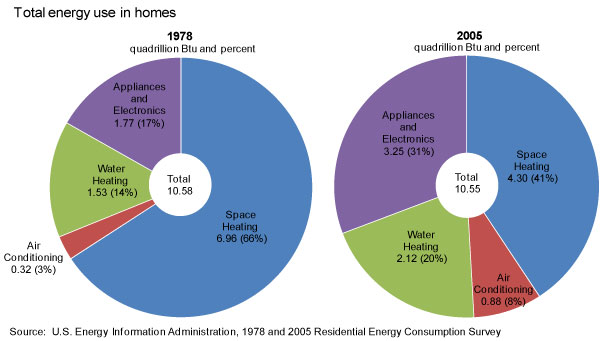 On average RECS found most New Yorkers use energy for heating systems, making it 56% of their overall energy use. As a whole, California uses about 62 million BTU of energy per home annually, 31% less than the national average.
In addition space heating accounts for 27%, water heating 25% and air conditioning 4% of overall consumption. However, electricity use in Texas is about 26% greater than national use due to cooling systems used for the warm climate. They used data from personal interviews with homeowners, energy samples from homes and statistics from energy suppliers. Harsh Midwestern winter weather patterns undoubtedly had an adverse effect on energy consumption for hospitals participating in the 2014 survey. In general, electrical costs have leveled out since 2008 for survey participants, with a slight decrease in 2012, and a slight increase in 2013.
Over 45 percent of homes have at least one television with a screen size of 37 inches or larger.
One terajoule of energy roughly equates to filling an average car's petrol tank twice a day, every day, for a year. For LPG, 85 percent was used for heating or cooking – and more than half the total LPG was used by the accommodation and food services industry. While fuel oil was largely used by stationary machinery off public roads, the total amount of fuel oil used by the services sector was very small. To do this, a three-year cycle was designed to cover the three sections of the economy, at one section in each year. For more information on the businesses surveyed, see the 'Technical notes' of this release. There were also a significant number of respondents that indicated either a June 2009 balance date or a December 2009 balance date. With 20,000TJ they accounted for 40 percent of the total manufacturing sector's electricity use.
Knowing how energy is used is important as it allows the assessment of the impacts of energy related initiatives. Almost one-third of businesses reported they had no possibility for further energy savings.
To find out, they surveyed homes all over the US and recently released their results of the Residential Energy Consumption Survey (RECS). Most homes in New York use other sources of energy such as fuel oil and natural gas for heating and cooking. Appliances and electronics make up 26%, water heating 17% and air conditioning account for only 1% of energy use. Most of the state has a very mild climate and does not need to use heating and cooling systems as often as the rest of the nation, resulting in less energy consumed. Its annual electricity cost is also much higher than the national average, totaling about $1,800 per home. Space heating and water heating only account for 22% and 19% of energy use, far below the national average.
Researchers also calculated energy use through details about homes such as the number of televisions per residence, type of house, cooling and heating systems, and the year of construction among other details. Screen size and average energy consumption per television have continued to grow over time. The survey also includes questions on energy saving practices and the areas in which businesses could use less energy. Information on how energy is used also enables businesses to benchmark themselves, and make more informed choices on the fuels they use. However, due to high prices, Californians still pay about the same amount as the national average. In all, the results show how climate, electricity rates, and energy sources can all affect a residence's energy consumption.
No adjustment has been made to produce figures for a single consistent time period for all units.