admin 26.10.2013
Welcome to the University of Glasgow Undergraduate Medical SchoolThe Undergraduate Medical School is one of the largest in the UK.
Wolfson Medical School The Undergraduate Medical School is based in the award-winning Wolfson Medical School Building, which houses the Walton Medical Library, a Vocational Studies Suite, and Clinical Skills Area complete with fully-equipped ward. Glasgow students in MB1, MB3 & MB4 now use the Glasgow Undergraduate Medical ePortfolio to record professional development activities. The Medical School is developing a Peer Support Programme in recognition of the essential role that students play in supporting and encouraging one another.
Then you might be just the person we are looking for to become a Peer Supporter at the Medical School.
MB3 prize Viva 2015Congratulations to the winners of the 2015 MB3 Prize Viva, pictured with Y3 Directors Dr Malcolm Shepherd (left) and Dr Russell Drummond (second from right).
Narrow your interests and find researchers working in those areas to contact about research positions. Visit our information for prospective undergraduates at the College of Medicine and Veterinary Medicine. Visit our Graduate School for study at postgraduate level with the College of Medicine and Veterinary Medicine. The Edinburgh Medical School integrates research and teaching across our three Deaneries: Biomedical Sciences, Clinical Sciences and Molecular,Genetic and Population Health Sciences. Learn about Edinburgh Medical School's Vision, People, One Health, Organisation, and how to find us. In this short film, Professor John Iredale describes the School's One Health vision and what it means for students and researchers who come to the University of Edinburgh to develop exciting and cutting edge work.
Unless explicitly stated otherwise, all material is copyright © The University of Edinburgh 2016. The University of Massachusetts Medical School (UMMS) Combined Summer Undergraduate Research Opportunity is a non-credit, ten-week, structured research experience sponsored by UMMS Office of School Services. The Combined Summer Undergraduate Research Opportunity is funded by the National Institute of Health (NIH) and UMMS Office of Research. The program is designed to provide participants in-depth exposure to actual bio medical research.
With five-and-a-half million people in the West Midlands area, you will be studying in the country's largest healthcare region, offering a variety of clinical placements. One of these is the Queen Elizabeth Hospital Birmingham, located next door to the Medical School, which opened in 2010 and has state-of-the-art healthcare facilities. We aspire to train medical graduates who are highly sought after in every branch of medicine, equipped for postgraduate training in the UK and in other healthcare systems, and who are equipped for a career in Medicine in the 21st Century.
The GUMeP is based on the NHS Foundation ePortfolio, and will help prepare our students for the transition from undergraduate study to postgraduate training. Are you good at looking out for others?Then you might be just the person we are looking for to become a Peer Supporter at the Medical School.
The program consists of "hands-on" laboratory research with an investigator serving as a mentor, role model and advisor.
Participants will create career-building connections between researchers, post docs, graduate students, and peers.
This means you will have plenty of opportunities to gain experience in the diversity of medical disciplines, learning how to manage a wide range of patients from different backgrounds and cultures.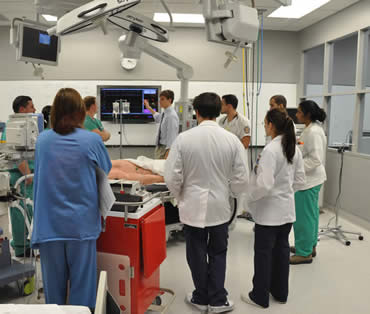 The program encourages participants to consider biomedical research as a viable career choice. If you are interested in the sciences, would you rather study life science or physical science? Narrow down your research interests by asking yourself these kinds of questions. A lot of premeds do history, math, English, linguistics and other types of research that have nothing to do with the typical biomedical research. Sometimes your undergraduate institution has a website or resource center that shows all the current research positions open. As you find potential researchers, make a list of 20 to 30 that you would like to contact about a potential position. Three researchers kindly rejected me, one offered me an interview and the rest never replied.
When you go into the interview, let them know that you would eventually like to have an individual project. Not having an individual project means you will be a grunt worker for the entire time.When you are interviewing for research positions, remember that you should be evaluating them as they evaluate you. You need to ask yourself, "Is this a place where I want to work?" Will they offer you mentorship?