Buying large items on the internet can be a bit intimidating to those perhaps not used to making big purchases online. Backyard Buildings and More customer Gina Friederich of Iowa recently opted to purchase an Arlington Shed during Backyard Building and More's Fall Blow Out Sale, thinking she would save at least $200, plus get the delivery and installation included in the sale price. Instead, she found a little extra bonus-she received her whole shed, including the windows and flower boxes completely free. Reach out to the author: contact and available social following information is listed in the top-right of all news releases.
We specialize in unique custom designs for specific sites & uses, including your perfect shed, cottage, treehouse or outbuilding. A-FrameThis tiny, AFFORDABLE, EASY and QUICK to build A-frame, designed by Deek Diedricksen can be easily altered for different uses or added to, rather effortlessly. Potting ShedThis 10' x 11' sturdy garden shed features a large skylight and an overhang for outside storage of bikes, firewood and garden equipment.
The Basic ShedThese plans cover everything you need to know to build a basic 8' x 10' shed.
Also available as a timber-frame kit with traditional hand-made mortise & tenon construction.
You are viewing a limited version of the website due to your browser, an unsupported version of Internet Explorer. Whether the room brings the backyard in or vice versa, these dwellings mesh the beauty of the outdoors with the comfort of being inside.
A multipurpose tree house north of Baltimore, Maryland, was built with short- and long-term use in mind: playtime for the kids now, and a space for entertaining later.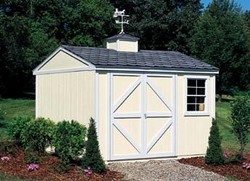 In Honshu, Japan, an enclosed courtyard by Hiroshima-based architect Keisuke Maeda lets in sun, wind, and the occasional bird. In Argentinean architect and furniture designer Alejandro Sticotti's bedroom, dappled sunlight and reclaimed-wood floors and walls give the room a warm, peaceful feel. In a Connecticut Cottage, architecture firm Gray Organschi manages to make the roof appear as though it hovers weightlessly. When sustainable building advisor Megan Lea set out to build a backyard retreat, she knew that reclaimed materials would figure prominently into the design. It doesn't get much more idyllic than this: An illustrator of children's books who lives on the Sunshine Coast of British Columbia needed a quiet workspace that was nearby, but separate from, her family's bustling household. Each week, we tap into Dwell's Instagram community to bring you the most captivating design and architecture shots of the week. It's all part of Dwell on Design + designjunction's three-day event, featuring a program of talks chock-full of leading figures in design, architecture, urbanism, and beyond—coming up May 13-15 at ArtBeam in New York. The Jewish Museum in New York City takes it outside with a celebration of the Brazilian landscape architect Roberto Burle Marx. A 1960s home infested with powderpost beetles had to be sacrificed before this this Zen-inspired house could happen. At the base of Echo Mountain in Phoenix, a geometric home by Wendell Burnette opens up to the surrounding desert landscape.
A creative couple transforms an old Toronto storefront in Dundas West into a home and studio. Thanks to a contemporary interior that she's been updating for a decade, modern architect Abigail Turin has learned to love her traditional 1925 San Francisco home.
Johannesburg-based design studio Counterspace was founded in 2014 by young architecture graduates Sumayya Vally, Sarah de Villiers, and Amina Kaskar. With Alvar Aalto in mind, a renowned Swedish architect crafts a serene home on a long-held family plot.
A half-century later, furniture designers are catching up to painter Yves Klein's visionary Table Bleue.
A hillside Virginia home located on a notch between two ridges is fun for the whole family.
For full website functionality, please upgrade your browser to Internet Explorer 9 (or greater), Firefox, Safari or Chrome.
Giant sliding doors open onto a wraparound deck peppered with potted plants from vacations in Brazil, Uruguay, the Netherlands, and Italy.
What resulted is a polychrome of salvaged 100-year-old barnwood by West Salem-based Barnwood Naturals that makes the facade of this Bernard Maybeck-inspired design as unique as it is enviornmentally friendly. She contacted local designer, artist, and builder Riley McFerrin of Hinterland Design to replace an existing shed on her property, perched on top of a steep hill, by maintaining the old outbuilding's small footprint. Their projects are collaborative, research-led investigations into possible futures and ideas of otherness in Johannesburg.