They peck each other a lot, so they need quite a bit of space for their usual living area - so a tractor probably wouldn't work. Even though it doesn't look like it in this picture the coop is very level.  I must have been off the day I took this picture. Leveling out with patio bricks, using concrete blocks as to keep the wood floor off the ground.
Last week, the IP company contracted the tree service, they deemed the pine tree a hazardous to the power lines so they have my permission to cut it down.
I give you these pics to light your "ideas fire", but I don't recommend copying my mistakes! Mom and Dad of 3 boys 14,11,9; live in city in-town by public library and school; Silkie rooster, Silkie hen, EE hen, RoseComb Bantam and 8 of their mixed breed offspring!  And a bunny! I wonder if somebody out there isnt' ready to build chicken coops for us out of recycled plastic?  I'd pay.
Our dogs keep predators away during the day, and at night the chickens are locked up.  I might be covering it in the future because we have started to attract Hawks, blasted things. We put the window on the side with the next boxes because I had read in, Backyard Chickens for Dummies, page 114. What do you think would be a good size shed for six chickens and a reasonable storage area?
Making plans of extending the run way back in the property line, therefore they will have MORE room to run, another eight feet.
I was wondering why nobody uses the rubber horse mats for flooring - I have them in my guinea's house and just love them! I'd pay big for the convenience, safety and good looks of a plastic easy-clean, secure coop.
We're building two square runs and are going to put a shed between the two, and rotate the chickens between them.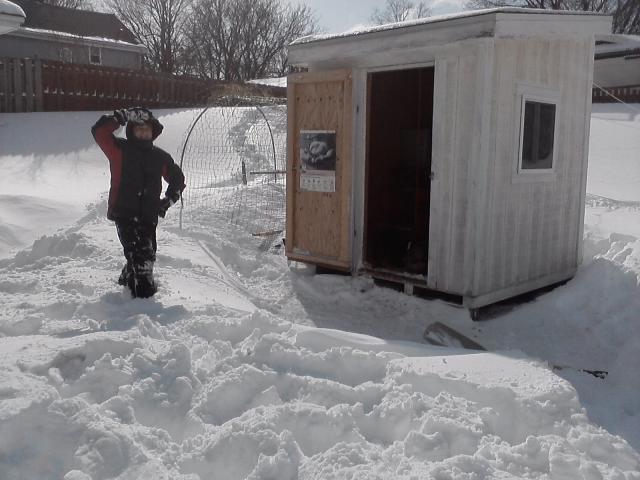 We also installed a doggy door so in the winter the coop can stay closed but the chickens can walk outside, if wanted.  Because we get so much snow here we have added a covered deck over the double doors, which is where the chickens spend most of the day during inclement weather. The water SHOULD live outside in the hoop, because our chickens are messy and spill their water in the coop, resulting in our hard work and wasted time cleaning up after ammonia buildup under their coop litter.  This shed we insulated for sound because we keep a few roosters, but the coop SHOULD have better ventillation! Ever since we had it brand new, we put in window and doggy door and use the screen hardware door for warm months and solid door for winter months.
The roost is on the left with containers under it to catch droppings.  The nesting boxes are on the right.