Protect your Christmas ornaments when the holidays are over with the Christmas Ornament Storage.
Integrated handles let you easily carry this storage box to and from the garage, basement, or attic. Keep your holiday ornaments safely stored and protected all year with this Holiday Ornament Storage Box.
This Ornament Keeper Christmas Ornament Storage Box from TreeKeeper provides a convenient way to safely store and protect up to 72 Christmas ornaments in one compact storage box.
Capable of storing up to 75 round ornaments, the Christmas Ornament Storage includes dividers that provide each ornament with its own individual space. With our space-saving Christmas Ornament Storage Box featuring convenient removable trays, you can effortlessly organize your decor.
Featuring three removable trays with handles which are lined with fabric to protect delicate Christmas ornaments, this Christmas ornament storage box also includes a large zippered pouch on the front sized perfectly to fit your tree skirt. Just received the two I ordered, haven't even used them yet and I'm ready to place an order for three more.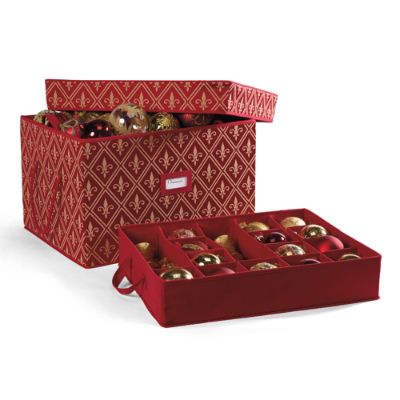 The interlocking lid and integrated handles make ornaments easy to store and carry in this Christmas Ornament Storage container, and the design allows for easy stacking in a garage, attic, or basement. You can remove a tray at a time and carry it to the tree for ease of decorating, and each drawer is labeled so you can sort bulbs by size or color.