Published 05.04.2015 | admin
The Storage DRS and associated datastore cluster, along with Storage Profiles all showed up just fine when building my Provider VDC. Now, vCD aficionados will probably recognize this immediately, but this error threw me initially.
In my haste to roll out my environment, I guess I missed the point where a storage limit is set. This now allowed me to successfully add the imported vApp to my catalog for sharing with other ORGs. I then created a vdc and added both profiles but limited the Gold to a 100GB and the Silver to 200GB.
I do want to point out that I am using the appliance as I am really evaluating the features and such. Your Windows "Roaming Profile" is a collection of data which reflects the way you use the University Windows service.
Personal settings for Windows and for programs - settings which are made as you use the service. Your Internet Explorer Favorites (in University Windows XP systems, but not in Vista, Windows 7 or above). Follow steps 2 - 9 again and reverse the settings we changed earlier to rehide system and hidden files. All requests for profile exclusions, support or advice should go first to your local IT Support Staff.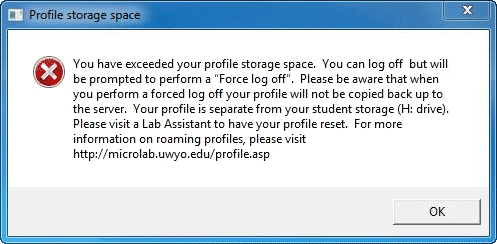 If you are a Student working in one of the IT Clusters you are advised to visit manned Cluster rooms and speak to the IT staff on duty. Admittedly, its been a while since I played with vCD and I am a little rusty, but I wanted to see how well these storage features worked with vCD 5.1. If you are using linked-clones (Fast Provisioned), and you are deploying a vApp to a datastore that does not contain the original base-disk, a shadow-VM copy of the base disk has to be copied to the destination datastore. The size of your profile is restricted to prevent it becoming too large which would cause logons to take a long time.
Double click on the red circle with the white cross displayed in the Taskbar (which is located at the bottom right hand side of your screen).
Click on the 'Size' column (B) which moves all of the largest files to the top of the list. You can see how much of your allocated profile space (C) you are currently using at the bottom of the window.
In the example image above there is a single large file which, if removed will free up enough space. I'll follow-up with some future posts on how this all integrates, but this first post is just to highlight an issue I ran into in my haste to get the environment up and running. I then rolled out my ORG VDC and uploaded a virtual machine from my vSphere environment to use in my vApp. Keep in mind the underlying datasore has 500GB for each profile and for simplicity we only had 1 datastore backing each profile for our test.
Could that account for the need for additional space and the reason why you cannot deploy more vApps without it? As I said in the original post, I'm not that well versed in the inner workings of vCD. This will increase the size of the 'File name' column so that you can see the full location of the files.
The file resides on the 'Desktop' which is what you see on your PC when no other programs are open. To continue my Storage DRS & Storage Profile testing, I decided to put this vApp into a catalog so that other ORGs could use it. After messing around with all settings, I figured maybe its treating the higher limit between the two as the limit for the entire VDC (pure speculation). If a user file is deleted from the repository by a user other than the owner of the file, the user's repository space usage will not be updated to reflect that file being deleted. The file space will still be counted as being used, and the user will not see the file or have access to it.