23.08.2014
The layout in the foreground (above) 'Kidzpower', was built by the junior division of the North Shore Railway Modellers.
Some of the layouts exhibited were quite simple, as the show is aimed at children and to promote the hobby to the younger generation.
Below, Pangbourne Ridge, a HOe layout showing the process from logging to milling to the finished consumer product. Mining train transporting raw ingedients on the top level as a passenger train drops off and picks up passengers below. The next two pics are of an N scale layout 'Bushtown', which feature Victorian and NSW trains, set in the South Western slopes of the Snowy Mountains.
The 'Electric Car Sheds' layout depicts the now demolished Punchbowl car sheds (only 10 mins from where I live), displaying Sydney's famous 'Red Rattlers'. I wonder what Derek thinks of the dual gauge track, very neat stuff and all hand made I gather.
Jack seems to operate the layout with out batting an eye and it's amazing how interesting it is to watch some shunting rather than trains just going round although there is obviously room for the two schools of thought.
Looks quite a good little exhibition, certainly more to see than the small local one near me I went to earlier this year. It was a great day although I must admit that I had reservations regarding the first outing.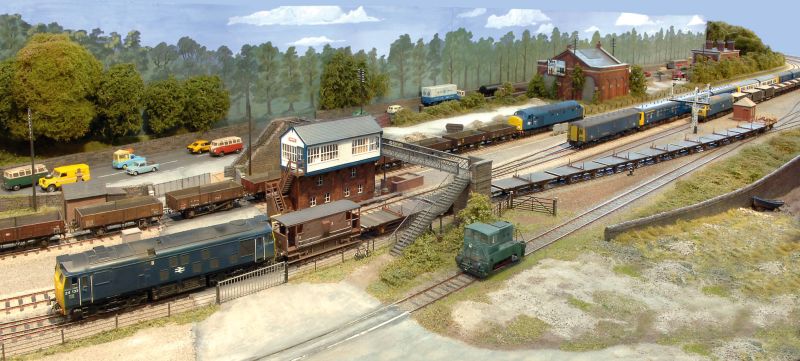 So, I have had another invite to a show in Curri Curri (near Newcastle) which runs in conjunction with the Richmond Vale Railway, a heritage railway group. It was a busy two days operating, chatting and trying to get out to look at other exhibits.
All up, there were 8 exhibits within this hall, one which was a working model of a NSWGR C38 Class locomotive, all made of Meccano, which took over 300 hours to overhaul.
The layout demostrates shunting on the high section and the occasional passenger service on the lower level.
The majority of locos were scratchbuilt with a mix of older Hornby hand-me-downs filling the rollingstock register. They ain't a bad looking loco and it was performing quite well pulling an 8 coach train ! I think Gary is too much of a gentleman to blow his own trumpet, as they say, so I might do a bit of blowing on his behalf. Linden Fords` first outing was a professional presentation handled most capably by Gary and young Jack.
Another possibility is an exhibition in Wollongong (South Coast) which will cater for small layouts, to show the public that a model railway doesn't have to be huge, nor a tail chaser ! I'm only guessing, but most enjoyed the scenery and I had plenty of questions to answer in relation to 'how I done it'.
I know that the Exhibition Co-ordinator has seen some of the pics from a thread on that other forum, as a few of his club modellers are members of that forum.
It ran a whole mix of trains, from Thomas, LNER, LMS, GWR, Australian trains as continuous running was there thing. Jack is competent enough to be left on his own to hold the fort for short periods, as was the case, when Gary and I went off to look at the other layouts yesterday.
The layout operated well, in the trusted hands of young Jack, and Gary`s responses to peoples questions were detailed and well informed.
It certainly got it`s fair share of attention and questions and also offers of future exhibitions. Youngsters were also catered for, by having a short questionnaire, devised by Gary, where they had to find different types of animals located on the layout.
There was one young chap that didn't understand the Inglenook principle, but once I had explained the motions behind it, I let him rip.