09.05.2014
Neither the service provider nor the domain owner maintain any relationship with the advertisers. Worn down black steam engines are reaching the end of their days, green diesels have arrived but are soon swept away by a tide of corporate blue paint - the colour of trains from my teens.
All the buildings have been worked upon and re-painted, the baseboards made to fit properly and all of the scenery restored as it had yellowed with age. In case of trademark issues please contact the domain owner directly (contact information can be found in whois). Many railway companies had, at various times, operated services over the West London Iine some of which continued via Earl's Court. Soon all shunting nationwide will be handled by the universal Class 'O8', but not quite yet.The small exchange sidings just off Canada Road are visited by a variety of mixed traffic locomotives working to and from the local large marshalling yard.
It takes features from each line in an attempt to recreate a terminus at the end of the line from Paddington via Swansea.The start of the last decade of the 20th century was a time for change in west Wales with the loss of direct services to London and radical changes in the parcels and freight areas. The prototype is situated just south of Worcester, where the ex LMS Gloucester to Birmingham line is joined by a chord from Norton Junction on the ex GWR Worcester to Oxford line.
The actual Ashburton station is quite well known and we are aware that some of the model's features are not quite right, in particular the real layout is slightly curved but we feel that it captures the real one well enough. Occasionally larger locomotives are rostered, looking a little out ofplace on only a short string of wagons. Aberdaugeddlaw, although losing its daily HST to London, still retains newspaper and mail trains with an improved Sprinter service to Swansea, Cardiff and beyond.
The shunting engine then sorts thearriving trains, often taking short 'trip' workings out to the nearby industryand wharves. Freight is buoyant with a revitalisation of the dock area to servie the import and export of steel products. The layout is a trains in the landscape layout and is set in the period 1967 to 1973; end of steam to TOPS period, although we may stray to 1977. This enabled them to divert some of their commuter and local passenger trains away from Euston and Paddington. Green and blue diesels running on trains representative of the period at this location are featured; and preserved steam could appear! The region and period of the scene change throughout the day, showing the many local types of diesel shunter which used to be found around the country.
Although not seen at the terminus itself, oil trains still move huge tonnages from the west Wales refineries and a new flow of coal has begun using a redundant refinery wharf.
The premise is that the Stratford to Cheltenham line closed when through services finished in 1965 and so the layout at Abbotswood has had to be expanded to accommodate extra trafnc. As well as local services and peak hour commuter trains there is a small parcels depot and a shunt road which leads into the nearby dairy.
An up loop with a direct connection to the Worcester chord (this was only ever a kick back siding) has been laid in and the layout has been resignalled to accommodate this prior to the Gloucester MAS scheme. Unfortunately there has recently been a derailment on the Worcester chord so all services are having to run via Bromsgrove, this is until phase 2 of the layout including Norton Junction is built. Trains to watch out for are the Cornishman and the Devonian, but perhaps freight is more interesting with the Waterston to Albion tanks booked for a pair of 37s, the St Blazey to Etruria clays booked for a Western and the Malago Vale to Worcester vans booked for a Warship. One joy of this location was that you could never be quite sure what might turn up; so a few surprises might also be in store. Afterwards it will be dismantled for salvageable components unless of course someone wants to purchase it.If you've not seen Anderstaff Yard before it is set circa 2000 in theearly days of EWS. The main industry is a dairy and there is a branch line interchange yard and a track to an off-stage paper mill. Unfortunately it was soon realised that the line would be too costly to build with little if any profit and was thus terminated at Buckshee.Buckshee is situated just slightly north of Kilinver on the shore of Loch Feochan (a sea loch) with a short branch of about 2 miles heading north east to serve a distillery in the village of Feochan. The layout is operated on DC but has been used successfully with a DCC system.Other US railroads and periods make occasional appearances on the layout.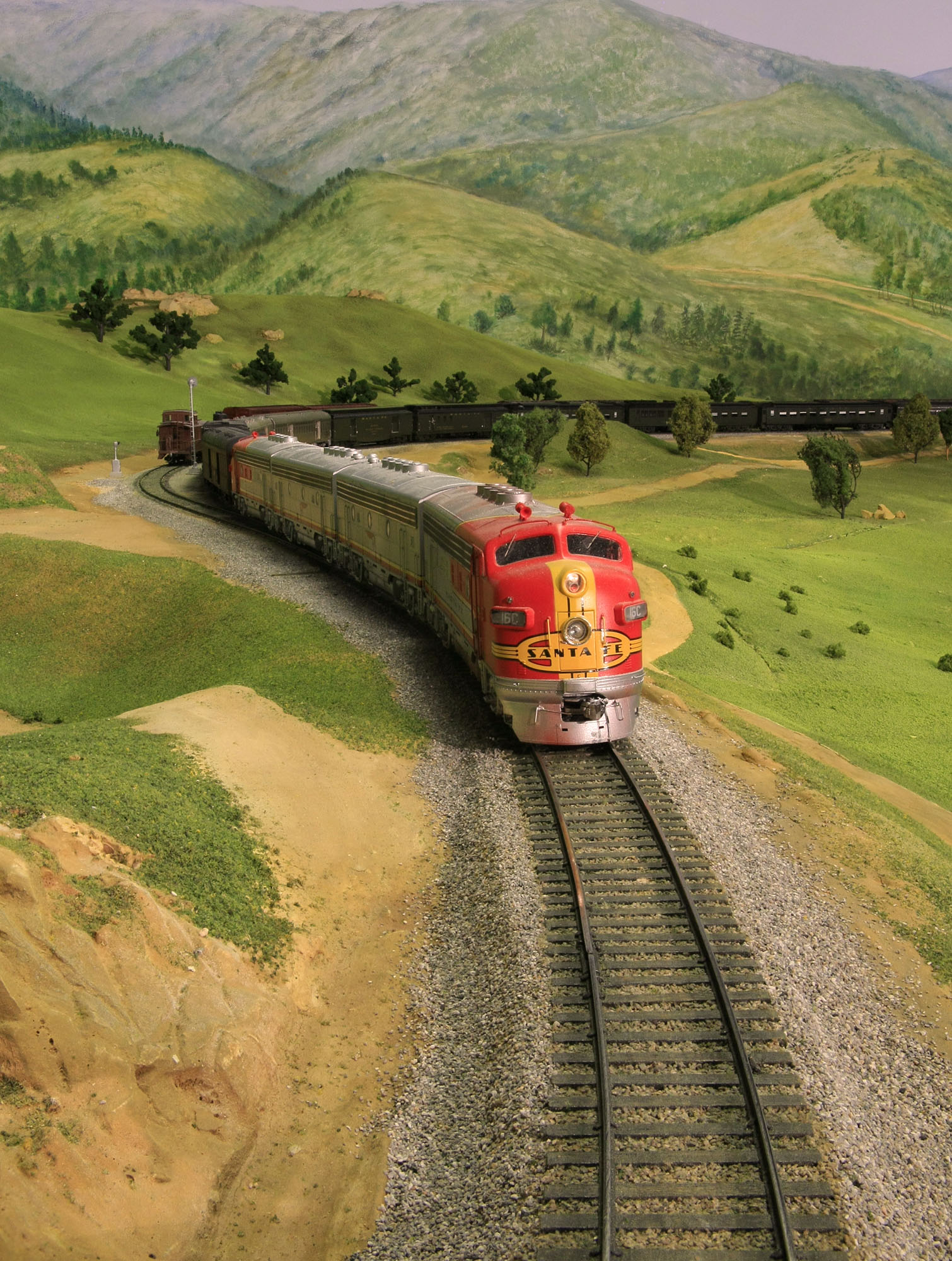 The operators are always happy to discuss the layout, US rail-roading and modelling and - occasionally - DCC operation. The TMD has a small halt station which sees a local DMU service and parcel trains.It is set in the mid-seventies when British Rail blue livery rules the rails. The layout has been in making for a number of years and is the work of a small group of Redditch Model Railway Club Members. The layout has very much been a product of cramming as much in a small area to both give operational interest and allow the finished product to be easily transported to exhibitions in a small hatchback car.The layout was first shown at the Redditch Model Railway Club Exhibition in 2004 in a very much unfinished state.
Limesbridge Margaret & Paul Garratt OO gauge 4mm scaleThis was the first exhibition for Limesbridge.
The layout is intended to depict the atmosphere that was around a GWR station during the 1930s. This has been rationalised over time but still maintains a rail link for the movement of fuel, stores, munitions and a variety of military vehicles.
Being fictitious, it allows the use of modellers' licence in creating something that depicts a rural location.The station forms a junction where passenger trains arrive from the main line to connect with trains for the local branch. The size of the layout with a large fiddle yard allows us to run longer trains using a variety of rolling stock.Track work is SMP with hand built pointwork operated with Peco motors. The local Guard's Brigade is on parade receiving new regimental colours from Her Majesty the Queen. Rolling stock is a mixture of proprietary and kit built, all vehicles would have been seen on the GWR in the 1930s even if they never reached a small station like this. The brief was for the layout to include through running of realistic length trains, a station, goods yard and engine servicing facilities, abil- ity to justify the use of two railway companies, realistic operation with no tail chasing, capable of two engine movements at the same time and all in a space of 4 foot by 2 foot using proprietary track, buildings kits and bits and pieces as far as possible. Set on an embankment, closely surrounded by a mix of housing and industry, the Yard represents a typical minor railway installation that operated for over 100 years, virtually unnoticed.But traffic is declining, things are becoming run-down and neglected. Will Mortimore's Yard last much longer than the Western Region's distinctive diesel hydraulic locomotives, themselves under a sentence of death?Although a fictional location, inspiration has come from many real places.
The result is a LMS single track secondary mainline with GWR running rights and GWR branch line junction or vice versa if the fancy takes us.
The firm from which the layout takes its name ran a coal merchant's business based in Chippenham station yard for many years. We were able to get so much in such a small space as a result of the introduction of PECO N gauge live frog double slips. Similarly, other buildings on the layout are modelled on structures in the Chippenham area, some of which are now but a memory.The layout features Digital Command Control using a Lenz 90 unit, and a mix of RtR and kit built rolling stock, with some major conversions and scratch built stock planned. Nictun Borrud WEBSITE Fareham & District MRC OO gauge 4mm scaleNictun Borrud is set somewhere in the rolling chalk downland of the Hampshire Downs.
Dydley Junction is now more or less complete, only the signals need to be mechanised so that one day they will eventually be working!
The layout is built to finescale OO standards and features Southern Region.The layout is intended as a fairly close representation of what might have existed at Southwick if the US Army Transportation Corps had had their way and built a branch line to allow the Allied Heads of Government and Defence Chiefs meeting to take place at the SHAPE headquarters in HMS Dryad. Tourists had not returned to the island after the Second World War and the halcyon days of the 1920s and 1930s were now a distant memory.
In the event, the meeting took place aboard the LMS Royal Train which was parked in the goods yard at Droxford for the duration. It is likely that this line would have left the Mean Valley line just south of Soberton village. Mannin Middle assumes the Foxdale branch had been extended southwards to form a junction with the southern line at Ballasalla. Although passing through a largely rural area which did not contribute much passenger traffic, the route would have been useful as a means of travelling from the south to the north of the island thus avoiding Douglas. Well, as the original board was scavanged, the crew decided to continue this way of working and almost everything on the layout has been either 'nicked' or 'borrowed' from other projects or members' bit boxes.
However the southern line remains open and it is still possible to travel from Douglas to Port Erin through the beautiful rolling Manx country- side in a wooden bodied coach hauled by a 19th century steam locomotive.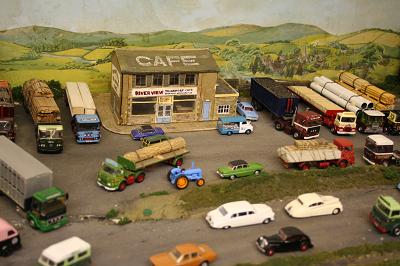 The layout was originally built by Hugh Freeman of Kenilworth and was purchased by the present owner in 1999. It has a minimum size of 9' x 2'-6" plus a fiddle yard which depicts a terminus made possible by the closure of the through line. However, the through line can be restored by the addition of two further scenic sections and the use of the fiddle yard from our Knowle Bridge layout. The layout contains a small depot, fuelling point, engineers siding and short platform which sees a sporadic service of garishly painted Network South East first generation DMUs. The layout can be displayed from either side, enabling the layout to have a different perspective each show. The idea was to be able to run locomotives at home without taking up too much room but to have a decent size layout for exhibitions.The layout itself is based on Great Western practice during the 1950's thus enabling locomotives from other regions to be found stabled in the engine shed.
It also gives flexibility for locomotives with pre BR numbering to be seen depending on which end of the 50's is run.The track is SMC with Peco code 75 points. Generally the railway and buildings are scratch-built using bits from various kits and the cooling tower is the Ratio kit. Rolling stock is a mixture of Bachmann, Hornby, Lima and Heljan with some extra detail added. There is a working turntable built into the yard, again scratch-built to GWR design, which was given to me by a lady whose husband had sadly passed on.Locomotives and rolling stock are usually ready-to-run items with fine detail added and the odd one or two kit built ones.
It is very loosely based on the track layout at Willesden, significantly scaled down to fit within 2 foot wide boards.
There are approximately 40 locomotives in use on the layout at anyone time, with steam and diesels from all the B.R. Its loop allowed long slate trains, running down to Portmadoc under gravity alone, to pass equally long loco-hauled mixed trains taking passengers and empty slate wagons up to Blaenau Ffestioniog.The layout attempts to portray Tan-y-Bwlch station in the early 1900s before the station building was extended to make a dwelling house for the station master and the aim is to show one full day's running on the Festiniog Railway at that time. There are quarrymen's trains, gravity slate trains, passenger trains and mixed trains passing through and crossing.The buildings, trees and walls are scratch-built. There is a series of trains that supply the depot, consisting of diesel tanks, oil tanks, coal wagons, and spare parts wagons, and the depot has its own breakdown train. The stock is a mixture of kits and scratch building and illustrates attempts to model Festiniog vehicles over a span of some 40 years. It is DCC controlled using a ZTC system with a main controller and two slave controllers, enabling up to three people to operate the layout to- gether. One of the advantages of DCC is the use of sound, and there are some steam and diesel sound locomotives present. This layout is not intended to represent an accurate prototype, but to show off a sizeable collection of locomotives and to have a lot of fun doing so. The full wagons are then moved back to the sidings the shunting engine goes back to the small locomotive shed. Remember the poem "Adelstrop" by Edward Thomas, where a GWR trains stopped unexpectedly, the quiet of the Cotswolds descended and only the sounds of birds singing were heard?
During the early years of nationalisation, life still goes on peacefully and quietly, punctuated by trains and the occasional aeroplane drone from the nearby RAF trainingstation a few miles away. A plan once existed to connect the Cotswold town of Northleach by rail, with Andoversford to its west and Burford to its East.
Windrush has thus become a small branch line from these plans, with a junction at nearby Sherborne. Passenger services to Andoversford via Sherborne Junction and to Northleach can be seen and the majority of general merchandise including livestock and parcels are still carried by rail in both easterly and westerly directions. The tramway continued to serve the limekilns until 1925 before being closed and dismantled.