10.05.2016
Model railway exhibitions can be a fantastic way to get great ideas for your own model railway set up. If you are looking for ways to get inspiration and ideas, which can help you in building your own model railway set up, or even just adding new additional features and scenery, then probably one of the best ways to do this is to find a high-quality step-by-step guide, which can show you how to build certain parts of scenery in a very specific and exact way, which can save you a lot of time in the long run. Business DirectoryFrom estate agents to plumbers, find a local business and support the area! The World of Model Railways is one of Cornwall's premier tourist attractions, with one of the best model shops in the South-West of England.
Google Ads are only seen by non-members of RMweb - Create an RMweb account and you'll only receive modelling ads.
There are local pull-push passenger services and trains from Exeter and Waterloo including a portion of the a€?Atlantic Coast Expressa€™. For my first venture in American Z I have returned to one of the American railroads that have always fascinated me.
At the Eastern end (Right side for the viewer) are the station, goods yard and motive power depot with the town in the background.
Little Aire represents a small station, loco servicing depot and wagon works set in the West Yorkshire suburbs. The passenger lines at the rear are to be electrified but a selection of DMUs can currently be seen - 142, 144, 150, 153, 155 and 158's. A small terminal station with run round and good sidings based on the Shrewsbury Area in teh 50's 60's.
Welcome to Muirhill Park, a fictitious new town in the Glasgow suburbs set in the mid to late 1980a€™s.
New Millshaw is the remains of a small branchline within the WestYorkshire conurbation, one of many that were in the area. Rumbling Bridge OO gauge layout created by Nick Skelton This Scottish branch line, worked by the North British Railway, was fully opened in 1871 and runs from Kinross Junction, on the Edinburgh to Perth main line, to Alloa.
The line was initially prosperous, the scenic gorge at Rumbling Bridge being a particularly popular attraction for the increasingly liberated Victorians.
Snug End was inspired by a competition in the Hornby Magazine to build a diorama in 3 square feet (432 square inches).
This 7mm layout depicts what a Highland Railway branch line between Garve, on the Kyle line, and Ullapool, by the shores of Loch Broom, may have look like, had the line been built in the 1890s.
Keiths Model Railways 0116 2778634 A Good selection of second hand and some new items. Here at Todmorden Model Supplies we aim to supply you with everything that you need to get your models running.
The quality of the layouts and modelling made this exhibition, pound for pound, one of the better shows out there. There is nothing like seeing the fantastic work of other model railway hobbyists, in order to garner new ideas. There are also many special tricks which you can learn, by using a specific model railway layout building guide. All the buildings have been worked upon and re-painted, the baseboards made to fit properly and all of the scenery restored as it had yellowed with age.
The exhibitions include a OO gauge Main Layout and has over 30 trains traveling through varied landscapes including town, country, seaside and even an Alpine Winter scene. Neither the service provider nor the domain owner maintain any relationship with the advertisers. The station, with its station building, goods shed, and signal box, bears a resemblance to Padstow on the opposite side of the river. The quay, with its sidings, sustains a small coaster carrying china clay brought down from the local quarry in wagons and a small local fishing fleet.
Hopefull people with knowledge of the area wil see the influences taked from the West Riding. At the western end of the layout is a quarry with its own narrow gauge railway whilst in the foreground a canal parallels the railway before passing under it and like the railway into a tunnel. Locomotives and rolling stock belong to club members and can represent late steam or early diesel periods through to the present. This is my first venture into DCC operation and loomotives are being progressivly upgraded to have sound. Built to serve one of the local coal mines, the line beyond the station was closed at the same time as the pit and the branch now only serves the town of New Millshaw and its brewery a€" the home of Terrier Bitter. Freight traffic comprised mostly agricultural produce, although in the latter years of operation deposits of coal were discovered at Dollar, resulting in the development of a mine and resultant rail traffic. Steam facilities are disappearing and the turntable and most of the shed have been knocked down.
Around 20 lights are included within the buildings, particularly to the large glazed shop interiors.
We currently manufacture rolling road cradle units in various gauges ( N, O, OO, ) with other gauges to follow very soon. We stock a large selection of accessories and scenice materials together with electric componants.If you are building a layout we cater for all your needs. We offer a huge range model trains and accessories to suit everyone from a newcomer to the most serious of model enthusiast. From railways to the Faller Car System, see a working Faller System with buses and lorries stopping and starting at working traffic lights.
Our models have been featured on television, in many magazines and at exhibitions all over the country. A stand offering a range of publications, DVD's, members second hand items as well as recruitment.
The North of England Line team had a lovely weekend operating alongside the superb Worlds End, Great Burdon and Rumbling Bridge. Baseboard construction is of plywood, Peco track is laid on a cork base and electric point motors are a mixture of Peco and Seep. With the introduction of the Internet, this is now easier than ever, as many people now have websites displaying their work with building model trains and model train layouts. The actual Ashburton station is quite well known and we are aware that some of the model's features are not quite right, in particular the real layout is slightly curved but we feel that it captures the real one well enough.
The 'Junior Junction' childrens railway features Hornby Thomas The Tank engine characters and a model circus. In case of trademark issues please contact the domain owner directly (contact information can be found in whois). The High Street has a traditional public house, railway hotel and a few shops served by the local Bedford OB bus service to surrounding towns and villages.
The layout is based around the Cuyahoga flats area ofCleveland Ohio where industry, river and rails are squeezed together and features harbours, lift bridges, car float ferries and quayside freight activities. Stock includes propietry from Heljan, San Cheg and Ixion with kit built locos from DJH, Connosseur. Sadly, the agricultural traffic and dwindling passenger receipts were insufficient to sustain the line and the eastern section, between Kinross and Dollar, closed in April 1964.
The structures modelled are all based on prototypes, whilst the operation of the line utilises, in the main, BRCW Type 2 motive power.
The prototype is situated just south of Worcester, where the ex LMS Gloucester to Birmingham line is joined by a chord from Norton Junction on the ex GWR Worcester to Oxford line.
Railfreight wagons are fitted with Peco uncouplers to enable 'hands off' operation by means of strategically placed electro magnets. The railroad buildings, which are all scratch built are based on the Nickel Plate's modem rebuild of the facilities at Calumet, Chicago. The passenger lines are totally independent to the yards and these are run through regular DC controls. The layout is controlled using Digital Command Control (DCC) with either Lenz or Roco systems, some locos are fitted with sound decoders. The baseboards were originally built for a O0 layout that never came to fruition, and as such what's being built could well be called attest layout.
All other buildings still loose pending retaining walls, cliffs and lighting being completed. We stock products from the world's most renowned model manufacturers, such as Hornby, Bachmann and peco. Low relief store houses, an icing station and coach servicing facilities make up the scenic break that hides the 7 road fiddle yard at the back. The Depot and Wagon Works see a number of Class 37s, 47s, 56s and sees visits from the odd class 58 and 60.
The whole line closed ten years later; the mine at Dollar having failed to live up to expectations.
The base board parts were cut to size by a local building supplier from offa€"cuts and they only charged A?9.
Please feel free to ask us any questions about any aspects of model railways and we will try to answer them.
The layout is a trains in the landscape layout and is set in the period 1967 to 1973; end of steam to TOPS period, although we may stray to 1977.
The Pennsylvania Railroad has trackage rights on the mainline so expect an interesting mix of NKP steam and Pennsy' diesels. Buildings are from a variety of sources, such as Peco, and Skytrex, whilst others were sourced via the internet some of the other structures were scratchbuilt. Stock is mostly Bachmann with two sets, one has modified couplings for hands free uncoupling.
Substantial amounts of static grass, brambles, weeds, flower tubs and so forth are massed ready for installation. Tarmac, stone and cobbles are all mixed up amongst the road finishes and the footpaths are either tarmac, brick setts, gravel or stone. Green and blue diesels running on trains representative of the period at this location are featured; and preserved steam could appear! Loco's are in the main Heljan but a number of kit built locoa€™s are to be seen with more in the pipeline. The other set has been fitted with finescale (3mm) Sprat and Winkle; their advice is not to use them below 36 inch radius, however they are being used here at 21 inch, but need careful setting.
The premise is that the Stratford to Cheltenham line closed when through services finished in 1965 and so the layout at Abbotswood has had to be expanded to accommodate extra trafnc. Control is by NCE Powercab system and the operators stand at the front to operate from each end of the layout.
Passenger stock is a mix with reworked Lima and kit built coaches to be seen, goods stock is a variety of kit built from the major kit manufacturers. Occasional appearances are made by Diesel Railbus, although this unreliable traction is often replaced by a locomotive hauled single coach train. The far left rear of the town area is to be left vacant for a a€?future developmenta€™ consisting of maybe a large bank building and a row of buildings. Signals will be fitted as soon as Mick has finished making them and we have worked out a way of making them work mechanically. An up loop with a direct connection to the Worcester chord (this was only ever a kick back siding) has been laid in and the layout has been resignalled to accommodate this prior to the Gloucester MAS scheme.
At exhibitions there is the ability to run three trains simultaneously on the main lines whilst the docks and roundhouse work independently so there should always be some movement to entertain the visitors.
I find the concentration using DCC to be much harder than analogue for such a small layout and therefore sometimes like to fall back on analogue to relax. Unfortunately there has recently been a derailment on the Worcester chord so all services are having to run via Bromsgrove, this is until phase 2 of the layout including Norton Junction is built.
The rolling stock is a mixture of AZL, Marklin, MTL, Pennzee, kit built and scratchbuilt with Kadee automatic couplings on most of the stock. I like to think of Snug End as a Compact Layout although strictly speaking it falls within the Micro Layout category. The trains are in the process of being assembled although some elements will need re-painting, and around 30 coaches will need dis-assembling and populating. The left rear corner is currently vacant and will be filled with an impressive 4 or 5 storey brick detailed bank building taken from the High Street after the layout is complete as I need to concentrate on landscape and trees for now. Trains to watch out for are the Cornishman and the Devonian, but perhaps freight is more interesting with the Waterston to Albion tanks booked for a pair of 37s, the St Blazey to Etruria clays booked for a Western and the Malago Vale to Worcester vans booked for a Warship.
One joy of this location was that you could never be quite sure what might turn up; so a few surprises might also be in store.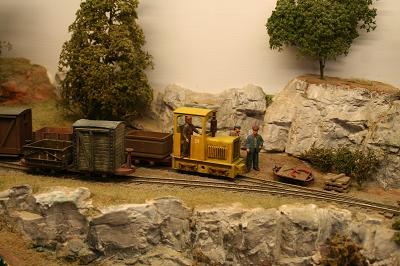 Recent advances in the manufacture of Z locomotives means that the layout performs as well as many larger scale layouts The layout is constantly being developed and will change a lot over the next few years I am sure. The layout has been erected fully a few times now with the last session being a full electrical test run. Afterwards it will be dismantled for salvageable components unless of course someone wants to purchase it.If you've not seen Anderstaff Yard before it is set circa 2000 in theearly days of EWS. Time spent so far I would estimate at 1 year research and drawing work, followed by 40 months construction so far, with maybe 15 to 18 months to go.
The construction of the buildings and viaduct has been by far the most time consuming job and whilst the layout does not look near complete, once the roads, footpaths, walls and several miles of railings are sorted it is just a matter of dressing and detailing, isna€™t it? Unfortunately it was soon realised that the line would be too costly to build with little if any profit and was thus terminated at Buckshee.Buckshee is situated just slightly north of Kilinver on the shore of Loch Feochan (a sea loch) with a short branch of about 2 miles heading north east to serve a distillery in the village of Feochan.
It is currently under construction and will combine the experiences gained on the Etton and Rowlands Castle layouts. The layout has been in making for a number of years and is the work of a small group of Redditch Model Railway Club Members. The layout has very much been a product of cramming as much in a small area to both give operational interest and allow the finished product to be easily transported to exhibitions in a small hatchback car.The layout was first shown at the Redditch Model Railway Club Exhibition in 2004 in a very much unfinished state. This is a pilgrimage into model building construction that will produce double the structures that appeared on the Rowlands Castle layout.
This has been rationalised over time but still maintains a rail link for the movement of fuel, stores, munitions and a variety of military vehicles.
It will be based on a market town setting and contain a very strong historical idiom to continue the military overtone created on the Rowlands Castle layout. A bold proposal, but the finished effect will hopefully contain a charming contrast between a bustling market town and wooded countryside horizontally, and a sheer cliff face and river gorge vertically.
I started planning the project in 2009, and after extensive survey work and detailed planning construction finally commenced in February 2010. The local Guard's Brigade is on parade receiving new regimental colours from Her Majesty the Queen. Set in the time period around 2005-2010, it will include the modern day DMUa€™s and several long special trains.
The brief was for the layout to include through running of realistic length trains, a station, goods yard and engine servicing facilities, abil- ity to justify the use of two railway companies, realistic operation with no tail chasing, capable of two engine movements at the same time and all in a space of 4 foot by 2 foot using proprietary track, buildings kits and bits and pieces as far as possible. The Layout will feature the River Nidd gorge, viaduct, station, castle, surrounding building clusters and contrasting open countryside Towards the end of 2010 I began creating of a range of 'modern image' white metal cast model figures (Pete Goss Figures) with friend Tony Chadburn. These are to be used extensively on the new layout and are also now available for general sale via PayPal on this website, or direct at one of the shows we attend. The result is a LMS single track secondary mainline with GWR running rights and GWR branch line junction or vice versa if the fancy takes us. We were able to get so much in such a small space as a result of the introduction of PECO N gauge live frog double slips.
Dydley Junction is now more or less complete, only the signals need to be mechanised so that one day they will eventually be working! Tourists had not returned to the island after the Second World War and the halcyon days of the 1920s and 1930s were now a distant memory. Mannin Middle assumes the Foxdale branch had been extended southwards to form a junction with the southern line at Ballasalla. Although passing through a largely rural area which did not contribute much passenger traffic, the route would have been useful as a means of travelling from the south to the north of the island thus avoiding Douglas. However the southern line remains open and it is still possible to travel from Douglas to Port Erin through the beautiful rolling Manx country- side in a wooden bodied coach hauled by a 19th century steam locomotive. The layout was originally built by Hugh Freeman of Kenilworth and was purchased by the present owner in 1999. The layout contains a small depot, fuelling point, engineers siding and short platform which sees a sporadic service of garishly painted Network South East first generation DMUs. Rolling stock is a mixture of Bachmann, Hornby, Lima and Heljan with some extra detail added.
It is very loosely based on the track layout at Willesden, significantly scaled down to fit within 2 foot wide boards. There are approximately 40 locomotives in use on the layout at anyone time, with steam and diesels from all the B.R. There is a series of trains that supply the depot, consisting of diesel tanks, oil tanks, coal wagons, and spare parts wagons, and the depot has its own breakdown train. It is DCC controlled using a ZTC system with a main controller and two slave controllers, enabling up to three people to operate the layout to- gether. One of the advantages of DCC is the use of sound, and there are some steam and diesel sound locomotives present. This layout is not intended to represent an accurate prototype, but to show off a sizeable collection of locomotives and to have a lot of fun doing so. The full wagons are then moved back to the sidings the shunting engine goes back to the small locomotive shed. Remember the poem "Adelstrop" by Edward Thomas, where a GWR trains stopped unexpectedly, the quiet of the Cotswolds descended and only the sounds of birds singing were heard? During the early years of nationalisation, life still goes on peacefully and quietly, punctuated by trains and the occasional aeroplane drone from the nearby RAF trainingstation a few miles away.
A plan once existed to connect the Cotswold town of Northleach by rail, with Andoversford to its west and Burford to its East.
Windrush has thus become a small branch line from these plans, with a junction at nearby Sherborne. Passenger services to Andoversford via Sherborne Junction and to Northleach can be seen and the majority of general merchandise including livestock and parcels are still carried by rail in both easterly and westerly directions. The tramway continued to serve the limekilns until 1925 before being closed and dismantled.