22.09.2015
I am installing caboose industries ground throw with the terminals to power the frog on my turnouts and have two questions.1.
A simple effective way to demonstrate railroad freight transportation at public exhibits and museum displays. On the oval to the right, the blue train takes gondolas loaded with steel coils to the stamping plant, while the red train returns similar empty gondolas back to the steel mill. Spring switches - a spring lightly holds the points to one side, so a train entering the switch always takes that route.
Twin-coil snap switch machines - Relay3 not required, but does require an MRD2 turnout controller in addition to the MRD2 loop controller.
To run two trains in the same direction around a single loop, see the previous page (no track switches needed).
Can some one tell me what size screw fits the hole next to the frog so I have somthing to soider to?2.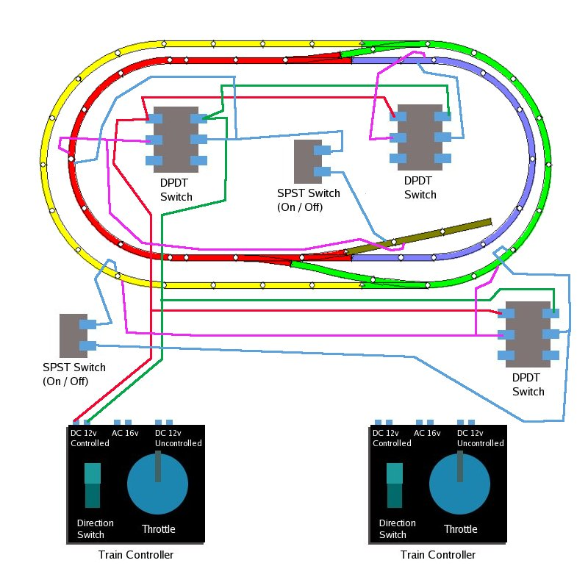 I understand that it is hard to soider to the frog and some suggest to use a screw in the hole close to the frog on the atlas turnouts.
The concerns revolve around the electrical contact in the ground throw in that they work loose and need to be either glued or attached in some manor other then the manufacturer suggests. As a matter of fact that particular style of throw cured my power routing troubles in a couple of throw points.Thanks for bringing up this issue for future reference. The red train, consisting of similar but empty hopper cars, then makes a clockwise circuit around the loop. When the train 1 has entered its siding and trips its detector, the controller turns off Relay2, waits 5 seconds, then turns on Relay1.
But the spring is light enough that a train exiting the other siding can push the points aside and not derail. Anyone use these can post a photo of where the bronze piece goes or give some hints the instructions are not real clear.
In the diagram below, when Relay1 is 'on' and Relay2 is 'off,' the inside rail is positive and trains will travel clockwise. One relay will turn on if a train passes the detectors heading one direction, and the other relay will come on if a train goes by in the opposite direction.
If Relay1 is 'off' and Relay2 is 'on,' the outside rail is positive and trains will run counter-clockwise. When train 2 returns to its siding and trips its detector, the controller turns off Relay1, waits 5 seconds, then turns on Relay2. They are #6 and have a fairly long frog so it wasn't any more trouble than the other feeders.