27.06.2015
My 1974 Chevy Titan 90, Michigan Special, with an MTFAco resin 12v71 engine, dual breathers, wide front floats. The logos on the tractor are HO logo's from Microscale decals, so is the thin red pin stripe.
The trailer is was a built-up AMT kit, I reworked the chassis, added the 3rd axle, and the lift axle, and reworked the front of the tank. Here is Tim's latest, a Spaulding '61 Ford H coe, "Two story Falcon." The H sits on an LNT chassis, the drom is from a junked Allied trailer. Here's my latest, 2 actually, but the same truck based from Tim Gibson's photos of the James House Trucking #25, a late 70's Peterbilt 359 SBFA.
I thought the idea of the before and after or then and now type photos would make a slick diorama. Using an AMT 359 kit, a SBFA hood, plenty of weathering, and some slick decals from JBOT for the doorsigns, I came up with the "parked" version. For the "after" photo, an AMT 359 cab, some junked frame rails, and junk-box parts, model railroad weathering items, and the same red paint and JBOT decals, I've made James House #25 as it sat in the bone yard.
Doug McKenzie started this model back in the early 80's, with an AIM F-Model Mack conversion kit - the F Model more so than the actual Clipper kit.
Doug's intention was to mount the cab on an AMT Kenworth chassis, use Freightliner fuel brackets with fuel tanks from the old Ertl Volvo N-10 kit with wheels and tires from an Ertl International kit. Smith operated owner-operators between Winnipeg, North Bay, Ottawa, Montreal and terminals in Atlantic Canada. Chris also put on the "famous" Atomic air-dam and he also the custom made dry transfer decals.
I was never very sure of what to do with it when I received it - especially so when I looked at it and realised that it was the 72-inch cab. I was going to paint it two-tone green and actually had completed it as such until I wasn't pleased with the finish. M & P was quite well-known for basing their specs around the 5-speed transmission and Eaton 3-speed tandem of the times. It will eventually ride on an Astro chassis, Hendrickson springs and the rear axles are from the Ford Louisville dump truck kit - the only kit which accurately depicted Eaton axles of the time. This Transtar represents a 1973 model with an 8V-71T Detroit - thus it sits a scale 5-inches higher on the chassis. Special features of the car carrier truck model include real metal replacement parts for the cheaper looking chrome, additional decorative lighting and vinyl wrapped logo. This project was posted in Trade Show Models and tagged 1:14 truck model, RC truck model, semi truck model, trade show truck model, truck model.
Build times are usually 3 months and delivery is STRICTLY by truck only, it's the only way they get there in 1 piece and this is organised by the customer, however we will deliver within Melbourne and meet interstate trucks in Melbourne. Before and after pics in Tim's collection show the truck in running condition, then years later as a hulk of parts in the bone yard. Chris will usually find a truck he likes that belongs to an Ontario trucking company, and builds one of their units. The Mack grille was ground out with a Dremel tool and the pewter Hayes grille epoxied onto the opening. For a variey of reasons Doug let the cab sit unfinished until about 2 years ago when Chris coaxed him into parting with it so he could complete it.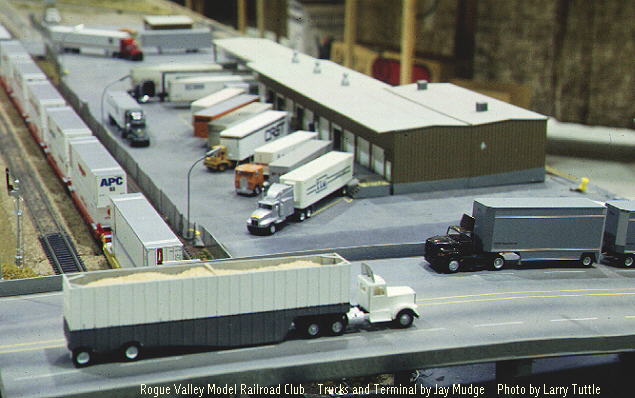 This model was based on an actual Hayes leased to Smith and based down east but Doug wasn't interested in the two-colour paint scheme. It is based on a real unit #313, that he took a picture of in 1986, at their yard in Oakville, Ontario. Most Emeryvilles around here (Ontario) I remember was being the non-sleepers that Smith Transport used in the early 60's to originally pull doubles betweens Toronto and Montreal. My Dad often re-called how their Emeryvilles and even their CO-4000 Internationals with 250 Cummins engines could often out-run the 318's and even some of the 335's at DS Scott. I was lucky enough to secure a photocopy of a Neil Sherff photo of an M & P Emeryville on the Ambassador Bridge scales - it was an earlier example with the rectangular metal fenders. Rather than a Cummins, I went with a Detroit V-8 and the transmission is a replica of a Fuller T-905 -you can make one of those by simply cutting the auxiliary section of off a Roadranger transmission. The Smith Transport decals were sold by an outfit called Launch Pad Distributors out of Victoria, BC.
So my paint scheme follows that example rather than the one depicted in Harold Huntley's photos.