23.01.2015
Trains stopped running at 7pm on Sunday as the MTA preemptively closed down service for only the second time in its history.The closure was an effort to secure the subway system against the impending storm, but massive damage came anyway. The views expressed in the contents above are those of our users and do not necessarily reflect the views of MailOnline. As Hurricane Irene heads towards us, New York City will shut down the entire mass transit system beginning at noon on Saturday. Please note that gratuitous links to your site are viewed as spam and may result in removed comments. New York City's Subway floods all the time naturally due to the presence of underground water that permeates through the rock where the tunnels were dug. Please register to participate in our discussions with 1.5 million other members - it's free and quick!
The one thing I hope they don't do is to close one part of the tunnel and run L trains in both directions on the same track. Sadly I am a transplant, though one whom never really found Williamsburg to be 'the' place; always had a fascination with uptown, south Brooklyn, central Queens, and the east Bronx. The city is going to cave into these breadknots (mark my words) causing extreme pressure on working class and middle class residents to pay for the extremely high cost alternatives. I don't even live in Williamsburg but if there is a bus with beer on it I'll take that commute any day. Sucks for the people who only rely on that train, i think its a terrible situation but has to happen. The MTA has just posted a bunch of stunning pictures from inside the New York Subway system, which got flooded, and is shut down in the wake of Hurricane Sandy.
Meanwhile, an official timetable on expected Subway reopening is supposed to come out today.
In this week's photos from around New York, a son is accused of his mother's murder, a school raises money for its band and a controversial ad goes up in 10 subway stations. In this week's photos from around New York, a community mourns the loss of two siblings in the Bronx, New Yorkers enjoy a cookout at Governor's Island and a Louis Vuitton store is covered in artist Yayoi Kusama's polka dots. In this week's photos from around New York, the city enjoys Independence Day, two police officers are injured and children try to beat the heat. In this week's photos from around New York, the city celebrates Pride Week, politicians stump on primary day and summer pool season kicks off. Occupy Wall Street protesters packed up after a night at the West Park Presbyterian Church on Jan. Riders at the Grand Central-42nd Street subway station participated in the 11th annual No Pants Subway Ride, staged by Improv Everywhere, on Jan. A batch of bagels was boiled before being baked at the Davidovich Bagel factory in Woodside, Queens, on Jan. Twin glass staircases bracket a grand piano on the main floor of the penthouse at 189 Bridge St. Instructor Hayley Roberts photographed a kindergarten student during class Wednesday to post on Twitter at World Class Learning Academy, a for-profit private school in the East Village. A billboard along Meeker Avenue in Brooklyn collapsed and fell onto the Brooklyn-Queens Expressway Friday afternoon, blocking traffic but causing no injuries. Erik Piil, left, and John Klacsmann, center, helped participant Byron Westbrook, right, get his slides entered for the SINGLE FRAME series of slide projections at Anthology Film Archives in Manhattan Thursday. Ballroom dancers participated in the 22nd annual Manhattan Amateur Classic presented by the regional chapter of USA Dance Inc.
Eleanor Melissa Rollins, center right, embraced Tracy Robinson, center left, the niece of Deloris Gillespie. TEAM company member Heather Christian sang and danced as the rest of the cast danced behind her during rehearsal for the musical 'Mission Drift' on Dec. Barista Steve Goodwine, right, prepared espresso drinks at Stumptown Coffee at 20 West 29th St, a gourmet coffee shop attached to the Ace Hotel in Manhattan, on Jan.
The chorizo skillet, served with black beans, rice and cheese, at the newly opened restaurant the Caulfield at 119 E. A tray of freshly shucked oysters was ready to be delivered to a table at the John Dory Oyster Bar at 1196 Broadway in Manhattan.
A pedestrian pulled her hood up against the wind on a chilly afternoon in Midtown Manhattan on Dec. Bulls ran down a ramp backstage at Madison Square Garden Friday during preparations for this weekend's 2012 Professional Bull Riding Built Ford Tough Series event. A police officer cried as he held black and purple bunting to be hung in honor of slain Police Officer Peter Figoski at the 75th Precinct in East New York. Lamont Pride, one of several suspects charged in the murder of NYPD officer Peter Figoski, was driven from the 75th Precinct in Brooklyn.
Mariela Munoz, from PS 108, peered through binoculars at the Imperial Theater in New York for a show, 'Creating the Magic: Billy Elliot' on Dec. Joseph Harrington, front left, who plays Billy Elliot, and Nicholas Sipes, performed in 'Creating the Magic' at the Imperial Theater on Dec. Members of the Streb Extreme Action company rehearsed for their performance 'Kiss the Air!' at the Park Avenue Armory in Manhattan on Dec. Jonas Mekas, the Lithuanian-born filmmaker, artist, writer and co-founder of Anthology Film Archives, walked on Second Avenue in New York on Dec. Seth Werkheiser, right, and Jesse Kramer worked at Brooklyn Taco, in the Essex Street Market at 120 Essex Street in Manhattan. Alfredo Ortiz, of the Bronx, danced while soliciting donations for the Salvation Army on Fifth Avenue in Manhattan on Dec.
At Parm, at 248 Mulberry Street, calamari is available when the neon 'CALAMARI' sign is on. In January, Pedro Segarra will be sworn in as mayor of Hartford after having won the office outright in a landslide victory in November.
Dan Knechtges is directing and choreographed 'Lysistrata Jones,' opening at the Walter Kerr Theatre. Girls cool off in a pool in the Bronx, fans watch the Women's World Cup final on a screen in Times Square, a microlibrary lends books in Brooklyn and more in this week's best photos from across Greater New York. Sisters Ivelise, left, and Jadalyn Acosta jumped into the 'Floating Pool Lady,' a seven-lane public pool on a barge in Barretto Point Park in the Bronx, on Monday to stay cool. Jose Reyes, the star shortstop for the New York Mets, played in a game for the Mets Class A affiliate Brooklyn Cyclones against the Lowell Spinners in Coney Island Monday. An instructor held up a dragonfly as students Janae Laster, center, and Niyea Simeon, right, watched.
Colin McMullan held a hand-made book at the Corner Library, a microlibrary at the intersection of Leonard and Withers streets in Williamsburg, Brooklyn. Nicholas Taylor, left, and Michael Holman of the band Gray rehearsed at the New Museum on Monday afternoon before a performance Thursday night. An artistic re-imagining of a World War I fighter plane is stationed on the roof of 77 Water Street in Manhattan's Financial District. Police prepared to enter Arrow Wine & Liquor at 48th Street and Avenue N in Flatlands, Brooklyn, on Wednesday. A makeshift memorial stood on the football field at Truman High School in the Bronx after Isayah Muller, a star running-back on the school's football team, was killed Tuesday.
Patrick Carrajat is the lifelong obsessive behind the one-room Elevator Historical Society, which had its grand opening on Wednesday in Long Island City.
Stage hands Bradford Olson, left, and Jarmel Cruz installed armrests inside a replica of the Royal Shakespeare Theater stage in the Park Avenue Armory Wednesday, ahead of the Royal Shakespeare Company's six-week residency in Manhattan.
The Perfect Storm, a blend of Jamaican Rum, lime juice, green-tea syrup, ginger syrup, soda and angostura bitters, is a standout at The Drink, 228 Manhattan Ave., in Brooklyn. Fifth-grade students at an awards ceremony on Monday at Harlem Day Charter School, which is being taken over by Democracy Prep Public Schools.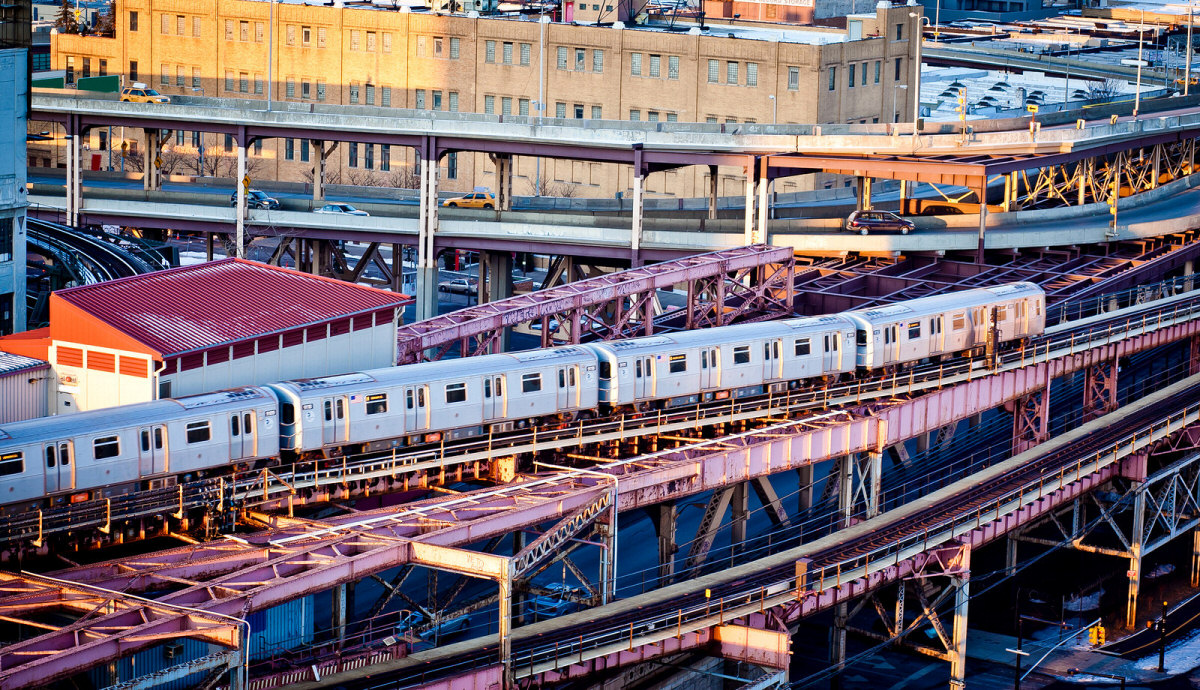 Actors in an upcoming performance of the Shakespeare play "Henry V," from left, Andy Paterson, Chance Anderson, Tim Bungeroth, Kevin Orton and Max Waszak rehearsed a fight sequence on Governors Island Tuesday. Tires for sale were piled high outside a shop just off 126th Street next to Citifield in Queens on Wednesday. There has always been flooding in the tunnels, which collect storm water constantly, but the Metropolitan Transportation Authority said Sandy was the worst disaster in the subwaya€™s 108-year history.
The system requires hundreds of sump pumps working around the clock diverting water out of the tunnels. Thomas Episcopal Church on Fifth Avenue in Manhattan for the funeral service of 9-year-old Lilian and 7-year-old twins Grace and Sarah Badger, who died, along with their maternal grandparents, in a Christmas day fire in Stamford, Conn. Her father, Norman Kattenstroth, died in 2005, but the family was unaware of one of his life-insurance policies until it was paid out this year.
He stepped in to run the city in June 2010 when mayor Eddie Perez resigned after a conviction on bribery and extortion charges.
The memorial is scheduled to open in time for the tenth anniversary of the terrorist attacks. The City Parks Foundation's 'Green Girls Summer Institute' took a class of preteen girls to Strack Pond in Forest Park, Queens, Thursday to catch and study insects.
The band, which was founded with legendary artist Jean-Michel Basquiat, makes industrial sound music. It functioned as a cinema until 1969, when it was saved from the wrecking ball by the charismatic televangelist Rev. 171 in Long Island City, Queens, Tuesday, the school's last day of class before summer vacation. I think a better question is can New York City's Subways handle it's own financial constraints. The team was considered the underdog ahead of its match Tuesday against the Red Bulls in New Jersey, and lost, 2-1.
The complete shut down was proposed on Thursday, and Governor Cuomo gave it the go ahead Friday afternoon. The NYC subway is the most cost effective transit system in America, yet still it's very costly.
Browne, who was holding a gun as he came to the aid of his stepbrother following a robbery.
The owner has relocated twice in the last three years because of rising rents in the neighborhood.
Not to mention the billions needed to complete the probably cancelled new lines they intend to build. Johnson said he would counsel at-risk youth with the group Fully Persuaded for Children and Families. Meanwhile tongues are wagging in New York City about a new transportation technology that doesn't require you to descend into a dank tunnel smelling of urine, sweat, and Lysol. This wondrous new technology is called a bus, and New York's Metropolitan Transportation Authority used one to introduce a new bus-rapid transit line. Not only has it attracted many new riders, it has done so without costing more than 2 billion dollars a mile and more than a decade of planning and construction to start it up. Costing just 10 million to start, one new line offers frequent service with specially painted buses (as FTA Administrator Peter Rogoff says, "paint is cheaper than trains").