04.05.2016
This forum is for the discussion of railway modelling of the LNER and its constituent companies. I have not taken one of the end view, but as they say on the TV, here is one I made earlier!In this case one of the 52' early Gresley BTKs.
2512silverfox wrote:I have not taken one of the end view, but as they say on the TV, here is one I made earlier!In this case one of the 52' early Gresley BTKs.
Evening allI agree with you JW, I was thinking of fitting my original Raven A2 with an eight wheel tender, when I get around to building it.
I think I caught him Monday afternoon; the packet fell through the door yesterday, including two pairs of mainframes he'd had to mill up for me. Are you stripping the Loco as paint appears rough and dodgy cab roof ?Get well soooooooooooooooooooooon My build used the 8 wheel tender. You can't fault the service.Mick - yes, the whole thing will eventually go through shops for a repaint.
For example, Roy Lambeth's interesting interior shot of Stanhope Shed suffers terribly from bad lighting, but it is well worth rescuing for all that. Back in 2001, I began practising retouching my old railway photos for a bit of fun and found the experience extremely uplifting.
This is a great shot (above) taken from Woking down local platform (5) of Rebuilt West Country Class 34008 'Padstow' (minus her nameplates) working an 'up' semi-fast passenger service from Bournemouth to Waterloo on Saturday 3rd June 1967. I include this shot of the push-pull 'Delph Donkey' being propelled by Fowler Class 3MT 2-6-2T No 40012. What if there are others out there who think the same way? People who think I am blatantly attempting to pull the wool over their eyes? The shed's one claim to fame is that it was used to store members of the National Collection during the war years 1939-45.
As you will already know, many sites add a visible watermark to a 'downloadable' photograph from the web.
In the past I've tried stamping various watermarks on photos, but found their placement on top of an image a bit tricky. It proves that if a batty old technophobe like me can alter a photo (I'm barely in possession of my faculties, let alone any technical wizardry) then it isn't beyond the average computer user too. The biggest concern is the way photo-manipulation is used by the news media, raising the issue of ethics in photo-journalism. Fast-forward forty-odd years and Dave's transparencies have been scanned (digitalized) for posterity by his work colleague, former Guildford fireman Geoff Burch, however it is clear from the 'before-after' samples shown (below) that his collection of slides has suffered dreadful deterioration with the passing of years. The Pateley Bridge branch diverged from the Harrogate-Ripon line at Ripley Junction and ran along the Nidd Valley to a single-platform terminus at the foot of the main street at Pateley Bridge. As you can see from the 'before' photo, the original print is in a dire state, though this is hardly surprising in view of its age. There is also a link to 'GWR Modelling' showing a fine 4mm model built by Dave Perkins from a NuCast kit.
The signalman is returning to the box having warned the driver of a 10mph restriction due to a landslip at Kirkham Abbey on the York-Scarborough line. Okay, the end result may not be 'picture perfect', but the time spent on it was worthwhile.
The pre-Photoshop shot (above left) was taken on 26th August 1964 just prior to demolition.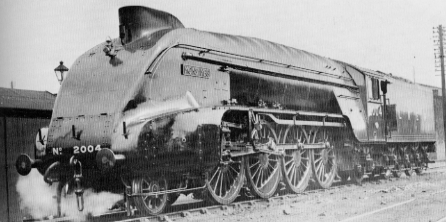 This consists of either a piece of text, website logo, or a © copyright notice to identify the rightful copyright owner. For starters, I didn't want to detract from the contents of the photo too much, and I didn't want to place the watermark in an area where its removal can be easily concealed. With a little patience, anyone who has spent half an hour fooling around with imaging software knows how easy it is to tamper with a photo. It begs the question how far you can push the boundaries of digital image manipulation and still maintain an acceptable level of integrity. While salvaging it in Adobe Photoshop, John Edgington of the Friends of the National Railway Museum came to the rescue with details of the locomotive. Instead I've concentrated on photo-retouching, including sharpening, improving brightness and contrast; removing spots or other unsightly blemishes.
These translucent watermarks are commonly used to identify images on a site, not only to protect them from unauthorised use, but to ensure the images are difficult to copy by some scurrilous character who attempts to claim someone else's photo as their own. Of course, you need to know something about traditional photography skills, along with a knowledge of light and shade, colour and perspective, though you'll doubtless learn this as you go along.
Most workings were performed by Wilson Worsdell's Class G5 0-6-0T No 1839, which continued to work the branch as No 67253 until closure in April 1951. Built by Neilson & Co of Glasgow in 1881 - works no 2737, the 0-4-0T had 3' 8" wheels and 14"X20" cylinders.
I was tempted to remove the telegraph pole sprouting from the loco, but decided against it.
It beggars belief that anyone is offended by such an obvious case of image manipulation.
What was needed was something bigger and better, something that takes up a large percentage of the overall image area, and the only satisfactory solution I could think of was the sky. No 67253 is seen on the last day of service at Pateley Bridge - goods traffic continued until 1964. First import the original photo 'A' into Adobe Photoshop, then save it as 'B' - this will be used as a template.
You are preserving an important part of our history and giving future generations a glimpse of their past. Next highlight the roof area in 'B' by blasting the whole photo with brightness and contrast to the detriment of everything else in the shot - see inset (left). What interests me more is photo-restoration and Dai Pickup's shot of 'Peak' class D198 at Retford on 18th July 1961, is a case in point.
If these before-after examples encourages others to have a go at resurrecting their own collections then this posting has been well worth the effort.
My thanks to Jim C who contacted me with details of the 'Kenton Model Railway Project' website, which has a gallery page of GWR 2-4-0T Metro class locomotives including this same photo amongst them.
Then using the clone tool (rubber stamp icon) click on mouse (simultaneously press ALT) and pick up a tiny section of highlighted roof from template 'B' and transfer this image to the exact same spot on 'Stanhope Shed A'. For example, Richard Greenwood wondered if I could do anything with this artistically framed view of the East Lancs section of Preston railway station. I probably had 4-5 attempts at cloning, each time altering the brightness-contrast on 'B' then adding the cloned details on top of each other until the roof in 'A' section began to take shape. The once-familiar sight of Q6s and J27s were now replaced by Claytons, Sulzer Type 2s and the sturdy EE Type 3s.
On September 9th 1967, Alan Peglar, then owner of preserved Class A3 'Flying Scotsman', along with the Gainsborough Model Railway Society, organised the 'Newcastle Railtour' from Kings Cross.
The train was made up of nine Mk1 coaches hauled by D1994 from Kings Cross to Peterborough, where 'Castle' class No 7029 took over for the run north - but only as far as King Edward Bridge Junction. In Brian's case, it was the decline of steam to his east-coast home town of Scarborough that brought an end to his railway photography in 1964.However, Brian's interest in photography was about to take a new turn. Both tender locos have the old white ceramic shedplate which puts it before Jan 1935 and the down LNWR signal hasn't had its distant arm repainted though the LYR up one has (black fishtail on the back) thus putting it around 1930 possibly. This was due to clearance problems with the Castle's cylinders at Newcastle Central, therefore the now-preserved Class K1 No 62005 was called upon for the remainder of the run into Newcastle.
He decided to combine his love of photography and music and this led to his appointment as in-house photographer with Island Records' from 1971 to 1976. Goods stock not much help, the two covered goods are Grouped railway standards (possibly LNER). In this instance a clone tool was used to clean up the sky - tricky around the pylon - before the colour tones were corrected. His successful career as a photographer in the music industry can be found here…a fascinating story and well worth a visit for its nostalgia value alone!Getting to the point…Brian kindly brought my attention to an application in Adobe Photoshop called 'Shadow Highlight' - which, to be honest, I knew nothing about!
A pair of type 3 Crompton Diesel-Electric locomotives stand nearby - two of the steam locomotive's fate are sealed - 34059 is preserved and can be seen working on the Bluebell Railway.(Above-Below) An elderly EMU (headed by an unidentified 2 BIL) approaches Woking. The 2-BIL units (2-car Bi-Lavatory stock) were so-called because each set had two lavatories, one in each car. They were built at Eastleigh in four batches, each for service on newly-electrified lines and had two English Electric traction motors of 275 hp (205 kW) each.
Pictures are a subjective medium and everyone has their ideas about what makes a good image.
A major feature of the Trans-Pennine route between Manchester and Sheffield via the Hope Valley is the 3,702 yard-long Cowburn tunnel where the summit of the line is situated about a quarter of the way inside the tunnel from the Yorkshire end, with a gradient of 1 in 100 falling eastwards and 1 in 150 to the west. This is a pretty basic image editing tool so it should be available in all this kind of software. Without dodging and burning, detail would be lost in either or both the shadows and highlights. Joseph Waterfall took this difficult shot of light and shade tussling with one another (bleaching out the brickwork) with 2-6-2T '81XX' class 8103 reposing in the yard at Newport MPD in June 1959; careful use of a cloning stamp was used to rebuild the the shed brick by brick!
Likewise in the digital age, scanners and digital cameras are capable of recording an even greater tonal range, which is more than monitors, digital projectors or modern printing systems can reproduce.
So how do I get to see this detail?Below are two similar pictures, taken at quite different times. This app delivers contrasty images in any event, so this is a good example to demonstrate the possibilities.