04.08.2014
The 7 Train is currently being extended 1.3 miles from Times Square to 11th Avenue and 34th Street at a cost of more than $2 billion. The plan is in the earliest stages of development — no assumptions can be made about the exact route trains would take on their way to Secaucus. Yet the construction of a subway connection to New Jersey would be unique in the history of the city: Thus far, no MTA-controlled lines have made it past city borders. The important question, though, is whether this is the project the New York metropolitan region needs or even wants. Put in the context of the ARC Tunnel, an extension of the 7 Train would have as its primary purpose relieving the congestion of commuter and intercity trains traveling along the existing pair of tracks connecting Penn Station to the mainland. While the required transfer at Secaucus would have its major downsides, the ability to jump onto the subway would have some huge advantages, namely allowing New Jerseyans to travel directly to Grand Central Terminal, the East Midtown business district, and the rapidly expanding Long Island City in Queens. The project is projected to cost roughly half as much as the ARC tunnel because it would require no significant new tunneling under Manhattan and would not need a major interlocking to connect with the existing rail system.
The Port Authority and the Federal Transit Administration each agreed to contribute $3 billion to the ARC tunnel; in theory, this sum would be enough to complete this new 7 Train project. Yet the direct link between the construction of the 7 Train and the build-up of the Hudson Yards on the west side of Manhattan should not be ignored. The fact that this project can be envisioned in a realistic fashion, however, does not prove that it would be the most reasonable use of the public purse. An increase in the rail travel capacity between New York and New Jersey is one of the region's top transportation needs.
Moreover, it is an open question whether an investment in a 7 Train extension to New Jersey should be enough of a priority for the region that it bypasses other long-planned proposals. Update: In a press conference this morning, MTA Chairman Jay Walder discussed the potential 7 Train extension to New Jersey.
Maybe they could make this tunnel big enough to fit full sized rail cars though it or maybe make it three bores wide or have a extra wide tunnel passangeway that could fit two tracks in it and allow a singel track to branch off of the NEC and go into the Penn Station in secert to get around the ARC being killed. But I've also thought that the NYC Subway system always went to New Jersey some how but I guess not and it makes good common sense that it should go to New Jersey. Terminating the route at Hoboken Terminal instead of Secaucus could make a #7 extension more affordable given current budgetary and political constraints, since the tunnel would be roughly half the length.
If you haven't walked it recently, the 8 blocks north from 34th (PATH terminus) to 42nd is like a trip from the 1930s to the 2010s…about 10 years per block!
A benefit to a subway extension across the Hudson would integrate a region that really functions more like a single city that's awkwardly connected today. The more conservative approach is what Yonah suggested is to increase capacity on the existing tracks now.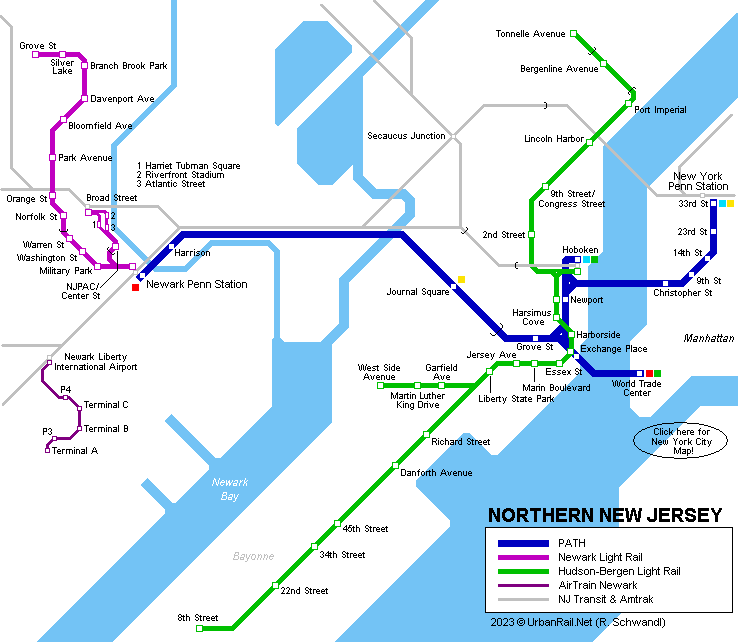 The danger is that the abandoned ARC money will shifted to other parts of the country, if there isn't a strong unified political direction or vision as to how the money should be recycled within the region. Yes, the tunnel is expensive, but a station below Hoboken would eat up any savings that could have been had by its needing a shorter tunnel. Sorry, forgot to add that the 7 line doesn't merge with any other MTA subway lines, making independent operation no more aggravating than the PATCO line is in Philadelphia. Honestly, if some company other than Amtrak were running the NE Corridor, they would be offering to contribute to Alt G.
And though the cost of the project is and will remain by far the biggest obstacle, the potential of a subway line to transform the relationship between the two states involved could be big enough of a vision to inspire radical new thinking about financing. Of course, unlike ARC, this proposal would offer metro-type services and would be incapable of hosting mainline trains.
Access at Secaucus is ideal because the station already serves as the hub for all of the agency's Manhattan and Hoboken-bound commuter trains. Mayor Bloomberg has suggested that the 7 Train could use the ARC tunnel's route, but I have yet to see any evidence that the extension currently under construction would fit in with those plans, since its tail tracks would extend south to 26th Street, far below the 34th Street route of ARC. Plans for a station at 41st Street and 10th Avenue along the currently under construction extension of the 7 Train have been put off due to a lack of funds at the municipal level. But Washington's dollars are likely to be redistributed to schemes elsewhere that could be under construction within the next year or two, not ten. This massive redevelopment area is poised to become New York City's fourth major business district, with dozens of skyscrapers planned, representing a total investment of $15 billion or more. Further studies must be conducted to evaluate whether it is even possible from an engineering perspective. But moving more commuters does not require the construction of a new tunnel: Cheap changes to rail cars could be simple to implement and eventually a re-orientation of the metropolitan commuter rail system so that it operates more in the mode of regional rail could significantly improve convenience and carrying capacity along existing lines. He argued that the agency needs to focus on the system's existing mega-projects, including the Second Avenue Subway, East Side Access, and the current (shorter) 7 Train extension. Maybe they could even convert some of the light rail lines to NYC subway lines even to add ridership and to give people the right that they are along the NYC subway system. And I bet the surface route from Hoboken to Secaucus would be more trouble then it now seems. As someone who occasionally uses an NJT line that doesn't run into Manhattan and has to transfer, this would make my commute a lot easier as it would take less time. I don't work in Manhattan but I frequently (maybe once or twice a week) have to take NJT into Manhattan from the Bergen County Line or Pascack Valley Line. It would allow an easy connection to the NE Corridor, but would allow intercity trains to use Grand Central instead of Penn, which is a much nicer station, more amenable to intercity service, and has much higher platform capacity which would allow longer dwell times at what is clearly a terminal-like destination for most travelers.
All rights reserved (About Us).The material on this site may not be reproduced, distributed, transmitted, cached or otherwise used, except with the prior written permission of PennLive LLC.
A roughly four-mile extension of the 7 Subway Train from the West Side of Manhattan to Secaucus Junction would cost $5.3 billion and provide the extra trans-Hudson rail link the New York region has been demanding for years. Engineering efforts and the construction period would require ten years before opening, at least. In addition, the existing Manhattan stations that would be used by 7 Train commuters are far closer to the surface than ARC's deep-cavern Penn Station terminus would have been, and connections to other subway lines throughout the city would be more convenient. A direct east-west subway connection into Manhattan would mean a large increase in ridership along the light rail line's north-south route. How would any local government be able to finance the construction of another massive new transit project?
The arrival of the subway to the area and a better link into New Jersey would improve the prospects for this zone. I'm pretty sure the ridership potential of this project is higher (and higher per dollar) than any of the alternative projects you mention, and might go a long way toward integrating the close parts of New Jersey with New York City. The added #7 route would increase capacity and reduce congestion and if it were only as far as Hoboken would cost a fraction of the ARC and probably half of a line to Secaucus.
I would still have to transfer to another subway line but I wouldn't have to take two NJT trains. The subway system could be financed through a neighborhood tax increment financing district. And streetcars on the Brooklyn and Queens waterfronts were promoted by Mayor Bloomberg in his last reelection campaign. If they were to pursue this however, it should be done right with the utmost care with regards to future use.
Which alternative might have a better chance to succeed with Christie in office and the recent party shift in Congress?
The region just needs to figure what is going to be riding on those rails and where it is going to be going.