16.09.2015
Touted coast to coast as the key to "transit-oriented development," light rail systems are close to "accepted wisdom" as keys to 21st century metropolitan growth. Regardless of if the train's frequency on avg is 1 min, 2 min, 5 min, 15 min, 26 min, 45 min, 50 min, 69 min, 100 min, 1 000 000 000 000 000 min it is still a train not a bus. Light Rail essentially is an upgraded version of a streetcar, and many light rail systems have significant portions that run in the street. Systems like this are more expensive than street-running lines, but they gain speed, reliability, and scalability.
My personal choice would be lines that start out with a modest amount of grade separation but are able to be reconstructed and expanded as demand grows. Massive new transport projects, like highways or transit lines, are always going to be boondoggles unless the political will exists behind them to enact the kinds of land-use changes that allow cities and towns to take advantage of those new lines. At a very basic level he is correct that we shouldn't presuppose light rail as a panacea to all urban ills. Now, if you'd like to talk about whether light rail as a cheaper regional metro is the right way to go (as opposed to say, a model favoring a combination of regional commuter rail and local streetcars), *that* would be a useful discussion. There is a clear difference between capacity of light rail and traditional streetcars, but not so much between streetcar technology and light rail technology. Denver's Central Corridor LRT runs in dedicated ROW between the street and the side walk, in downtown. So all 4-car LRT trains will by-pass downtown streets and run down the CPV directly to Union Station.
Really I have a strong bias here, I don't even think about Portland or Denver - let alone St Louis - when I think of light rail transit.
Here in Buffalo - a city that gets no respect for what it is - the light rail line is as bizarre as it is cute.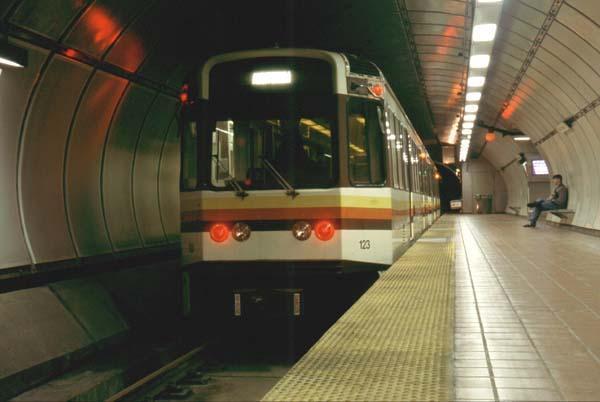 But you can't mention Buffalo since the city gets virtually no respect from any angle (including me, before I moved here and realize its a real city that does function). But it's worth remembering that the Interstate Highway System, when first promulgated in the 1950s, was widely and uncritically hailed too. The Cleveland metro region, for example, has about as many people as it did in the 1990s, but it's expanded its urbanized footprint some 30 percent–mostly to overwhelmingly auto-dependent fringe areas. Even one of America's prime examples of a fantastic light rail system in Portland runs right in the middle of downtown streets.
Louis' LRT is almost completely grade-separated (on the MO side at least) save for a small handful of very lightly-traveled roads. Personally, I do think that commuter rail + streetcars would be better in many cities than the hybrid LRT lines they are building. They both follow the same basic principles for electrification and modern streetcars are only a tad smaller to allow for in-street operation. A few 3-car LRT trains will run into downtown on the original Central Corridor through the Convention Center and 4 blocks into downtown on dedicated streetside ROW to the 16th Street mall, circling back around out of downtown via the downtown LRT loop. I think of what they are doing up in Toronto with Transit City, which I think several of the lines they propose are utter waste. For its track to UBSouth, its underground the entire route except downtown where it becomes an above ground trolley of sorts on the Main Street Mall. Light rail makes sense for places like Buffalo with light transit usage and needs, but light rail is a fad that really has affected development in major urban centers.
Sadly, we failed to take into count the price we'd ultimately pay as the massive roadways subsidized scattered development and simultaneously helped empty out many downtowns. But I'd argue it's as mismatched to today's American urban form as was the freeway-centric vision of the 1950s to the urban form of its day.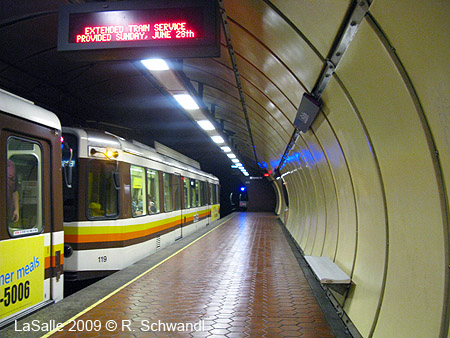 I think it was 2001, the CPV LRT downtown line opened, which routed most LRT trains entering downtown along a new, dedicated ROW along freight rail (not streets) into Denver Union Station in Lower Downtown (LoDo).
The remainder of the downtown LRT line will be extended and converted to a streetcar starter line.
However, the mall is traffic free, but they are considering adding cars back (albeit keeping ROW for the LRT). New York built a LRT to JFK instead of extending the NYC Subway network, Toronto is building this new Transit City project (or maybe not depending on how funding goes), and then you have cities like London that implemented a heavy version of light rail in projects like the Docklands Light Rail. Metro-area auto congestion continues to worsen, urban sprawl continues unabated (while threatening some of our most productive farmland), concerns about greenhouse gas emissions are growing, and there's the specter of steeply rising prices for "post-peak" oil.
Secondly, his supposition that because we have spread out cities now we mustn't ever plan for anything else is simply wrong. As part of FasTracks, RTD will convert most of the Central Corridor LRT running along downtown streets, into a single LRT car modern streetcar starter line.
Cities since have pumped many billions into reviving downtowns, but even to this day the phrase "inner city" still conjures unfavorable images of the bereft neighborhoods left behind to decay when the middle classes escaped to the fringes.
For good or for bad, the modern American city can be characterized mostly as a widely-scattered set of dispersed origins–essentially, where people live–and multiple destinations–those clusters of employment and retail where people travel to in a given day.