11.11.2015
Bachmann circulate a spreadsheet with updated expected delivery dates on an occasional basis, often in connection with the arrival of containers. If you are looking for any item in this range, please e-mail me and I will do my best to locate a New or Second Hand item for you. See what's going on within our online store, in our bricks n mortar site in Liverpool, UK and order fulfilment centre in Widnes, Cheshire. The following article, taken from the February, 1994 issue of Model Railway Enthusiast has been posted here with the exclusive permission of their authors. A friendly reminder that this article is a reflection of what was known and available at the time of its writing. Robert also invites you to visit his website, where you can learn more about his work as a transport and industrial age consultant. In the second of the books Thomas himself made his first appearance, and forty years later he got his own massively popular television show, with ex-Beatle Ringo Starr providing his voice. The TV series sparked off a huge range of Thomas the Tank Engine merchandise, from lunch boxes to wristwatches.
Robert Forsythe writes: In the last few years, we have become very familiar with Thomas models, whether those used for the television series, or the Hornby Railways and ERTL ranges sold in shops. The Hornby Railways releases will probably be the models most familiar to model railway enthusiasts. Initially a re-livery of the Caledonian Pug was suggested but, in the event although some components are shared, Percy is quite an authentic reproduction of Percy as he appears in the books. Percy the Small Engine is a special moulding created especially for the Hornby Railways World of Thomas the Tank Engine range.
The purist will note that Duck's Churchward cab had replaced the model's original Collett cab. Hornby may have based Gordon on its LNER Flying Scotsman locomotive, but the first Gordon to run on the Rev. For this model, instead of a re-livery of the current 08 shunter, the mould of the former model, dating back to 1956, was utilised. James the Red Engine is based on the former Tri-ang model of the London, Midland and Scottish Railway 2-6-0, a bogie has been added to the front. The catalogue for 1985 actually showed colour images of the TV series' rolling stock which differ in numerous respects from the models sold.
The accompanying rolling stock has turned the standard four wheeled coach into Annie and Clarabel, while the GWR coaches have become Gordon and James' coaches.
All these Hornby World of Thomas the Tank Engine models are jolly good fun and guaranteed to keep children very happy.
Quite aside from any modelling potential, their die-cast construction and the Thomas connotation suggests an ideal theme for a collection.
Diesel is a good reproduction of the standard BR 08 diesel and ERTL even produced a worthwhile attempt at the outside frames the Hornby shunter never had. It was some time later when I was scanning through early model railway magazines researching an article that I came across a reference to the Rev.
In book 21, published in 1966, we met Bill and Ben, two industrial tank engines on a china clay works line in the south of the island.
The link between Tidmouth and Arlesburgh had been little used since 1947 but in 1964 the Fat Controller formed a consortium to develop Arlesburgh. It seems that Awdry's own railway modelling started in 1948 when he lived at Elsworth and was writing his fourth book. Thomas, Percy, Duck, Edward, Henry and James all ran on this three-rail layout which formed a broken square with stations called Knapford and Tidmouth (both to be found in the books).
The new layout was planned as a mainline section with return loops at each end and relay comtrol. This was a 6ft x 4ft portable layout which became very popular at shows and fairs including the Model Railway Club Easter Show at the Central Hall in three consecutive years, 1963-1965. When the family moved house in November 1965, the layout did not fit conveniently into the railway room. Originally, a new Ffarquhar was planned with lift-out sections and an adjoining narrow gauge railway based on the Skarloey Railway described in the books.
What did follow was a 009 layout based on an idea about a lost railway on the Island of Sodor. It was the second version of the layout which inspired the 25th book in the Railway Series, Duke the Lost Engine. When the final version of Ulfstead Road was finished and working, attention could be given to the second version of Ffarquhar. Although Thomas did not come into the stories in his first book, he was the Reverend Awdry's first model.
The model was converted to two-rail in 1953 but the mechanism always proved temperamental and it became the spare engine in 1978 when Percy Mark II arrived. In 1975, a replacement was built extending the smokebox and running plate on a Tri-ang 3F and fitting a front pony truck.
The first Toby was scratch-built in plywood and card onto a Romford motor bogie and brass frame. Toby had his set train consisting of a four-wheeled Wisbech and Upwell coach called Henrietta and built by P. He smoothed off the corners of the Belpaire firebox and removed the Stanier top feed, dome and chimney. In 1959, Awdry was writing book 15, The Twin Engines, about two Mclntock Caley 0-6-0 838 class locomotives who were acquired by the railway. Interestingly, the model was originally black but was changed to blue when it changed in the books. Stepney the Bluebell Engine (book 18) was written in 1962 and published the following year.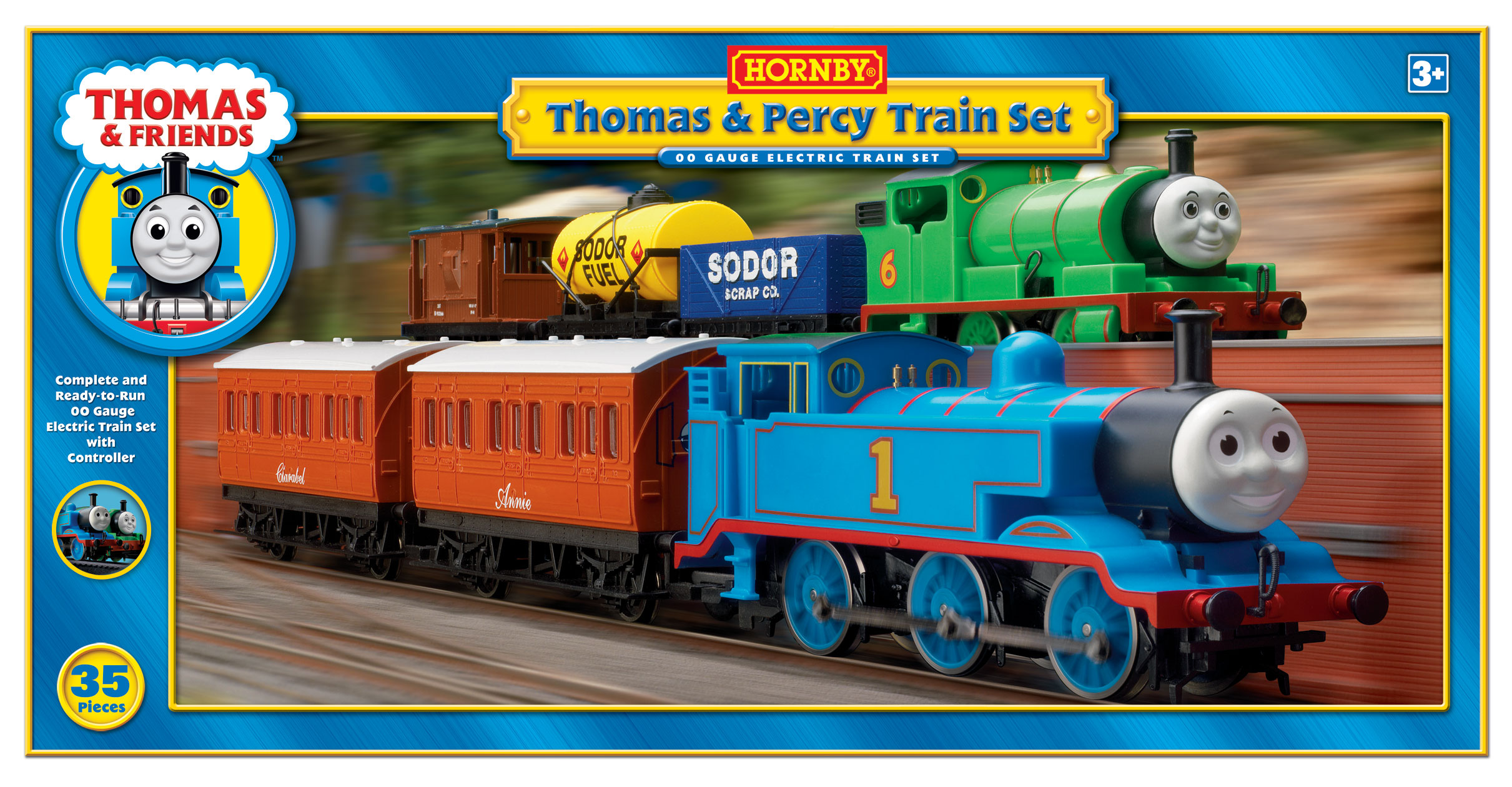 The Drewry diesel belonging to the Ffarquhar Quarry Co was actually built to run at the 1965 Central Hall Exhibition from an Airfix kit and powered by a K's motor bogie well weighted with lead.
Perhaps the most interesting passenger stock on this line were Thomas's coaches — Annie and Clarabel. Besides Toby, Henrietta and Elsie, which we have already described, the only other coaches were a twin coach set built out of Airfix Railbus parts and used as saloon coaches for enthusiast specials.
The individual who uploaded this work and first used it in an article, and subsequent persons who place it into articles, assert that this qualifies as fair use of the material under United States copyright law.
The listing below is the last listing for 2013, shows the last few items available, and can be used for reference . Please allow up to 72 hours for a reply, but we are generally faster, particularly during business hours. We wish to thank renowned model railway enthusiasts and researchers Pat Hammond and Robert N. The amount of models available may surprise many modellers, and give the collector a real challenge.
Director David Mitton's programmes took children's TV by storm, and Thomas helped to rejuvenate children' interest in railways.
Yet the idea of a Thomas the Tank Engine model railway set can be dated back to the late 1960s and the very end of the Hornby Gauge 0 system. In terms of reviving the interest of children in model railways, they have been a runaway success doing much to revive a hobby that was beginning to lose its play value. Once upon a time, he was a Tri-ang Midland Railway 0-6-0 3F tender loco available in the 1960s. Price lists reveal that the two clockwork engines, although not shown as separate items in catalogues, have been available in blister packets as solo items and do not have to be obtained as part of a compete train set.
I went to the Sunderland Model Railway Exhibition in September where a simple Thomas layout driven by a dedicated eight year old was mobbed! More than one scale is used, but this review will concentrate on the core range which could be described as quasi TT. The range is very extensive (more so than Hornby's) as ERTL, has been producing Thomas models since 1985.
Lasting only just ten years on the prototype, the only other mass produced model was the distinctive Hornby Dublo offering. They are all bubble packed, which makes it difficult to enjoy the model without damaging the packaging. Harold (helicopter), Trevor (traction engine), Bertie (bus).Will Bulgy be next – ready chipped and bashed? Duck and Oliver were put in to run the rail link (books 23 and 24) and a 15 inch gauge miniature railway was laid between Arlesburgh and Arlesdale (book 22). By the time of the National Model Railway Exhibition of Easter 1973, a taped commentary had been prepared. Bought in 1948, it was a Stewart Reidpath 0-6-0 tank painted blue like the Thomas in the books.
Awdry in 1949 at about the time he was working on book five, Troublesome Engines, in which the character first appeared.
It was intended that the model, which was a soldered brass body on a motorised chassis built for the purpose by Stewart Reidpath, would be used for the book illustrations, but the artist did not pay much attention to it. This was built on a Nellie chassis with scale wheels and the boiler removed and replaced with parts from the Airfix J94 and Pug kits. The model, however, dated from 1950 and was built from the KMR 2P kit — one of the very early white metal kits. Although he had a book to himself in 1948, it was not until 1951 that the model of him arrived on the Elsworth layout. The locomotive is painted red and lined in yellow, while the tender and cabside are lined in blue. The pictures in the book were based on photographs taken by the Reverend Awdry, together with a Skinley's blueprint.
It is powered by the K's motor bogie which, after ten years, was not performing as well as it should. It is therefore surprising to learn that a Tri-ang ex London Midland and Scottish Railway (LMS) Princess formed the starting point of Mr Awdry's artist's model! Caledonian boiler mountings and BRSB wheels of the correct diameter were used and the tender altered to look like a Caledonian type.
It was originally mounted on Stewart Reidpath bogies but these were changed to Hamblings wagon bogies. The trackwork was pretty unconventional but the models were flanged to 0 gauge and could work on ordinary track.
Secondly, they are very practical, since, being based on standard Hornby products, they are fullt compatible with the rest of the 00 system. At various times, Tri-ang and Hornby have marketed children's ranges which the modellers (and even collectors) of the period tended to ignore. Awdry's layout was a severely cut-about Tri-ang Princess from the 1950s, which the Thomas books illustrator built for him. Look closely and you will see where the moulding was altered around the smokebox and frames to extend him into a 2-6-0. There have been special versions of building kits done for the Thomas range and a good variety of train sets. The village of Emneth on the tramway was once the parish that the Reverend Awdry ministered in. This resembles a well known Metropolitan Cammell prototype which, however, never existed as a twin-ended single unit. Since most of the models will go to children, it just may be that in years to come, mint boxed ERTL models will be thin on the ground, although the quantities made must rival Matchbox of yore.
Awdry got the ideas for his locomotives from some years ago when reading a story from one of his books to my younger children. Awdry wrote 26 books in his Railway Series about the trains that ran on his imaginary island of Sodor.
Rock came from a quarry at the end of the Ffarquhar Branch where Mavis worked (book 26) and slate came down the Skarloey Railway. What resulted was the Ffarquhar Branch Line given to Thomas to run in Tank Engine Thomas Again. Awdry;s son now worked many miles away and therefore was unavailable to help dismantle and carry the layout when required for shows. This layout went through three stages of development — the first being exhibited at Worcester in 1968, and the final version making its debut at the National Model Railway Exhibition in April 1970. The scratchbuilt trackwork and station were very similar to Ffarquhar I, but the fiddleyard was repositioned. The model was two-railed in 1953 and did not pass into preservation, along with its original coaches, until 1978. This failed at the NMRE in 1982 and was replaced that year with a Mainline 57XX pannier tank. After several derailments it was sent, in 1951, to Stewart Reidpath for a new motorised chassis. It had arrived in a filthy condition but once cleaned up and three-railed it worked quite well. A third Toby was made from a K's kit for the body, mounted on a cut down Tri-ang Nellie chassis.
Despite the early date of the model, Mavis did not feature in the stories until Tramway Engines in 1972. Awdry who has been most generous in the provision of his own notes, and the co-operation of Britt-Allcroft (Thomas) Limited. After thirty years or so, those models have become increasingly scarce in mint, boxed form, a phenomenon which may yet happen to the presently immensely popular Thomas range. They are unashamedly toys and the models are unpowered but I would love to find an enterprising modeller who made them all work! These strange little Bagnall shunters worked the port of Par where there was a 7ft 6in height restriction.
I have to say that I have tried (and managed) to neatly prise away the bubble protection from several of my own examples. He has since drawn my attention to no fewer than six articles about his layouts and these confirm my earlier thoughts that some of the earlier characters were based on model prototypes. Between 1945 and 1972 he published a new book each year with the exception of 1946 and 1971. Due to problems with the controls, the layout was constantly under repair ans consequently was never completed. That year, it was replaced by a Tri-ang Jinty painted blue, which ran reliably for many years until relegated to reserve engine. In 1953, the model was returned to two rail operation and it continued in use until the motor finally gave out. The model was not successful in three rail but after it had been re-chassied as a two rail locomotive by Essar it became very lively. The driver's end was cut from the trailer car and cemented to the square end of the power car to make the single car unit. Top Right: Sadly, Percy the Small engine was not a bigseller in England, and as a result a modified model of a faceless Percy was sold in France to help clear the Percy set. Since many of the models have been produced by more or less subtle alterations of existing models, there is a fascinating model collecting theme. Both are now preserved, and ERTL models are charming reproductions of two prototypes which are not otherwise easily found models.
I soon recognised Duck and Daisy from models in my own collection and if these were based on models then surely other characters in the books may also have been. It was in self-defence, made necessary by small boys criticisng the discrepancies in his stories, that a location had to be found. It was in turn replaced by the Hornby London Brighton & South Coast Railway E2 which was so much like the one in the books. Edward did not form part of the stud for the Ffarquhar Branch and, after 1959, it became a static model, its motor removed for spares. A Tri-ang replacement was provided with a Hornby springs as the universal joint but it was not very satisfactory and was scrapped. After 1959, the Essar motor was removed for cannibalisation and, today, the original James is a static model in G&SWR livery. This was because a new artist had been appointed for book twelve, The Eight Famous Engines. Apparently, this has run well for more than 23 years with only one very recent change of motor bogie. With the exception of Gordon, who was clearly intended to be a Gresly Pacific, Duck who was a GWR pannier tank and Toby whose origins were made clear by the script, I found it hard to identify the prototypes of The Rev. Awdry lent him his a number of his models to get some idea of what the characters should look like and, as there was no model of Gordon, he undertook to make one.