21.05.2015
The article by Yonah Freemark and Jebediah Reed explains, "Rochester's principal train station opened in 1914, with New York Central Railroad connections to New York, Albany, and Buffalo. But sadly this grandest of stations, busy for four decades, lost most of its passengers to the new interstate system as well as the airlines.
I think the best example of new rail station construction is the new Albany-Rensselaer station. I dedicated a chapter of my book on Claude Bragdon to the train station–a remarkable building. Is it not cruel to let our city die by degrees, stripped of all her proud monuments, until there will be nothing left of all her history and beauty to inspire our children? There is not an endeavor, ambition or activity in the built world that cannot be enhanced by a warm, embracing ambience. There are abundant examples in every category of modern life, but observe just one (itself, perhaps, the least obvious) - transportation. Designed by Charles Luckman in 1968, the current Penn Station famously arose from the wreckage of the greatest train shed in America and, arguably, the world. Early in the 20th century, the railroad provided the principle means of overland travel, the terrestrial complement to the golden age of ocean liners.
And, just as commercial airline travel would supplant ocean liners by mid-century, so too would the airways combine with automobiles and buses to render the railroad an antiquated means of long-distance transportation. By the 1960s, Penn Station had become a cathedral to a dead religion, its soaring, cavernous space an empty expanse of un-capitalized real estate. No longer the pink marble-columned gateway between the great Metropolis and the scale-less continent beyond, overseen by giant eagles of Vinalhaven granite sparkling in sunshine - Penn Station now moves only people, not their hearts and minds. What then can we learn from its surviving neighbor and contemporary just across town, now entering its centennial year and itself the survivor of 2 considerable demolition threats in the 1950's and 60's? Completed between 1903 and 1913 in a collaboration between Warren and Wetmore and the lesser-known Reed and Stern, Grand Central may lack some of the spatial complexity of the early Penn Station, but celebrates in elegant Beaux Arts formality the transformative possibilities of journey by rail. And yet, for all its monumental vastness, its finery and craftsmanship and sheer luxuriant gorgeousness - all of it welcome and beguiling - a single element above all gives the totality of Grand Central its legible grace. At the very center of this elegiac spaciousness is an information kiosk that would fit within even the most modest studio apartment; a simple, graceful little rotunda of marble and glass supporting a four-faced brass and opal clock. It is a familiar face in a surging crowd, an eye-level exchange beneath a heavenly vault, and its presence asserts, so very gently, that the travelers who throng through this hall in their millions are really just so many individuals passing through time and space.
New Jersey governor Chris Christie spiked plans to build two new rail tunnels under the Hudson, likely leaving the metropolitan region for the next quarter century with all of two rail tunnels to carry New Jersey commuters into Midtown Manhattan.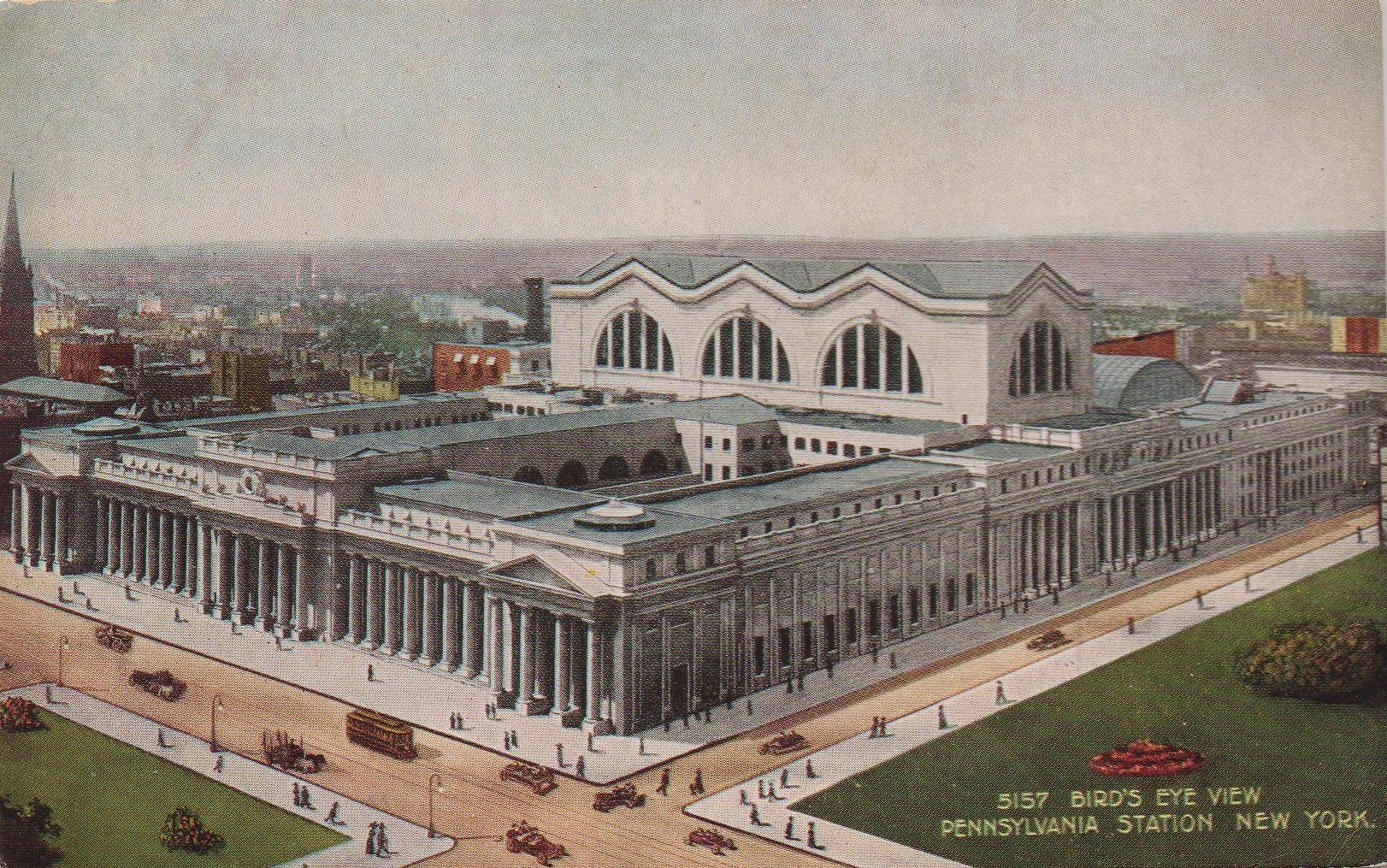 MORE FROM POLITICOAmid probe, mayor says he'll review changes to deed restrictionsTreasurer suggests delaying payment schedule for BEIP tax credits N.J. Grand Central Station, which still exists and is still beautiful, and Pennsylvania Station, which still exists and is, well, no longer beautiful.
The reason Pennsylvania Station is no longer beautiful is that the original Pennsylvania Station was torn down in 1963. An imposing, sober colonnade of corinthian columns arranged in Doric order, McKim, Mead and White's Pennsylvania Station combined glass-and-steel train sheds and a magnificently proportioned concourse with a breathtaking monumental entrance to New York City. The Pennsylvania Railroad began looking to divest itself of the cost of operation of the under-utilized structure, optioning the air rights of Penn Station in the 1950s.
Some time last year, a notable infrastructure blog called The Infrastructurist, published a list of the top 10 greatest rail stations ever built. In 1854, New York Central Station was constructed on Mill Street at the edge of High Falls where it served as the community's transportation center for 30 years.
The New York Central sold the building in 1959, and the Bragdon Station was demolished in 1965. If they are not inspired by the past of our city, where will they find the strength to fight for her future?
Ironically, both Pennsylvania Station and Henry Ford's Highland Park Model-T factory were completed within a year of one another - one, the world's single greatest expression of the pre-eminance of train travel and the other the author of its demise. And so, the wrecking crews were summoned and one of America 's most iconic building gave way to the benumbing banality of Penn Plaza and a relocated Madison Square Garden.
The sheer contrast between the enormity of the main concourse and this humble little structure lends a human scale to the million cubic feet of space and light and, in so doing, renders the room intimate, personal. Joseph Boardman at the Regional Plan Association's conference last week at the Waldorf Astoria. Those two tunnels are more than a century old and carry more more than 160,000 passengers a day.
That picture, which is from 1929, is below, along with one of Grand Central (?) with the same sun-beam effect. Standing shoulder to shoulder with some of the greatest examples of 20th Century American architecture is Rochester's NY Central Station. A few of the stations on the list exist today in much more modest forms but most are now either parking lots or vacant lots. But the decline in passenger traffic emptied the station by the late 1950s, and the building was razed in 1965.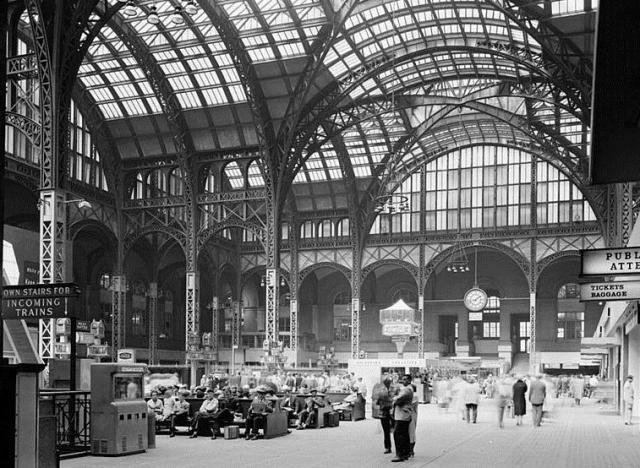 In the 1880's the railroad tracks were elevated and the station was relocated to the east side of the Genesee River (on Central Avenue at St. Americans care about their past, but for short term gain they ignore it and tear down everything that matters.
Grand Central, New York City's two primary train stations separated by roughly 16 city blocks and 6 decades, the answer is as simple as it is elusive.
The basic functions of the station remained, of course, but had been relegated to a basement, as far removed from daylight and the romance of travel as is possible to imagine - a low-ceilinged, fluorescence-muted rat race of fast food vendors, plastic tourist memorabilia and anonymous travelers.
From the street entrance modelled after Berlin's Brandenburg Gate, led to the two railroads that the building served, the Pennsylvania and the Long Island Rail Road. In exchange for the air-rights to Penn Station, the Pennsylvania Railroad would get a brand-new, air-conditioned, smaller station located completely below street level at no cost, and a 25% stake in the new Madison Square Garden Complex.
Penn Station, for example, is now mainly a network of underground railroad and subway stations beneath a glass office tower and Madison Square Garden arena. Cities like New York, Chicago, Boston, Detroit, Memphis, and Atlanta are all noted for the same horrific blunder. They are also a dangerously narrow chokepoint on the one of the busiest rail corridors in the world.The state and federally financed project called Access to the Region's Core would have doubled the number of cross-Hudson tubes and relieved that bottleneck.
Its enormous main waiting room, inspired by the Roman Baths of Caracalla, approximated the scale of St. This second station served New York Central's needs for just over 20 years, when they decided to build a new station on the north side of Central Avenue, between North Clinton Avenue and Joseph Avenue.
A well known New York City architect, Claude Bragdon designed the third station, referred to as Union Station or the Bragdon Station, and it opened in 1914. Amtrak's literature puts the target completion date at 2030, but Boardman, recounting a panel discussion he'd attended earlier that day, said the panel's consensus was "25 years if you're lucky."By his lights, that's not nearly soon enough, particularly with what he describes as at least a half-billion dollars' worth of Hurricane Sandy-related damage. That could pose some very big problems for the New Jersey commuters and regional rail travelers who rely on those tunnels to get from New Jersey to New York, and back again."Today those two tunnels carry 24 trains per hour, 24," he said. So if Amtrak's selfish and owns the infrastructure and says we're gonna do our four, well it doesn't matter whether New Jersey Transit gets two or not, because with two they're dead anyway. Boardman was making in his comments at the RPA Assembly is that damage from Sandy accelerated what was already an urgent need for additional tunnel capacity between New York and New Jersey," he continued.