25.08.2015
Metro's modified timetable, introduced on September 23, will continue until Friday 18 October.
As many of our customers will be aware, Metro introduced the temporary timetable changes due to a shortage of trains caused by extra services to the Royal Melbourne Show and driver training commitments on the Regional Rail Link. Now, as the works on the Regional Rail Link progress, we need our drivers to become familiar with another new section of track. To avoid confusion, the same services have been cancelled each day and have been spread across the network. Please check the details of these planned cancellations to see if your usual service is affected, and consider taking an earlier or later train if necessary.
We appreciate your understanding during this time and we will do all we can to cause the least inconvenience possible. 18 May 2016 - 19 May 2016While signalling upgrades take place, buses will replace trains between Dandenong and Pakenham each night after 8:00pm from Wednesday 18 until Thursday 19 May.
Dismount bus at Metro designated bus stop on Railway Avenue, in front of Pakenham Station entrance. Board bus at Metro designated bus stop on Railway Avenue, located in front of Pakenham Station entrance.
Please note in accordance with the Victorian Fares & Ticketing Manual 2015, bicycles, surfboards and dogs are not permitted to travel on buses.
28 May 2016 - 29 May 2016While works take place as part of the Level Crossing Removal Project: Caulfield to Dandenong, buses will replace trains between Caulfield and Westall stations, on Saturday 28 and Sunday 29 May. May 20We're running extra trains to get fans to and from the Hawthorn v Sydney match Friday 20 May, at the MCG. For more information on extra services to this event, please contact Public Transport Victoria (PTV) on 1800 800 007. May 21We're running extra trains to get fans to and from the North Melbourne v Carlton game on Sunday 15 May, at Etihad.
May 22We're running extra trains to get fans to and from the St Kilda v Essendon game on Sunday 22 May, at Etihad. Jun 4We're running extra trains to get fans home from the Storm vs Panthers match at AAMI Park.
17 March 2016 - 30 June 2016The Level Crossing Removal Project Caulfield to Dandenong involves the removal of nine level crossings between Caulfield and Dandenong.
We are undertaking works to gather additional information about the rail corridor as part of the Caulfield to Dandenong Level Crossing Removal Project.
These activities will occur within, and in areas immediately adjacent to the rail corridor, including station precincts. These works will take place from 17 March between 7am and 5pm Monday – Sunday and are expected to take two or three months, dependent upon weather and ground conditions.
17 April 2016 - 30 June 2016We are undertaking night works for signalling upgrades between Caulfield and Oakleigh stations.
Works taking place will include track works, excavation and installation of power, signalling and communications services and minor non-native vegetation removal.
Due to the nature of the works and heavy machinery required, including special track machines, excavators and chainsaws, medium level construction noise may be experienced. 26 April 2016 - 10 June 2016As part of our station improvement work program, the Oakleigh Station toilets are being upgraded and will be closed during this time.
16 May 2016 - 25 May 2016The Level Crossing Removal Project: Caulfield to Dandenong will be carrying out preliminary soil investigation drilling works. The footpath from the far east of the Morton Avenue car park to Hewitts Road will be closed.
The pedestrian rail crossing between Carnegie Station car park and Woorayl Street near Chestnut Street will remain open during this period.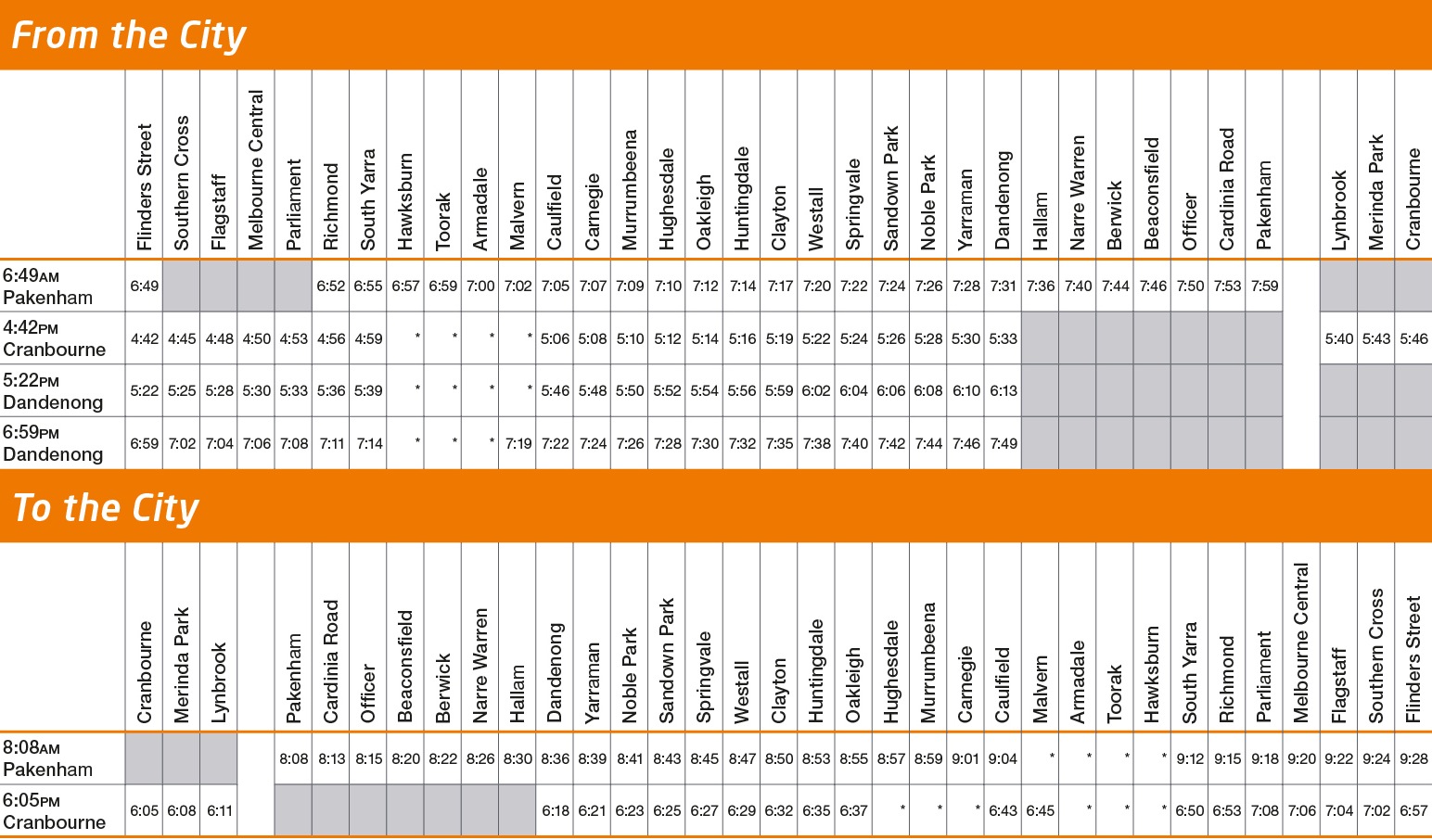 21 May 2016 - 22 May 2016While signalling upgrades are taking place, buses will be replacing trains between Richmond and Darling stations. During this time, the angle car park on Swan Street (indicated on the map) will be changed to a "Replacement Bus Zone". 25 May 2016 - 26 May 2016While maintenance takes place, lift access to the station and platforms is limited. Customers are advised that the nearest station with lift access to Flagstaff Station is Melbourne Central Station. For customers on the platform, please press the red emergency button if assistance is required. BILL Shorten has suspended his campaigning after he stopped to help a woman trapped in a head-on collision.
UPDATE: SUPPORTERS of five men accused of trying to flee to Syria by boat to join Islamic State have been slammed for refusing to stand for a magistrate. A VIRGIN Australia jet has been forced to abort its flight following reports of smoke entering the cabin.
A VISIT to your doctor could be a whole lot cheaper under a plan from Labor that has been applauded by GPs. THE Immigration Department is working with police to investigate allegations that border officials are involved in serious criminal activity. THE Sydney teenager accused of plotting a terror attack allegedly planned to go on a shooting spree at a courthouse, it has emerged. Fast turnover services on the Dandenong, Frankston and Ringwood lines will start next month.
Trains on the Craigieburn, Sydenham, Upfield and Werribee lines will leave Flinders St via Southern Cross. A NOTE ABOUT RELEVANT ADVERTISING: We collect information about the content (including ads) you use across this site and use it to make both advertising and content more relevant to you on our network and other sites. The changes allow more trains to run, and Metro and the government say it will improve reliability and cut crowding. If you currently use Cheltenham to Caulfield express trains you will need to consider your options, depending on your destination.
If your destination is within 2-3 blocks of Flinders Street, you may wish to walk from there instead of using a loop station. If you're headed to Melbourne University, the hospital precinct or St Kilda Road, you may wish to stay on the train and change at Flinders Street, rather than travel via Melbourne Central. If you need to use one of the underground stations, you can catch a stopping train, or if you catch an express you may need to change trains. For Flagstaff, it may be easiest to change to platform 1 at Flinders Street, for a train running clockwise around the loop.
On weekdays between the peaks, most trains will run express between Malvern and South Yarra. Coolaroo Station is opening on the Craigieburn line, and that line will get a couple of extra services, and some service times modified.
There's more information on the Metro Trains web site, or a summary of changes on the Metlink web site. They are also cutting the number of stopping patterns, to make the timetables easier to understand, and more reliable. Loop capacity is limited, with one tunnel currently being shared by almost all trains on the Caulfield lines. The government and Metro say that twice as many passengers use the Dandenong line compared to the Frankston line, which is why they have chosen some Frankston line trains to bypass the loop. Express and stopping trains on the Frankston line have to be carefully timed, so that the expresses can overtake on the extra track between Moorabbin and Caulfield.
Other lines that run direct to Flinders Street in peak hours include the Sandringham line, Werribee line, Alamein line and Blackburn trains. The change to more consistent stopping patterns also means that stations between Highett and Glenhuntly will lose most of their morning peak express trains.
Those lines also have some of the worst overcrowding on the network, in part because the old timetable makes poor use of CBD track capacity. Given the inconvenience for some passengers caused by these changes, the PTUA will be watching closely to see if the promised improvements eventuate.
If the operator's response is not to your satisfaction, you can also complain to the Public Transport Ombudsman. Contacts for letters to newspapers, the Minister for Public Transport and other politicians are here. In order to do this as quickly as possible, we will be conducting a further week of driver training. An exception exists for guide dogs, hearing guide dogs, guide dogs in training, animals identified by an Assistance Animal Pass and small animals if they are suitably contained. Turn left and cross the road with care, then proceed to Metro designated bus stop in front of station entrance. It includes five rebuilt stations at Carnegie, Murrumbeena, Hughesdale, Clayton and Noble Park, as well as power and signalling upgrades.
There will also be minor preparatory works will be carried out during this time as part of the Level Crossing Removal Project: Caulfield to Dandenong. The nearest stations with lift access to Parliament Station are Melbourne Central Station and Flinders Street Station. The switch is expected to assist with large crowds at Southern Cross following events at Etihad Stadium. It explains that if you do not provide us with information we have requested from you, we may not be able to provide you with the goods and services you require.
For Parliament and Melbourne Central it will be quickest to change at Richmond — there are loop trains operating every minute or two from Dandenong (platform 5), Ringwood and Glen Waverley (platform 8), though Metro has warned that these trains may be crowded. You can also use this option for Melbourne Central and Parliament, if crowding on trains at Richmond is too bad. They will also stop at these stations on weekends, providing a 10 minute service for Armadale, Toorak and Hawksburn. And at most stations the frequencies between trains will be more even, to help with overcrowding. The Loop was originally designed with the intent of running only about half of all trains through it, with the rest running direct to Flinders Street.
The Victorian Government is committed to removing all nine level crossings by the end of 2018. It also explains how you can access or seek correction of your personal information, how you can complain about a breach of the Australian Privacy Principles and how we will deal with a complaint of that nature. The changes, to take effect from April 22, are the second wave of Metro's timetable reforms, designed to simplify train running and reduce delays across the network. Public Transport Minister Terry Mulder said the change focused on providing 10-minute weekend frequencies during the day on the busiest lines.