07.04.2016
This abandoned railway was built in 1880s as a part of the Cape Fear & Yadkin Valley Railway. While required, your email address will NOT be displayed as part of your comment.Its only purpose is to allow you to optionally receive emails notifying you of updates to these comments,or allow me to contact you for further correspondence, if necessary.
If you subscribe to this abandonment, you will receive an emailwhenever somebody else posts to this comment chain. Is this RR (the one between Fayetteville and Sanford)the same RR line that was used to ship coal from Egypt (currently named Cumnock)?
Your browser does not support inline frames or is currently configured not to display inline frames. The original CF & YV route ran all the way from Wilmington, NC to Mount Airy, NC, with a branch from Fayettville to Bennettsville, SC.
In 1899, Southern bought the portion from Sanford to Mount Airy and organized the Atlantic & Yadkin Railway to run it. The Atlantic Cost Line took over the remainder of the line from Sanford to Wilmington and the Fayetteville to Bennettsville, SC line.
Towns on this section of railroad were Mintz, Parkersburg, Garland, Tomahawk, Kerr, Ivanhoe, Atkinson, and Currie. You can still see evidence of the right of way going through the middle of town in Garland and Tomahawk. It was the first one to be severed.SCL abandoned the section from Fort Junction, at Fort Bragg northwest of Fayetteville, to Jonesboro, just outside of Sanford, in the early 1970s (23 miles). This section of railroad passed through towns named Manchester, Spout Springs, Olivia, and Swann.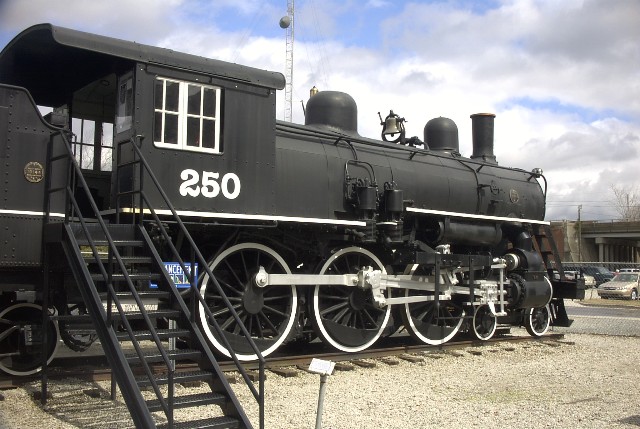 The old ROW can still be made out in spots.Seaboard System abandoned the section from Roseboro to Vander (15 miles) in the mid 1980s. The old ROW is still easily traceable in this area.CSX still operates the section from Fort Junction (near Spring Lake) through Fayetteville, to Vander, with an industrial spur from Vander down to the Cape Fear River.