20.12.2014
This train set offering had many extras and was one of the most well-appointed in the line. Mehano run them again as they are also found in IHC boxes after TYCO departs the train market after 1993. Box Car, Hopper Car, and Caboose around a 36" circle of brass track with power supplied by a TYCOPak. Signs and Poles Set (#904) was included along with 16-sections of track and the 1-amp Power Pak (#899).
OK, so many of us remember TYCO's HO trains being seen as low-end and toy-like since the 1970s. First off, starting around 1988, they began to move production of their stuff from Hong Kong to Yugoslavia.
Yet in this case, the actual locomotive was Mehano's own Alco Century 430 in the Santa Fe Warbonnet colors, and the rolling stock was also actually the Yugoslavian substitutes. While the front showed TYCO's Shark Nose diesel, the actual set came with either a Mehano F9 or FA painted in the Rock Island colors.
Curiously, while the locomotive and tender, "chugging" boxcar and caboose are indeed Yugoslavian-made, the Railbox car, wood pulp car and Texaco tank car are actually bona-fide Hong Kong-made TYCO cars!
By this point, this was also the only way you could get the TYCO Pipe Loader, Log Dump car, and bi-level auto carrier car. Many of the Pola building kits TYCO sold were still available at this time, including some of the Center St. Pretty interesting stuff, from what was once such a well-known company in manufacturing HO-scale trains.
Train sets began to come with Mehano-produced locomotives and rolling stock, the latter painted to look like their TYCO equivalents. Instead of a single-powered truck motor like TYCO's own locomotives, this Alco 430 instead had a can motor with eight-wheel drive, and it was pretty much the same model AHM, IHC and Model Power offered. This was interesting, as TYCO never offered figures like Bachmann, Life-Like and Model Power did (though some came attached to their lighted buildings). Some other companies have also offered this type of engine, like AHM, Rivarossi, IHC (in their "Premier" line), and even Life-Like!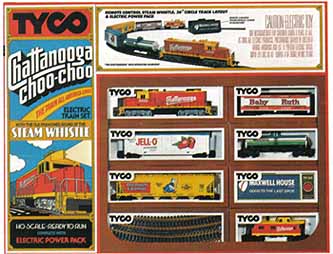 Sometimes during this period, TYCO would mix and match different rolling stock parts, presumably to clear out old stock or something. Worth of note, the box artwork shows a GP-20, and the photo of the set on the box shows TYCO's old Alco Super 630 locomotive, yet the actual set came with Mehano's Alco C628 locomotive (the one that had eight-wheel drive instead of twelve, the same kind of can motor, etc.) It was painted in the same Santa Fe paint scheme used on AHM's equivalent (Model Power and Life-Like's equivalents had the blue-and-yellow paint scheme.) So once again, you had a better-running locomotive than TYCO's own equivalent! The locomotives and rolling stock pictured were most likely leftover stock TYCO was clearing out. Plus, in addition to higher-quality stuff from Atlas and Athearn, TYCO's rival Bachmann still had a much larger selection, and Life-Like was getting really popular during this time as well.
Some of the building kits Tyco made are still being made by folks like Model Power and so on. The TYCOScene layout board was also still available, but the expansion section no longer was.