Shortly after the broadcast, around January 1970, two bootlegs surfaced that contained recordings of the exact same acetate that was used for the WKBW broadcast. For completeness, the audio file presented here features the end snippet found on The Get Back Journals 1 edited onto the end. This is a longer 5-minute edit but otherwise, it sounds the same as the 4-minute edit on compilation three.
Finally, after this song ends, the tape ends, and the DJ recaps again, reading a small passage fromthe September 20, 1969 Rolling Stone article.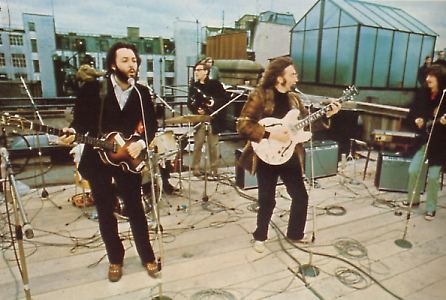 This would be Glyn's second compilation and was constructed with the intent for future release but, essentially, it became the prototype for compilations 3 and 4.
The home taper had recorded over the second half of track 4, all of track 5 and the first half of track 6 for this song. The second release was titled The Silver Album Of The World's Greatest (Jarris Records) which featured several songs but not the entire acetate. This demonstrates that WKBW's actual source tape for the Get Back broadcast featured only one channel of stereo.
Since they feature none of the DJ dialog heard in the broadcast, the bootlegs can surely be sourced directly back to the acetate. Perhaps the person who taped the acetate didn't realize it or it was done intentionally to preserve the unique integrity of the original acetate.
Comments »