I had my first taste of Jamie Oliver's Italian In Birmingham recently, although I'm sad to say, it was not cooked by the man himself. Set in the courtyard outside the back of the Bullring, Jamie's Italian is in prime location for those looking for a top munch after a day of shopping.
Bustling with people of all ages, I get the feeling that the restaurant will be popular regardless of the food. After mulling over the mouthwatering dishes on the menu, my boyfriend and I opted to share the Turbo Fusilli Arrabiata Pasta and the Bresaola & Rainbow Beet Salad.
Starting with the giant plate of Bresaola beef and beet in an array of vibrant colours, my taste sensations were tingling as I went to take my first bite. Finely sliced beef with roasted beetroot, rocket, fennel, horseradish, Parmesan, balsamic and extra virgin olive oil.
Although you are more likely to be served by Paul or Tony from Mosely, rather than Paulo or Antonio from Milan, it serves food to rival any Italian restaurant I have ever been to. The bill came to ?52.50 for 3 dishes and a bottle of red wine – well worth it considering that the portions were huge, and the food was absolutely top quality.
My mum chose Jamie's Italian Spaghetti Bolognese (always a safe choice when he pops his name in there).
I would believe it if someone told me that Jamie himself cooked it, as again, it was flawless. With friendly staff and a welcoming interior, as well as tasty food washed down with a bottle of red, this was the perfect meal. Often criticized for his 'Mockney' accent ('Someone who wishes they were Cockney so they can be cool, famous Mockney's include Guy Richie, Jamie Oliver, Lilly Allen, and obviously Kate Nash'.
I savoured every morsel of it, and will recommend it highly for its subtle yet scrumptious flavours.
As a regular complainer in restaurants, I was dumbfounded that I had nothing to voice my concerns about. Apparently 'Jamie' had the idea of keeping Birmingham's industrial history when it came to design (I have my doubts that he had anything to do with the restaurant). It was all perfectly presented at the right temperature and prickled at my palette like a dream.
We anticipated having to wait, due to not being able to make a booking because of Jamie's incredible popularity. But to back up his claims: the floors are distressed wood whilst the tables and chairs are made of aluminum. My only complaint was that my belly wasn't big enough to have the spaghetti Bolognese as well. A mixture of beef and pork seems like a strange combination, but trust me, you will regret not trying this dish.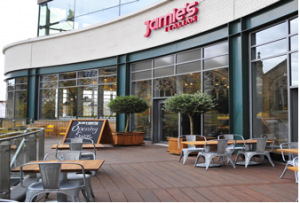 Comments »