This person and I have never met in person, and he began emailing me approximately 2 years ago.
He can be humourous, polite, seems well educated, knows quite a bit about financial markets and how they function, and seems to be financially secure, as he's never mentioned an actual source of employment.He also seems to know many details about people directly and indirectly related to, or associated with me. His most recent story was shared with me via email, of how he was juggling an axe, and cut himself.
Later, he changed his story to a 10 day stint in the Nut House, but it's his story, so I'll let him change it up to suit himself.
So, I had to wonder what his agenda is, as most of us wouldn't be sharing such information about ourselves, especially if we were trying to impress another.Well, well.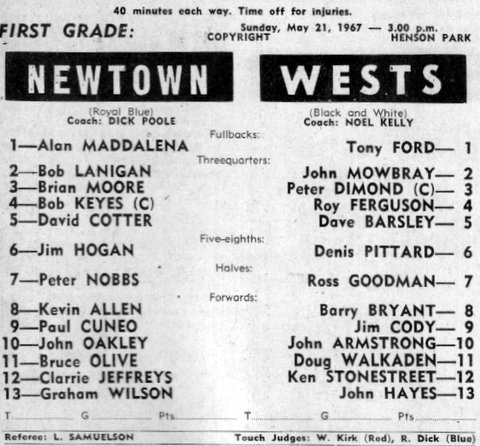 Centre: Charlie Bennett, Les Griffin (trainer), Harry Oxtoby (trainer), Greg Anderson (treasurer), Jack Armstrong (secretary), Bruce Cambridge (president), Ray Hunt (manager), Graham Seymour. Grant, Attorney at Law, Juneau, AK From Wedding Bells to Tales to Tell: The Affidavit of Eric William Swanson, my former spouse AFFIDAVIT OF SHANNON MARIE MCCORMICK, My Former Best Friend THE AFFIDAVIT OF VALERIE BRITTINA ROSE, My daughter, aged 21 THE BEAGLE BRAYS! About Us Contact Us A Tribute to Ben Fisher and Jack Thompson Bill Keato the Lad from Liverpool Old Newspaper stories and photos from the 1960's VALE Laurie Bruyeres VALE Nev Charlton. VALE Bill Keato VALE Vince Karalius VALE Bob McGuiness VALE Denis Meaney VALE Johnny Mowbray Vale Kel O'Shea Vale Mark "Snow" Patch VALE Bob Sargent Vale Ken "Nebo" Stonestreet. VALE Doug Walkaden 1966 Season 1967 Season 1968 Season 1969 Season Noel's Dream Team What a game Wests Photos from the Old Days Case of the Missing Goal Posts A Visit to Old Pratten Park Peter Dimond Book Launch Interview with ------ Noel Kelly Interview with ------ Tony Ford Interview with------- Mick Alchin Interview with Jim Cody Interview with ------ Colin Lewis Interview with ------ John Mowbray Interview with ------ Noel Thornton Interview with ------- Bill Owens Interview with John "Chow" Hayes Arncliffe Scots 1969 Un-Defeated Premiers Arncliffe Scots 85 years reunion 2003 Pratten Park Reunion 2007 Pratten Park Reunion 2008 Pratten Park Reunion 2009 Pratten Park Reunion 2010 Pratten Park Reunion 2011 Pratten Park Reunion 2012 Pratten Park Reunion 2013 Pratten Park Reunion.
HELL'S BELLS: THE TELLS OF THE ELVES RING LOUD AND CLEAR IDENTITY THEFT, MISINFORMATION, AND THE GETTING THE INFAMOUS RUNAROUND Double Entendre and DoubleSpeak, Innuendos and Intimidation, Coercion v Common Sense, Komply (with a K) v Knowledge = DDIICCKK; Who's Gunna Call it a Draw?
Comments »