Clip Art Image Description: This is a clipart picture of two girls competing in a track event. Welcome to the second edition of Friday Feature, a monthly post where I share with you a runner and their favorite four legged running partner!! There are some great bike paths in my neighborhood; we have a few we typically stick to because it keeps us away from traffic (even with a leash, you just never know). My proudest running moment was finishing my first full marathon nearly six years ago - I've run one every year since.
When I was in Chicago last week, we went to PF Chang's for dinner and I had their delicious chicken lettuce wraps. Today's writing prompt for the Blogember (blog every day in November) challenge is to write a six word memoir. Continuing with our new column, "That Girl", we are celebrating the accomplishments of real women who make health and fitness a priority because we know that true athletes come in all shapes, sizes, ages and athletic abilities from around the world. My go-to meal is whole wheat toast, roasted almond butter with flax seeds and sliced banana with a cup of green tea. Give me a hot, sweaty, crowded yoga class with awesome music, an energetic vibe and lots of arm balances and unique twists on challenging postures. Calling all female athletes (that means you!): Do you surf, ski, swim, climb mountains, mountain bike, compete in races or stay fit with any other sport? I know "that girl" she is my favorite yoga instructor and an inspiration to all!!!!
Continuing with our weekly column, "That Girl", we are celebrating the accomplishments of real women who make health and fitness a priority because we know that true athletes come in all shapes, sizes, ages and athletic abilities from around the world.
Throughout my 10 year running journey, I have never been as excited about a race as I was on Sunday November 6th, it was my comeback race and I was pumped. For some odd reason 13 month twins just don't understand the concept of being tired from a long run. This clip art image shows a Caucasian girl and an African American girl running a race in a track meet competition.
Since today is Valentine's day, I couldn't think of a better way to spread the love than to introduce you to Lindsey from Run Like a Girl and her adorable running partner Burton.
Burton's happiest moments are when he's running, either with me, at the dog park or outside playing.
So this week we're celebrating Terry Cockburn, a fascinating yogi, runner, coach and mom whose love of fitness helps her to make it all work.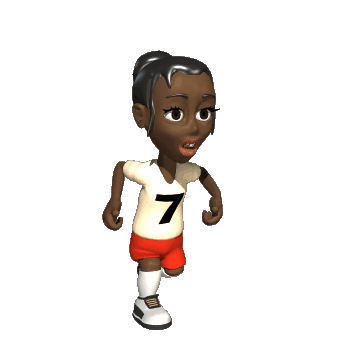 I trained for it on my own, using my own plan, and ran it out of state, where I knew no one. When I have the opportunity to take such a class, I leave feeling wrung out and worked, both inside and out. Use of the web site constitues acceptance of the Defy Media Terms of Use and Privacy Policy. So this week we're celebrating Gia Alvarez, an amazing marathon runner, mom and running coach who says investing in herself and her fitness makes her feel strong, confident, energetic and proud. It was my first marathon back, one year after having twins and I had the race of my life, I felt amazing the whole way and shocked myself with a 5 minute PR.
NYC did not disappoint, the city came to a halt to support the sweat and tears that 47,000 runners put into 26.2 miles. Invariably if I'm not motivated to work out, being around others who are motivated is infectious.
While my heart belongs to running, I have to keep it interesting … ballet, weights, yoga, walking all in addition to running.
Lindsey sent me three pictures to choose from for the post, but honestly Lindsey and her dog are both so stinkin' cute, I couldn't decide on just one, so here are all three.
When I got him, I had no intention of him being a running dog - 19 pounds, stocky, little - you can imagine!
Winter running in the great outdoors, lots of yoga, amazing food, learning and time for relaxation. 3 Million spectators shouted my name and encouraged me but the best cheering squad was my family at mile 23. So while I dream of sipping on a protein shake and resting my legs in an ice bath … that never actually happens.
I read recently that running with a jogger burns 200 more calories per hour than running alone and I believe it! Each morning as the sun was peeking up over the horizon I would run on my own private piece of paradise. Ensuring fitness variety prevents my mind from getting bored and my body from getting injured.
Now, if my MIND is telling me I don't feel like working out, that's another story! I was greeted by the healthy, smiling faces of the twins, they were enthusiastically waving signs and ringing bells.
Other days I have to struggle to find the inspiration, but I remind myself that for me, being the best mom I can be means making the time for fitness. No one is motivated 100% of the time, you need others to bring the motivation when you just don't have it.
Its a completely different workout than running alone, I have to dig deep within my quads to get all 3 of us up those hills in Central Park. The cove was about 1.5 miles long and my footprints were the first marks in the sand every day. Fitness is like a puzzle, you have to put together all of the pieces in order to get a completely healthy picture. Now when I layer up and lace on my running shoes, he goes nuts - loves to run as much as his mama. I will do battle in my head after hitting the snooze button, and remind myself of the importance of my training, and how good it will feel once I'm up and on the pavement.
I turn off any music I'm listening to, take a few deep breaths, stretch out my muscles and let the delicious endorphins that I just produced bring a huge smile to my face.
He's fast (pushes me to those 7-minute miles when I otherwise might not push myself) and he has no problem logging some decent miles for his size (the furthest I've taken him is 8 miles and he was a champ!).
I'm certain the active, healthy lifestyle our family leads is what has fostered their love for athletics and has made them more aware of how good you feel when you eat healthy foods and exercise.
Arriving at the start line of a race knowing you've done the brutal work of training gives you the assurance you need to get the job done. Lacing up my sneakers and heading out the door I know that I'm getting stronger and that makes me confident. My RB helps motivate me, supports me, distracts me with her stories … and I do the same for her. Doing restorative and gentle yoga postures as I hang out with my husband (who is also a runner) and kids, in our house that smells of bacon, is my top favorite way to chill post-workout.
Comments »