Microsoft released Exchange 2013 Preview earlier this week, along with Microsoft Office 2013, Microsoft SharePoint 2013 Preview, and Microsoft Lync 2013 Preview.
Where is the familiar Exchange Management Console (EMC), the GUI management tool introduced in Exchange Server 2007 and also found in Exchange Server 2010? Enter the Exchange Administration Center (EAC), a new web-based unified console that allows you to manage Exchange Server 2013 (on-premises), Exchange Online Preview organizations and hybrid deployments. If you've been using EMC in Exchange 2010 or Exchange 2007, you'll be right at home with the EAC. Check out Managing The New Exchange, an in-depth look at the Exchange Administration Center on the Exchange team blog, and FAQ: Exchange Administration Center in Exchange 2013 Preview documentation. I truly abhor web-based administrative tools, thank heaven I use the shell more than the console. Web-based consoles of yesteryears have left a lot to be desired, but as the web has grown up and matured, so have web-based consoles.
I like the fact that you don't need to install anything, can manage Exchange from anywhere using (practically) any browser and OS. However, as a huge PowerShell fan, I also LOVE the fact that you can manage Exchange on-prem AND Exchange Online using the cmdline – without having full-blown Exchange management tools installed on your computer.
Haven't compared side-by-side, but the EAC does feel snappier and definitely loads faster. I think silverlight based admin console should have been better option if Microsoft wanted to go from EMC to a web based administration. Another concept which I didn't really grasp was the change of Architecture again, it seems we are going backwards to Exchange 2003, two roles front end and back end. It would've required a browser plug-in to be installed, and the driver for web-based consoles is to not require installation of additional software. I will cross my fingers and hope someday, just maybe someday EAC would come out for Exchange 2010 in a future Service Pack.
So, why Microsoft can not give exactly the same Exchange managenet consle as it is in 2007 and 2010 BUT instead of an application it will be web based ! The Windows Server 2012 IE 10 restarted many times in one hour but the server and Exchange 2013 were just now installed with no mailboxes!!!
We have to wait a better product with a better and faster management console before doing an upgrade from Exchange 2010. We don't want to manage the corporate Exchange from an other computer than our computer.
We don't mind if you make web based management tools but please make useable Windows or Silverlight based tools as well.
Various licensing options are available, including a free trial (for everyone) and a free copy (for partners). The cloud might be ok if the infrastructure was in place but where I am there are loads of rural businesses with under 1mb broadband speeds, Office 365 would just kill it. Although locally-installed MMC-based management consoles such as EMC seem and probably are a little faster, I haven't found the EAC to be noticeably slower in comparison. You must set your browser to accept cookies and to enable Javascript in order to access certain functions of this site, including the purchase of tickets.
Open your confirmation email and click View My Tickets, or go straight to My Account and then Orders and click the event.
Yes, but if you're worried someone might find and try to use it please contact us to get a replacement ticket with a brand-new barcode. Click View My Tickets in your confirmation email, or go to My Account and then Orders and click the event. It's up to the artist, team, or venue to offer Print-at-Home, but in some cases it's simply a technology issue.
That's right – Exchange 2013 Preview does not have the traditional, MMC-based management tool. If you've been using Exchange 2010, the URL may sound familiar – it belongs to the Exchange Control Panel (ECP).
You can learn more in Exchange Administration Center in Exchange 2013 Preview documentation. The navigation elements and their locations described above may go through changes by the time Exchange 2013 ships. Note, Outlook Web App, also a web-based app in Exchange, has right-click functionality, so I wouldn't rule it out for EAC in the future. We have to buy faster and much expensive servers with unuseable tools just because somebody found out this web based crazy conception. Let's all just throw in the towel and move over to office 365 in the cloud because that is obviously where they are trying to push us with this half ass update.
I've made repeated attempts to get familiar with it in the lab, and it has not grown on me, even after three years.
Hopefully it'll get better in due course, but until then on-premises remains a good option.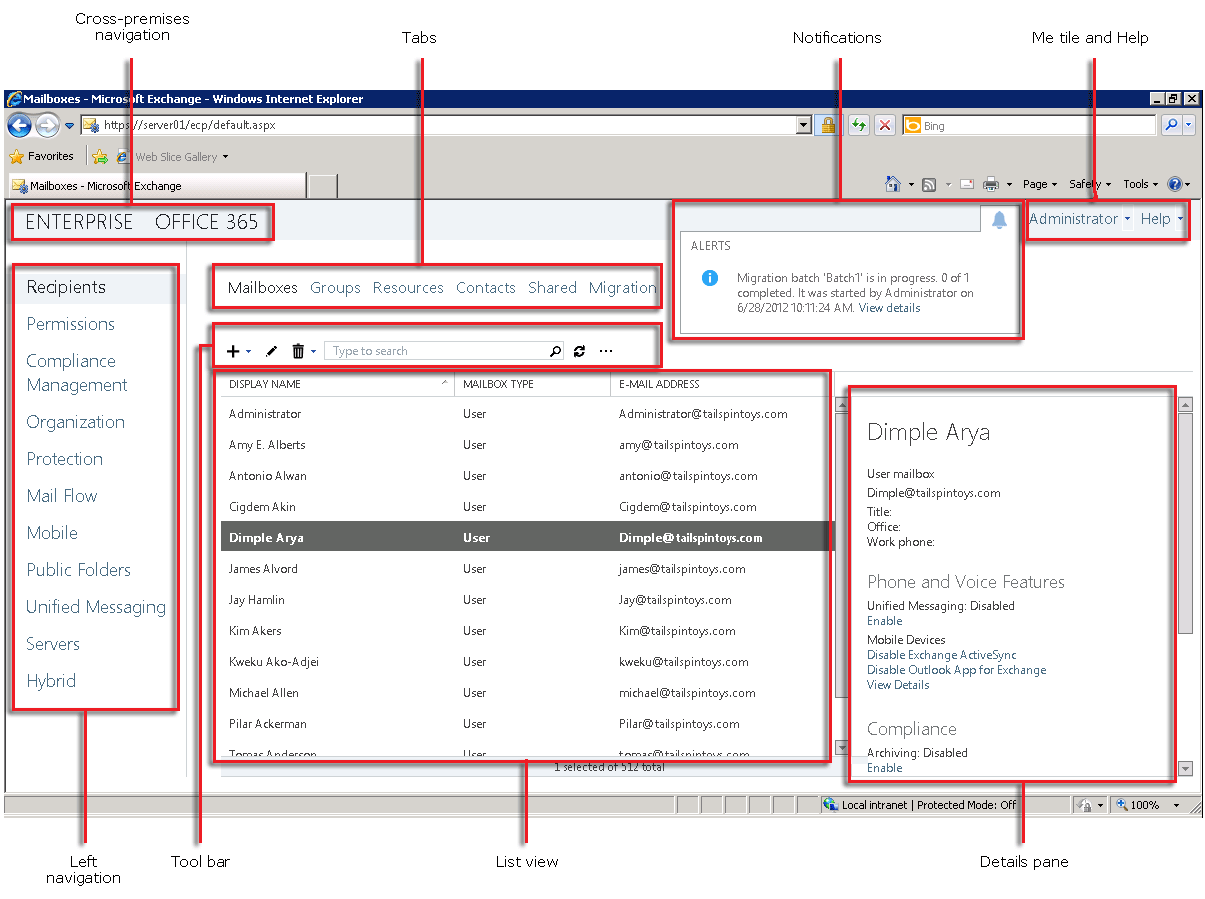 After your purchase confirmation email you'll get a second email with your tickets attached - just open the attachment to print your tickets (black & white works). It's now part of our new eTickets family of convenient options (including Mobile and Credit Card Entry), and just like those names we figure "Print-at-Home" speaks for itself! In rare cases when you see a "print delay" it's usually because we're selling tons of tickets and we need to make sure bots aren't buying them up, shutting out true fans like you!
Not all venues have the necessary equipment to accept Print-at-Home tickets - we're talking lasers, scanners, and some top secret stuff! In Exchange 2013 Preview, the same familiar URL lands you to the new web-based admin console that's packed with functionality. Also, given the world's transitioning to the cloud, web-based consoles are a great fit. Perhaps there should be built-in protection for default web site on Exchange servers or a clearly worded confirmation prompt. We dont care about office365, what is M$ catering to such a small amount of users and screwing the rest? It's great for recipient management and offers advanced options like bulk operations. I can't manage my Exchange 2013 settings because dun dun dun, it kicks an error when specifying the release number. In Exchange 2013 Preview, you can use the same console to manage Exchange 2013 Preview on-premises, Exchange Online Preview (cloud-based), and Hybrid deployments (the middle ground) using the same tool.
I had a feeling it was only going to get worse when they stripped AD integration out of exchange in 2010.
The Web based client is so vastly different from the EMC that it would be difficult as well. Web based control is a nice "feature" but making it mandatory is just plain idiotic! All thought I think it is fine that you can do all this stuff in power shell, it was the GUI that made this software so user friendly and easy to deploy and manage. The software being friendly and easy was a big selling point vs the command line with all the different syntax and not being able to see the results (visual feedback) when you make a change.
Comments »