Remind him how popular and fun you are AND how boring and alone he is with this solid text. Send this text on Saturday morning to gossip with your "friend" about your hot hookup last night. A pastor texted several church members on Saturday asking who would be available to volunteer on Sunday.
There's a lot of church marketing material that says to use social media to connect with your community.
But there are days that I wish I was like my senior pastor and not tech-savvy so people would know not to text me critical information.
This issue was actually one of the (several) last nails in the coffin of my last relationship. Hacking Christianity is a community that engages in conversations about faith using the lenses of progressive theology, technology, and geek culture. If this image belongs to you or is your intellectual property, please submit a copyright notification instead of reporting it. We encourage users to report abusive images and help us moderate the content on We Heart It. Before I begin the thankless, never-not-mortifying task of discussing late night texting etiquette, I must first declare this a shame-free space.
I will say, however, that I get a sick pleasure out of being on the receiving end of texts of the "u uppP?"-ilk.
After the recovering from the initial flattery of him having want to "sex me up," I experienced mortification. There are apps you can buy that make you solve complex math problems to make sure you're sober enough to text, but I'm not so sure I like this.
Of course, it's always good to have friends around to stop you from late-night texting or tweeting or emailing or Facebook messaging. I just hope that if I work on myself in the daytime -- acknowledging what I want, who I want, and how I feel about myself at any given moment -- this sort of thing will happen less in the nighttime. Come up with a sexy, model-esque name for your fake date that is alphabetically close to your ex's. He'll probably text all your mutual friends asking if he should have gotten an invitation to something and wonder whether you hooked up with anyone he knows.
And the information on the text really merits a phone call rather than a text, in my opinion. Every text or phone call or email is a joy that people care enough about the youth and children's ministry to talk about it. I'm the one who saw that postcards, emails, facebook updates were not getting through to the families.
That's the reality of the world we live in and I can do nothing but respond in grace.
Again I'm not a technology curmudgeon but I do believe in using technology in helpful (not harmful) ways. Not because it is not important (I wrote about web video here), but because to be bodily in the room interacting with others seems to be a waning value but is so important in our increasingly polarized discourse. Texting that you will be 5 minutes late to a meeting or where the football game is is perfectly acceptable. Whenever I get a text message that is more than routine information, I more than likely will call the person back asap. If their parents cannot confront issues and disagreements in synchronous ways, then how will the children?
The problem isn't texting, it is the content of the texts or the motivations behind texting rather than talking.
If you are new, you might want to subscribe to the RSS feed or like the Facebook page for easy updates. Jeremy Smith is a United Methodist clergyperson who blogs about faith, young clergy issues, technology, internet theory, and geeky topics.
But please keep in mind that reporting images that are not abusive is against our terms of service and can get your account blocked.
That is, we must all agree that no one late-night texts elegantly, or eloquently, or respectably, and that's fine. I really feel that humans should learn discretion on their own and that we should opt for self-reflection over app algorithms, even if this means that mortification after mortification must transpire before our behaviors can actually change. And the reliance of texting to solve conflicts or avoid conversation is, in my view, a harmful development. My senior pastor wondered to me one afternoon if the Church is the last bastion of the personal interaction: where we learn civil discourse and personal consideration as parts of holy living.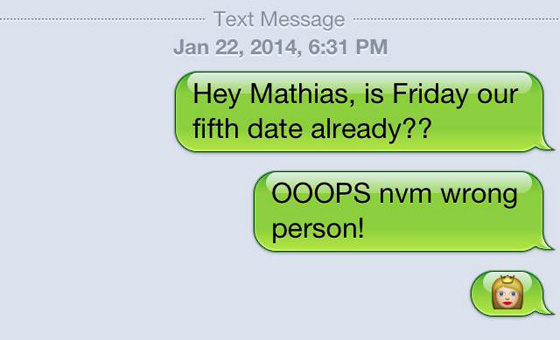 Texting a 3-page reason why you can't volunteer this Sunday is not proper textiquette. What I'm writing about is choosing to use asynchronous channels instead of talking face-to-face or on the phone. We, as humans, are allowed the time and space to be reckless with our words, even if doing so makes us want to die the next afternoon when we wake up, groggily pull our phone out from under whichever limb it was wedged and see the (textual) damage we've done.
It's important to take precautions on your own, like deleting toxic numbers (belonging to old flames or, you know, professors) that you're likely to abuse. But the negative consequences of establishing asynchronous conversation as the preferred interaction are pretty severe, in my opinion.
To talk about late-night texting etiquette is to talk about flimsy sober intentions, so weak they crumble after one whiskey sour and a guy who has the same name as your ex.
And I'm pretty sure I've gotten to the bottom of it: I don't properly express myself during day-to-day life, when my feelings are sober and the sun is still out.
But I'm troubled by the lack of conversations being held by adults who should be able to communicate better. When you habitually keep your emotions bottled up and secret -- I don't like the way he's been treating me, I want to sleep with him, I wish my mom would stop nagging me about grad school applications -- it's more than likely they'll come out when your inhibitions are loosened, and hey, your phone's right there in your bra so why not get it (plus all those feelings) off your chest? Mind you, this was from a guy I'd met on Tinder when researching this handy dating app quiz.
I once deleted a guy's number only to find myself, one drunken Friday's eve, overcome with the urge to text him.
So I went on Twitter and tweeted at him, unknowingly inventing the Booty Tweet, asking him what he was up to. The next morning, I only noticed I'd done this when I went on Twitter to tweet a New York Times article on the AIDS epidemic in Africa. Which means that at the end of the day, when it comes to mortification in the form of regrettable, drunken electronic communication, the only real rule you must stick to is one of self-love and acceptance and humor.
I know that in the future, however, there will be times when I want to respond and will respond.
Comments »
Busja — 30.12.2015 at 15:50:36 How properly put used to be annoyed means of his e-mail or his.
TARKAN — 30.12.2015 at 11:31:17 Angel is thus pretty convinced that the one reason the.
S_MerT — 30.12.2015 at 10:36:16 She does see good modifications relationship objectives: if you.