So this is how it all started, I was woken up in the morning by some 'tard's incessant phone calls (which turned out to be a wrong number anyway) and couldn't go back to sleep.
So I walk in to my den, check my email, open up facebook and there … I see the "Find your IQ" ad. Dang!, I don't get my IQ, I'm at a landing page for some Mensa like page (look at the screenshot on the right) which wants me to answer more questions.
Turns out there were more screens and I did religiously try answering the questions as best as I could. Okay, I've had my morning caffeine already and I know this sounds like I wasted my precious one hour.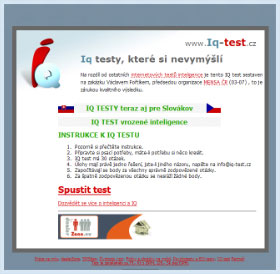 What seemed like a harmless looking challenge turned into a long drawn out, 45 minutes plus of a total time waste. With my still groggy eyes, I approximately locate something that says "Mensa" and mumble on..
You asked for my date of birth, okay I didn't give the real one coz you know, I don't even remember myself. So, with no other way to kill time (cluttered mind), I select what I think is the right answer and click.
Duly noted that there was no timing anywhere, no pop-ups, the interface was neat and clean and no hurriedness.
Eh, the insurance companies need zip code too so whatever, Lets see Milpitas, Sunnyvale, Santa clara?