The Illinois 4-H Foundation Board consists of volunteers from around the state with a variety of professional backgrounds and 4-H experiences. Board members assist the Illinois 4-H Foundation in raising more private funds and recruiting new individuals, corporations, and organizations to provide financial support towards Illinois 4-H. A farm-boy from Pennsylvania, Karl is the Chief Marketing Officer of BRANDT in Springfield, IL. Barb has had diverse work experience ranging from teaching to working the night shift with the United States Postal Service to working for a management consulting firm.
Roger has been involved in fiduciary real estate management for 33 years and currently is a Senior Asset Manager with The Northern Trust Company in Chicago concentrating on acquisitions, liquidation, and management of personal residences for high net worth clients. Jessie Crews has been providing leadership to 4-H members, volunteers and local 4-H programs for more than 25 years. Crews received both her bachelor and master of science degrees from Eastern Illinois University. Sharon is a retired educator having worked eight years as an Extension Educator with the University of Illinois Extension Service and the remainder of her career as a high school teacher. Jan has been involved with large financial institutions her entire career, both as an executive officer and currently as a consultant with KPMG in Chicago.
Anthony Warmack is an 11 year 4-H member in Grundy County and a member of the State 4-H Youth Leadership Team. Cheryl grew up on a dairy farm in Kendall County and was an 11-year member of the Oswego Future Stockmen and La Menu Modelle 4-H clubs, led by her dad and mom, respectively.
April 9, 2012 by dbraz83190zeal Leave a Comment Joyce Watson, president and CEO of the Illinois Agricultural Leadership Foundation, was presented with the Outstanding Service to Illinois Agriculture Award by the Illinois Society of Professional Farm Managers and Rural Appraisers at that organization's annual meeting held here February 16. Watson is the founding director of the leadership program and became the Foundation's first chief executive in 1982. In accepting the award, Watkins noted that the original purpose of the leadership program was to "foster" a new bumper crop across the state…a finely-honed harvest of the best and brightest agricultural leaders. The Outstanding Service to Illinois Agriculture Award has been presented annually by the Society since 1940.
Hicks is a 1971 graduate of the University of Illinois with a bachelor's degree in agriculture, majoring in animal science. Hicks started his career in agriculture as an assistant and associate agricultural advisor with U of Il Extension Services in Dixon, IL. He has continued seeking professional improvement education and received his Accredited Farm Manager designation from the American Society of Farm Managers and Rural Appraisers in 1986, and became an Illinois-licensed Real Estate broker in 2000. His 'outside' leadership activities have included 24 years as a 4-H leader, chairman of the University of Illinois Cooperative Extension Services State Extension Advisory Council, treasurer of the Illinois Agricultural Legislative Event Committee, a member of the U of I College of Agriculture Deans Advisory Committee, vice president of the Pleasant Plains School board, and president of Extension Partners.
The Society has inducted members into its Hall of Fame since 1980, "and Jerry joins a long list of individuals who have shown outstanding leadership within the organization and within the industry of agriculture in Illinois," Cude stated. April 9, 2012 by dbraz83190zeal Leave a Comment Here are 30 facts culled from the 2012 Illinois Land Value report. April 9, 2012 by dbraz83190zeal 1 Comment The prices being paid for farmland across Illinois continue their upward spiral with the tops being in the $10,000 to $13,000 per acre range across the state.
The top price of $13,000 per acre was for a November 2011 sale of 37.7 acres in Christian County.
February 20, 2012 by dbraz83190zeal Leave a Comment Trends and types of current farmland lease models will be the subject of a panel discussion during the 2012 Illinois Land Values Conference to be held March 22 at the Parke Hotel and Conference Center here. March 1, 2011 by dbraz83190zeal Leave a Comment New leadership was elected by the members of the Illinois Society of Professional Farm Managers and Rural Appraisers at the organization's annual meeting held here recently. Mark Wetzel, AFM, with First Finance Bank, Danville, was elected as chairman and president of the 300-plus membership organization. Moving from his position as vice president to president-elect is Rich Grever, AFM, a farm manager with Hertz Farm Management, DeKalb. The Society was originally formed in 1928 and is the oldest and largest of the 28 Chapters in the American Society of Farm Managers and Rural Appraisers.
We are an organization of professional men and women engaged in the management of farms and the appraisal of rural property. Order a paper copy of the 2016 Land Values Report or download the electronic version of the 2015 report for free.
In addition to making gifts to the Illinois 4-H Foundation themselves, board members provide advice, counsel, and expertise to the fundraising, marketing, and communication operations of the Foundation. Each board member has a personal commitment helping equip Illinois 4-H youth with leadership, citizenship, and life skills.
He served as a representative and chairman of the Illinois State 4-H Youth Leadership Team and a Speaking for Illinois 4-H trainer. She graduated in 1972 from the University of Illinois with a Bachelor of Arts in the Teaching of German. She currently serves as the Youth Development Educator in Unit 20 which includes Clark, Crawford and Edgar counties.
She is a native of Clark County and continues to reside there with her husband and three children. She received her Bachelor's Degree from the University of Illinois with a degree in Agricultural Communications with an emphasis in Advertising. He went on to Concordia University Wisconsin, where he received his master's in Physical Therapy. This farm management and real estate sales company manages farmland all over central Illinois. He volunteers as President of Extension Partners, a volunteer group supporting IL Extension.
Sharon earned her BS degree from the University of Illinois and Masters degree in Education from National- Louis University. He is a former Vo-Ag instructor, elementary principal, school superintendent, and community college coordinator.
She was a member of her county's youth ambassadors, a Speaking for IL 4-H representative and served on the extension committees for both her counties and her unit in high school.
His favorite time of the year is fair time where he has taken over 35 projects in any given year. The highlight was meeting his future and now-present wife of 27 years and the mother of his 3 sons at a county livestock-judging contest. She was partnered with fellow 4-H'er Jim Wormley for the OFS Share-the-Fun square dance team in 1958, and they married in 1969.
The Foundation sponsors the Illinois Agricultural Leadership Program, an advanced leadership development program for emerging Illinois production agriculture and agribusiness men and women.
In her capacity she is responsible for all programming, management, and fund raising activities of the Foundation, including the Leadership Development Program.
A number of past 'students', who are also Society members, were on hand at the awards program.
Its previous recipients have included state governors, state directors and federal secretarys of agriculture, educators, and other leading Illinois citizens who have been involved with agriculture in the state. Hicks, AFM, partner and treasurer of Agrivest, Inc., Springfield, IL, was inducted into the Illinois Society of Professional Farm Managers and Rural Appraisers' Hall of Fame during the organization's annual meeting held here recently. He followed up that degree with a master's in 1976 with advanced studies in agriculture communications. From there he served as executive vice president of the Illinois Pork Producers association. Both Land Values and Lease Trends continue higher into 2012, and are expected to stay strong as long as crop income levels hold or increase. Price and rent levels both increased steadily through 2011, and consistently among different productivity classes of land and regions of the state. Land values maintain support from investment capital seeking alternatives to other financial assets.
Long leasehold interests, extended Conservation Reserve Program (CRP) contracts, deed restrictions, etc. As supplies of land tightened buyers were less concerned about one year leases, and receiving partial interests in cur- rent year crop or leases in progress, looking beyond a few months toward long term investment value.
The annually renewable USDA Farm Program appears to have very little effect on land values in 2011, eclipsed by other more dominant factors.
Current crop genetics increase yields while reducing year-to-year variability, which improves earning potential for lower classes of land. Recreational tracts and transitional development land have been hardest hit because of struggling non-agricultural economies.
Some areas or counties carry name or reputation prestige, showing stronger prices than land with similar productivity and attributes in nearby areas or counties. Regardless of the means of sale – public or sealed bid auction, broker listing, private transactions – excellent and good productivity tracts needed minimal marketing time, with a generally shorter period from exposure-to-market through sale to closing.
Areas with higher concentrations of livestock – dairy, hogs, poultry – had generally more favorable markets for their production in 2011. Variable cash rent leases grow in popularity and pay landowners competitively higher returns in 2011 due to higher average prices and excellent soybean yields. Wind farm activity, where already planned or under construction, continued to impact land values and add to total return in 2011. In some areas larger percentage increases for lower productivity land were noted, based on expectations of improv- ing crop returns, and absolute increases on lower values resulting in larger percentage growth. Continuing fixed cash rent rates generally showed a tendency to lag other lease and operating contracts as income returns and commodity markets have been in a general up trend over several successive crop years. By year end 2011 price paid per productivity index (PI) point per acre was running in the upper $60s to mid $70s. In many areas of the state it was a challenging crop production year in 2011, with wide variations in conditions from too much rain at times in some locations, to very hot and dry conditions in some areas later in the summer. The generally wet spring throughout the state accentuated the importance of good drainage and much drainage tile and waterway improvement work was done throughout the year.
Land value for crop production continues to gain on values for development land, as cropland increases and develop- ment land declines or holds steady. The number of tracts and amount of acres transacted was generally more than previous years, as higher prices pulled supply onto the market. In some local instances proposals for underground gas storage, recent discovery of production volumes of oil, and continuing coal mining has sensitized the market to the value of mineral interests and rights. Irrigated land returned proportionately higher income due to higher commodity prices and improved yield from irrigation. Farm operators continued and expanded the trend of bringing current landlords and other absentee investors to the farmland market. In 2011 there have been several notable expansions or new construction of high capacity grain rail-loading facilities, mostly destined to move Illinois grain to cattle, hog, and poultry operations out of state.
Some areas benefit with strong grain prices from grain market outlets on navigable rivers, rail terminals, local area end-users and specialty food product processors. Another year in 2011 where corn following soybeans, rather than one or more years of corn, performed significantly better. Almost every county in the state had instances of a record new high price per acre for farmland. This is according to the 2012 Farmland Values and Lease Trends Report released today by the Illinois Society of Professional Farm Managers and Rural Appraisers at its annual Land Values Conference. The event is being sponsored by the Illinois Society of Professional Farm Managers and Rural Appraisers. The Chapter's disciplines focus on managing farmland, valuing farmland and other rural real estate, and agricultural consulting. The Society was founded in 1928 and has grown to a membership of over 350 active members and "friends." Members of the society manage the production and marketing of nearly 10 percent of the corn and soybeans produced in Illinois. Kevin is local volunteer in his home county, Grundy, where he serves on his county fair board. Growing up in Lee County on a grain and livestock farm, Jerry raised and showed Angus cattle, show steers, and Quarter horses and was a 10 year 4-H member. She was a 10 year 4-H club member in Jersey County and attended National 4-H Club Conference as the result of her club work.
Rachel's highlights from her 4-H career include the offices she held and the opportunities she gained from conferences and trips such as the National 4-H Congress in Atlanta, GA.
He was raised on a cattle farm in Gallatin County and attended the University of Illinois receiving his B.S. Cheryl attended 4-H Dairy Conference and Club Congress and was a member of the Continuation Committee for leadership camp.
A member of 4-H House cooperative sorority, Lila Jeanne earned a Home Economics undergraduate degree and master's degree from the University of Illinois. Admission to the program is limited to men and women ages 25 – 49 who are employed full-time in production agriculture or ag-related occupations.
He left that position to go into farm management and was named senior farm management officer with FFG Agrivest (successor to First National Bank) in 1994. However, undiscovered "pockets of prosperity" where land can be typi- cally purchased at lower prices relative to its productivity are fewer and further between. However changes in tax, policy, and funding have slowed the progress of many wind tower projects. Well-drained or pattern-tiled land will sell for a premium, especially if there are well-documented and accurate maps of drainage improvements.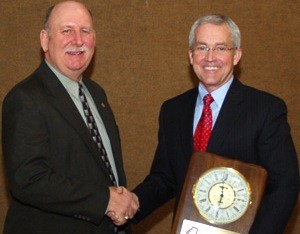 Its members are specialists who dedicate their efforts to professionally serving landowners and others with agricultural interests.
While being a 4-H member, Kevin had the chance to hold offices on the club, local, and state level, which allowed him to explore leadership development to its fullest potential.
She has served as chairperson of the Illinois 4-H Youth Development Team, President of the Illinois Extension Professionals for Youth Education, and chair of state and regional Extension committees. She was active in the Pine Creek Valley 4-H Club in Ogle County and was a member of 4-H Cooperative Sorority. Hadden Farms, in Jacksonville, annually provides farm tours and education for approximately 500 children yearly.
His BS and MS Animal Science degrees from the U of IL led him into the Extension Service as an Ag 4-H Advisor and later as a Regional Livestock Specialist.
She has volunteered in many local organizations and served as President of the University of Illinois Mothers Association. Jan and her husband, Jeff (a U of I AGR alum), live in Barrington, IL and have two daughters in college (one at U of I). She feels these times gained her friends and she learned more about the world around her and ways she could make a difference. He has been homeschooled all of his life and plans to attend a community college and then transfer to receive a degree in Natural Resources (with plans to contine for a master's in Environmental Sciences). She earned a Bachelor of Science Degree in Home Economics Education from the University of Illinois and is a 4-H House alumna. Each 'class' meets during a 24-month period and has at least one international trip as well as programs across the U.S. There, he held leadership positions in a number of strategic branding agencies, serving as partner and president of CoreBrand for the last several years. Currently, Kevin serves as the Assistant Director of Student Life at Ball State University, primarily working with the Greek community.
Barb was a 6-year member of the Prairie Rangers, an agriculture club and a 10-year member of the Butler Grove Lassies, a home economics club. She is a member of the National Association of Extension 4-H Agents (NAE4-HA), the Illinois Extension Professionals for Youth Education and has been awarded the Distinguished Service Award by NAE4-HA. Renee works with Illinois Farm Bureau's Youth Education, Collegiate Farm Bureau and Young Leader Programs.
A key component of the education they provide lies on explaining where their food comes from and the importance of healthy living. He joined the IL Pork Producers as Executive Vice-President before moving to the farm management business with First National Bank of Springfield's Trust Department. Sharon and her husband, Ron, enjoy traveling, Illini sporting events and raising popcorn on their small farm in Richland County.
While a 4-H volunteer in her home county, Rachel also studies animal sciences at the University of Illinois.
Twenty- six years ago, he started West Financial Services in Harrisburg, IL where he advises clients on investment and insurance matters.
In 1987, Cheryl and a partner started The Woodstock Independent weekly newspaper, serving the community. Lila Jeanne was elected to the Illinois 4-H Foundation Board in 1993 and served from 1993-1999. Kevin completed his Bachelor of Arts in English at Illinois Wesleyan University and his Master of Arts in Student Affairs Administration in Higher Education at Ball State University. In addition, they have started a business in which they sell their farm raised beef and pork to customers in Chicago, where Paul resides. He currently manages the family farm and has served as an officer of educational, church, and community clubs. She is a member of 4-H House Cooperative Sorority on campus and continues to learn from her offices and responsibilities there. She has served as president of the Illinois Press Association and is currently president of the International Society of Weekly Newspaper Editors. In his free time, Kevin enjoys writing and researching, serving as a volunteer for his fraternity, and explore the Indianapolis and Muncie, Indiana area.
Barb remembers the trip opening up her eyes to the benefits of experiencing cultures through relationships with local people.
Paul is a partner and regional manager for Athletico Physical Therapy, an orthopedic and sports medicine company.
She will begin applying to veterinary schools in the fall of 2015 and hopes to someday own and run a ranch for at-risk youth and abused horses.
She also has served on the Illinois Press Foundation Board and is a founding board member of the McHenry County Community Foundation. Lila Jeanne is a charter member of the Illinois 4-H Hall of Fame and was recognized with the Friend of Illinois 4-H Award in 1999. The travel bug had bitten Barb, she has enjoyed travelling domestically and internationally ever since her experience. When she's not attending to one of her duties, she enjoys curling up with a good book, working on a fun art project or spending time with friends.
Dean and his wife, Trudy, are University of Illinois Alumni and are proud of their Illini family. The Wormleys support the McHenry County 4-H Youth Foundation and the Illinois 4-H Foundation. Their oldest son is an alumnus, their middle son is a University of Illinois student, and their youngest will enroll in the near future. She has volunteered for church and community activities such as literacy programs, the Ronald McDonald House, soup kitchen work, and community assistance programs. He attended the National Club Congress in Chicago in 1987 and was a Illinois FFA Star Farmer finalist. She currently volunteers as a docent with the Chicago Architecture Foundation and leads walking tours in and around the Chicago Loop. After her training, she enjoyed volunteering with the Master Gardener team who cares for the Smart Home Garden at the Museum of Science and Industry.