And effectively, my opinion is we should go buy Smash not really for ourselves, but to give to a friend.
Instead, think of someone you know who you actually think could be a scrapbooker, but isn't.
I wish I could have sound effects in this post, because if this were a movie, there would have just been jubilant sounds as she purchased her first bag of scrapping supplies at the craft store.
And now, if there were sound effects, there would be suitable ending music that would make it very clear that I could be very wrong, but I just wanted to share that idea. On a completely different note, Beyond Blogging students – watch your email this evening.
But the more I saw about smash books, the more I wanted one for myself too – then I discovered that the counterfeit kit challenge blog is having a summer long challenge for you to make your own smash book (see here). Love the idea of the Smash Book and all the extra bits are fab but as voiced by others, as a scrapbooker, I will make my own. I did a post about Smash on my blog a couple weeks ago when I bought the blue one along with some accessories at the local Archivers. I bought one for myself, though, because, one, I thought it was cool and really appealed to the teenager in me.
I wish I had thought of doing something similar to Smash on my own, creating a decorated notebook to drag with me wherever I go.
I want one and love the concept of the SMASH book, I pretty much do this all ready, but now it's in a nice package. I may well be tempted as they are put together attractively, and agree they would make the perfect present for my arty friend. I am heartened then, to know that I do know what this is and I've been kinda doing it for years. I like the idea of having an incredibily cute book already made for me, totally worth the cost. I have a Smash Book and a few of the extras that were in stock at the time and am waiting for the rest to come back IN STOCK.
I will admit I didn't understand the draw of Smash until I had one in my hands at the store. Actually Shimelle I think Smash book ARE for scrapbookers – perhaps not the ones who are asking "What's the big deal?", or those saying "I can easily make that, it's just a mini album after all" but the ones you briefly alluded to.
I love the idea but wouldn't use it now as I would want double of everything to put into my scrapbook pages.
I used to have a scrapbook when I was little (about 40 years ago), and I loved smashin in my tickets and serviettes from trips abroad. When I first saw the video for these (before they were available) I thought that they would be great for my kids (ages 8 and 6) so I went to the thrift store and bought two old hardcover books and made my own. I enjoyed reading this a lot and I really hope to read more of your posts in the future, so I've bookmarked your blog.
I will be getting one to rekindle my love of scrapbooking, I've been far too absorbed by cards recently. I like this idea ina small, portable notebook rather than our olden-days big scrapbooks, so I can add to it at any time. Ok so wayyyy back in the day scrapbooks were a book just a premade book usually with black construction like paper. I've only recently heard about Smash books and yes they are scrapbooks that are much less formal than many people make these days. I was recently given a Smash book by a friend who is not only a professional artist but also a crafter like myself. I am an avid scrapbooker and work on several differect scrapbooks each with a different theme. I do scrapbook but it takes forever for me to finish a 12X12 page let alone create an album from scratch (6Xsomething). It's perfect for friends who barely scrapbook but want to do something with their photos.
I made the decision tonight to use one of my sketchbooks to make my own version of it with a lot of mod podge involved. It did, however, give me a look into the scrapbooking world and showed me that I can do it without having to buy $3 sheets of stickers or polka dot patterned paper. Also, anyone who is wishing there were a few more pages, it's really easy to add a page or a photo by just punching the holes with,say,a cropadile, then taking a little snip behind each hole.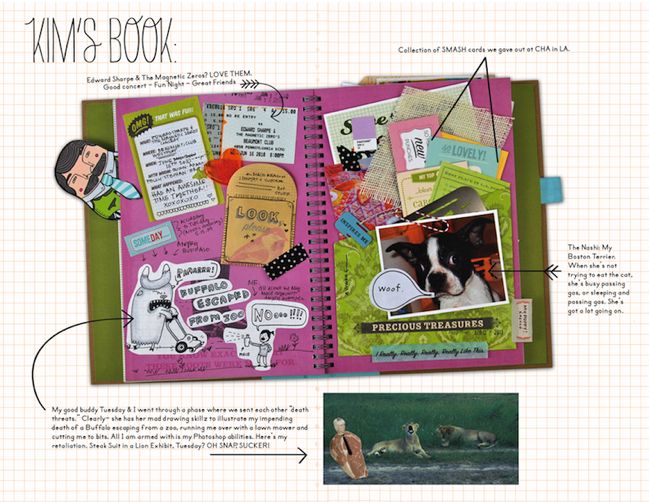 A smash book is something that is similar to a journal or a scrapbook and is a great way to store the varied elements and memories of your life in.
A smash book is like a journal or a scrapbook, except, it has no fixed parameters for piecing your life in it.
I often have things that I would like to keep but don't want to scrap, so those will be perfect. I think they're incredibly cool books, especially because of the inspiring images and cute add ons like the post-it-notes etc. I received 3 SMASH books in the mail this weekend as prep for a Big Picture Classes class I am taking with my kids this summer (Kidding Around 2). When I first heard about Smash, I thought like you did: this would be an awesome gift for all my friends who don't scrapbook! But I didn't, and Smash makes it that much easier for me to record the daily stuff that gets lost in the shuffle a lot in the time, especially since my shuffle has gotten a lot busier in the last couple months. I bought one to do my disneyland trip in, I am going to smash receipts, fast passess, ticket stubs, tags from purchases, wrappers and lots of small 2×3 pics in it all crazy like.
You can buy notebooks from paperchase for a few pounds that have a variety of different sorts of paper in them. Just been away for a scrapbooking weekend and my little travelling scrapbook was with me as usual. I do remember those books we had in HIgh School and you are absolutely correct those aren't really scrapbooking, but looking back on it it it was a part of my evolution of becoming a scrapbooker. I saw a smash book for the first time today and they ate cool and reminded me of those scrapbooks from long ago! I literally had to drag myself away, because I was working, and don't get paid to ogle adorable things.
I am not a scrapbooker, I love pretty paper and all the embellishments but I just do not have the patience for the true pages of art scrapbookers create. I'm way behind, it appears, even though I sell something with that same premise of scrap booking for non-scrapbookers!! We will provide you with the basic steps and instructions of how to make your own smash book. These have all the essentials like the book, the decoration supplies like glitter and marker pens, stickers, and other decoration items.Memories are special and memories demand re-living from time to time. This will not only make the book more sturdy and help to accommodate any decorations that go beyond the sheets placed inside, but will also help to better protect the sheets from wear and tear. Write about important events, dates, functions, movie reviews, and then stick movie stubs and photos, along with other memorabilia onto the pages. People turn these into diaries, but instead of using an entire page to relate the day's events, they make small slots for each entry and write down a small snippet of the day, then decorate it with other related elements. Is totally a middle way that would get me back into writing and doing things I used to enjoy. As you said as someone who plays with paper and stuff i am very capable of making my own book …and i will. It's like having a crafty magazine showing fab illustrations – with space to doodle your own, and groovy office supplies to use with it!
I showed my 7 year old daughter (who does not like to scrapbook with me :( )her book and explained, basically, what it used for. I am encouraged that something of this ilk might help my mojo recover for all my crafty activities – not just scrapbooking. After reading this my perfect solution is make a Smash book, stick everything in up until now and then start scrapbooking from now onwards! But I love the idea of getting them down in a book, seems like my mementos would be better protected there. Now that I've thought about it some more, they are sort of like the bottle caps and grocery ties that were sold as scrapbook supplies. And being a scrapper i have LOADS of scrap bits of paper which is perfect for a wee book like that and i've had one for years that i keep bits and bobs in that could be scrapped later or that i just want to remember the moments and have someting funky to look at. I posted about it in my blog and already 2 of my friends have said that they want one, 1 of which was pretty against "normal" scrapbooking! I have notebooks that are filled with poems, ramblings, collected quotes, recipes, business ideas, etc., and I also have binders with clear pockets filled with magazine clippings for inspiration.
Smash is totally up my alley, I have been smashing through my teen years and now that I am trying to keep School year books for the kids this is a perfect way for me to keep the memory for them without the frustration and guilt that come from not being able to create beautiful Scrapbook art.
My friends only scrapbook once and awhile but they do travel, and thought this a perfect gift. Basicaly a smashbook can be a journal of thoughts and notes with nice things stuck in them without having to worry about colour coordinating everything.
I also like the idea of using it to record a weight loss journey or recording moments you want to remember but may not necessarily have photos for.
Let me tell you as a scrapbooker wanna be, I (and two of my friends) thought it was an awesome idea for busy baseball moms like us! Each page can have a pattern and quirk of its own―completely different from the first. Once these are done, stick magazine pictures, stickers, and other elements onto the pages to make the pages stand out. But smash has shown what i can do and even though i dont like the using this word it has inspired me. I won?t have one for myself, but as you say, Shimelle, it?s a great gift for a non-scrapper. So the smash would be a great way to hold those pics which I won't necessarily make a layout for – perfect!
I don't take the time to scrap about myself, my life, and everyday happenings outside of him. For 5 years I have been filling my Paperchase notebook with quotes, pics, postcards, dried flowers, more quotes, the odd diary entry,wee scrapbook layouts, favourite stickers and embellishments.
I also use scrapbook paper and supplies for a variety of other arts and crafts projects that are not scrapbooks. Dont buy a special book that will cost you a fortune, you can buy a nice journal or notebook which is the same without the price. I dont want some pretty up'd page with matching stickers, photo corners and posed pictures. It is a collection of all the memories, things close to your heart, photos, quotes, lessons you've learned, things that inspire you, things you do―basically, elements from your everyday life and the life gone by that define you. Because there is no fixed pattern, you can make your own smash book into whatever you want and however you wish to want it. Then they arrived and the discussions jumped to a) what everyone bought and b) when would more be in stock since it seemed to sell out pretty much everywhere pretty quickly.
I am in love with all the cute papers and now I find myself learning about copic pens, embellishments, and papers.
I can make my own and buy some of the cute extras but the call of the "next new cute thing" really gets me!
Also I'm going to Mexico for a wedding without my husband and son so just want something smaller to record my visit there and not worry about it being perfect.
Shouldn't we be happy that there is something out there that encourages memory keeping for everyone? I am really bad about scrapping anything about myself, and I like that this takes zero time, has pretty papers, and will show him a bit about the woman who also happens to be his mother.
I see Project Life as the new Scrap book for those who do not have the time or funds for all the die cuts and punches. I cant believe what a storm smash has whipped up in the crafting community but kinda glad it has. My only dissapointment is that its being aimed solely at people already into this kinda thing…i think every stationary store should stock them or something like then more people would see for them selves rather than a crafty friend passing it on. I believe Smashbook has a place, even if it's not necessary to a lot of avid scrappers. The baby one grabbed my eye because my first born (and only, actually) turned one a couple months ago, and I have been wanting to do a scrapbook of his first year so bad.
I've sold a lot of baseball bracelets and some printable score sheets but very few Score-Scapbooks!! I have got one for my daughter and a friend as i wanted to share what i think is a cool idea.