Concealed by mature trees and tall hedges, the private garden capitalizes on traditional geometry to elongate the exposed vestibules. Structured borders were implemented to privatize areas, as well as to separate the remaining landscape.
I am utterly delighted that against the odds Severndroog Castle not only survived being a vandalised – and vandalisable  - ruin earmarked for private offices to become a fabulous observation tower for all.
But the success of these two projects for me only highlights how much else needs to be done to keep Greenwich as vibrant and individual as it can be given the blandification of the steel and glass dreariness springing up around us.
Then, just to keep me awake on the nights I don't worry about that, the University of Greenwich have announced they intend to sell their Avery Hill campus, complete with the glorious Winter Gardens. This fabulous glass fantasy is currently open to all, if a little crumbling around the edges. Many moons ago we were discussing the Man in the Moon, a former pub on Old Woolwich Road now converted into flats.
Someone mentioned that there had been a murder there, but given I had no idea whether this was in Victorian times or more recently it was difficult to check it out. Then I got an email from someone who moved into the nearby Ernest Dence Estate in the late 1970s.
While I was pondering this post, I remembered another query from years ago, where Karen tells the sad story of her great-grandparents, who also owned a sweet shop there. To add insult to injury, the Naval College forced all the residents to sell their properties to them at ridiculously low prices so they could build something grand but the plans fell through and that particular sweet shop is now somewhere under the car park at the end of Eastbury Street. So all you would-be entrepreneurs – whatever you do, if someone offers you the East Greenwich franchise of Mr Humbug on a suspiciously empty corner of Old Woolwich Road you have been warned. A) What actually is a Heritage Wall – and does that give it any protection whatsoever?
A couple of years ago Roger asked about a strange-sounding house on Shooters Hill Road that had a load of old cars and a steam traction engine mouldering in the front yard.
I guess it's all to do with property prices being so high, but you just don't see Steptoe & Son in people's front gardens any more. Val was a batchelor and let students share his large house, including the Bonzo Dog Doodah Band which comprised former students. On this blusteriest of days for some time, let this photo be a little reminder that it's an ill wind that blows no one any good. Back in 2010, after a not-entirely-ill blast, the fence had blown down up by the Angerstein Railway and Julian Watson (whose name appears in the credits of practically every Greenwich book written in the last 20-odd years, and sometimes on the title page) decided to have a peek at what's usually pretty hard to get to.
I always think it's rather wonderful that Greenwich has its own little branch line entirley dedicated to freight. I've been looking on various old maps for the alley but without luck – maybe someone has one? Hooray for the council allowing themselves to be persuaded to use old names, however unflattering. George SMyth is not a household name in Britain, so frankly these paintings could be anywhere and possibly not even named. I tend to forget this funny little confection exists, tucked away as it is in a little dingly dell, and it does look like it's been there forever. I was keen to get a shot from the same angle, but when I got there, I found I couldn't.
Perhaps there was an official path back in Edwardian times, or maybe the little unofficial trackway was a bit wide then. It's still a charming, quiet, slightly mysterious part of the park, near an even more charming, quiet and slightly mysterious dell. It will be no surprise to regular Phantophiles that they were initiated by prolific local artist Carol Kenna, of the Greenwich Mural Workshop responsible for so much amazing public art around here. Carol and Richard researched the industrial history side with the help of Mary Mills and the Alcatel archives (no one seems to know what happened to them when Alcatel was literally reduced to rubble).
I had thought the carvings on the steps were random abstract designs but they actually show the industrial history of the Peninsula from rush makers to high tech cable production. They're are made from a special hard wood that will stand decades of water washing over them and Alcatel undertook to keep them clean of algae before they sold the site. Of course, knowing Greenwich, nature is the least of the worries regarding history and art. The permission reserves agreement for hard and soft landscaping under Condition 9 which has to be approved prior to development beginning.
If they and all the piers were to be removed I think this would be a sad indictment of how little our history is appreciated or the worth of a mixed visual landscape along our waterfront.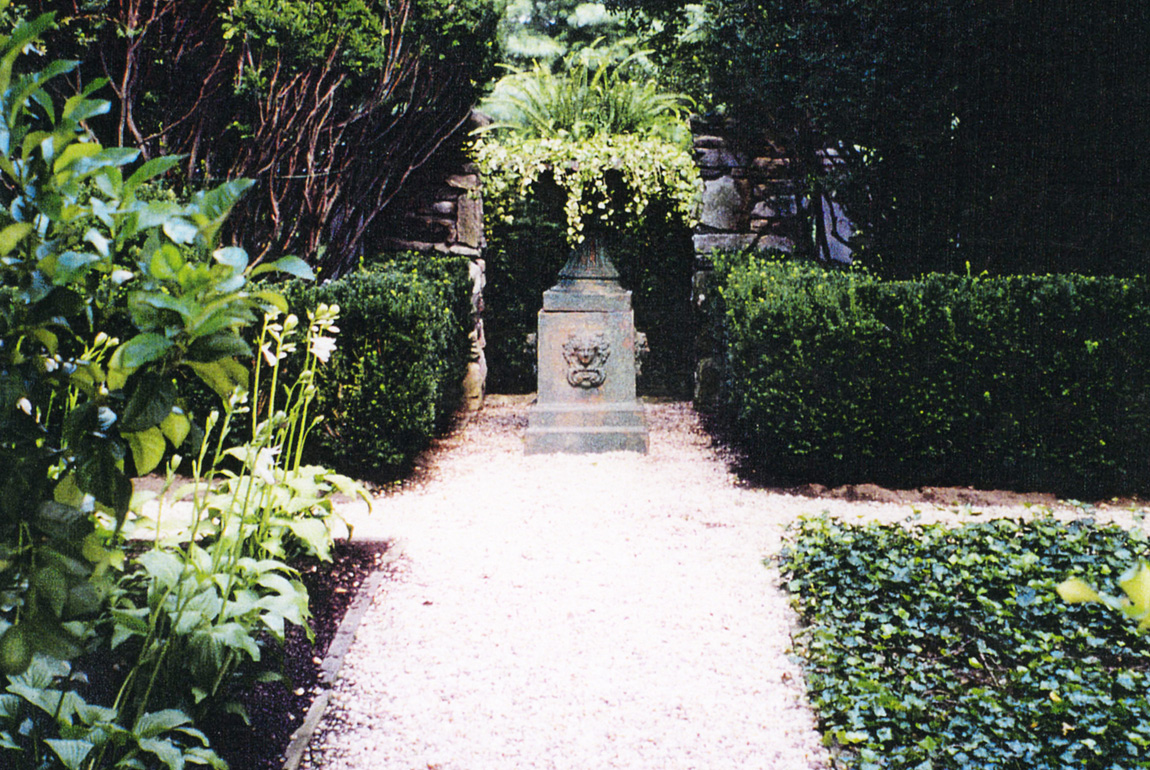 The Easter holidays are traditionally a time to get out in the garden, and this set the Footprints of London team thinking about our favourite London secret gardens. You can stand by the statue of Sir Sydney and look out across the park and its ponds to the city with views of St Paul's and (dare I mention it) the Shard.  And you can stop for tea and cake in historic Lauderdale house where Nell Gwynn is said to have lived and been visited by Charles II. Dave is currently working on a new guide course for Camden which should include some garden walks. Julian Walker nominates Abbey Gardens in West Ham "A unique and fascinating community garden with raised beds in amongst grass walkways, and plenty of lawn space too. The garden also plays homage to the 'Plaistow Land Grabbers' who at the beginning of the last century squatted a piece of derelict land and created allotments so they could feed their families; and to the Abbey of Stratford Langthorne whose kitchen gardens were situated here. The garden is usually open during the daytime and the gardeners are always happy to stop and chat. With so many great gardens in London, a top ten was a very tough choice, so we will be running more garden features later in the year.
Ornate planters animate the intimate space, while the white gravel path provides a contrast in texture from the leafy evergreen shrubbery. Two projects especially, that we discussed at length over the years, have come to fruition. I worry for the safety of the Thames Path further down, one of the few remaining bits where you can feel you're in somewhere that is both industrial and wild, is under serious threat of steel and glass.
If it is sold, there is no guarantee that it will be even retained, let alone for public use. The business was, apparently, a disaster (not least, I imagine, because it was during the war when sugar was rationed) and tragedy struck, the family believes, when Karen's great-grandfather fell and died trying to mend the roof after bomb damage.
No, I don't know what makes a heritage wall either, but whatever they are, this is one. Nowadays the best you'll get is a tedious caravan under a bit of grey tarp, and even that's never of the old-fashioned Gypsy variety.
The cars and traction engine were presumably sold when he died as the house was sold at that time. On the occasions I've tried to get a closer peek (by taking the little offshoot on the right hand side of the footbridge over the 102(M) that leads from Westcombe Park to Charlton, the extremely severe cattlegrids served their purpose, keeping both hooved animals and Phantoms off the tracks. The newest sign in Greenwich is a revival of an 18th Century name for what remains of a ancient thoroughfare. Greenwich Council took over the house in 1925 but I assume the family kept the furniture and other fittings, especially things that have a personal (if distant) link like paintings. I guess the picture could have been taken at a different time of year when the nettles weren't waist high. In fact the first thing I thought of when I saw the steps at Enderby Wharf on the west side of the Thames Path was the crazy coastal rock carvings by the Abbe Foure on the northern French coast. All manner of environmental improvements and art projects along the waterfront between Lovells Wharf and Bay Wharf. They were based on the original steps that formed part of a landing stage that ferried workers between Alcatel and the ships moored in the deep water that received the cables produced in the factory onland. I certainly (somewhere) have a relatively recent photo of them clear of green goo – but ever since the company went, nature has moved in. Carol's spoken to the Greenwich Society and they have no minutes amongst planning applications that refer to the steps and also are not aware of Condition 9 being activated. Greenwich is one of a few London boroughs which still possess some waterfront industry to our benefit both economically and historically. The tiny, secret sliver of land that even people who knew it was there forgot it was there. Still pleasingly wild in parts, it's like seeing a beautiful princess in her knickers, just before she puts on the gown to be the belle of the ball.
Give it all a couple of years though and this is going to be one of my favourite corners of the park. The gardener I talked with told me that they're planning to stretch the opening hours gradually throughout the coming months. It was originally a private garden for workers at the West Ham Gas Works, the gas holders of which still stand nearby. Fruit, vegetables and flowers are grown, and rather than each person tending their own plot the Gardens are worked collectively. This is also the location of the Abbey's Gatehouse, and the ruins were discovered in the 1970s and excavated. Or you could go to one of their occasional events; their Harvest Festival (in 2014 this will take place on Saturday 13th September) is definitely worth making the trip for!
This 2 acre strip of wild woodland, ponds and meadow demonstrate what amazing transformations can happen in London. These gardens were created to give some space for gardening during the redevelopment of Kings Cross and St Pancras. The gardens date back before Kew to the 1670s when Bishop Compton started introducing exotic trees and plants. I confess that, like many things on this site, I let it go, and, frankly forgot about it, only remembering when I walked past.
Mark and I have been wondering if this means it might enjoy some level of protection, given all the controversy in this little part of town, but I'm not counting on it. This curious magpiedom, which amounted, almost, to Outsider Art in some cases, has all just quietly gone away, and no one saw it go.
Martin's School of Art and his hobbies were collecting steam traction engines and old Alvis cars which he kept in working order, if not 'spruced up' in his front garden. David, who sent me the photo, tells me that the alley, which runs between Maidenstone Hill and Winforton Street, originally ran much further north but post-war clearances severed it.
I'm looking for three paintings, a portrait of Captain George Brunswick Smyth, Smyth with his horses and dogs, and a painting of his yacht.
If I had the hours in the day it might be worth looking through the papers for 1925, the year of the sale and seeing if there was an auction, I guess. There is still some of the winding gear on Enderby Pier that guided the cables onto the ships, where they were stored in giant conical piles on ship. Volunteers and park gardeners have cleared the ghastly sycamore weed-trees and thick undergrowth to reveal what was left of the little formal garden. But a temporary venue for open-air theatre and live jazz recitals for a few days in the summer. The site was originally owned by the Commercial Gas Company's rival the Imperial Gas Company, but when the Imperial were brought out the Commercial built the garden to house memorials to its workers who had died in two world wars. The Yatsuka Tree peonies were presented to the City by the Japanese Island of Daikonjima as a symbol of goodwill in April 2006. The gardens were used for numerous grand garden parties, Lord Leverhulme being a patron of the arts.
An open garden, it acts as much as a community resource as a growing space and is obviously much loved and valued by people in the locality.
One of just two Scheduled Ancient Monuments in the Borough of Newham, they have been buried again as they are too fragile to be left exposed but replica walls have been laid on top to show the location of the gate and the outline of its walls. Opened in 1984 the park was previously the site of the coal drops – huge coal storage bunkers that were at the heart of Kings Cross goods yard. As the constant change of development work meant that a permanent site wasn't possible, gardens were created in skips so that they could be moved to a new location when necessary. The idea was to create a garden that reflected the diverse cultural heritage in Southwark and is tended by groups of gardeners with Irish, Vietnamese, South Asian and Afro Caribbean backgrounds.
But now we have it and no longer do we have to trudge round Creek Road risking life, limb and lungs to get from one part of the Thames Path to the next. I'm guessing it was around the time when Greenwich lost the vast majority of her junk antique shops too.
He used to drive the traction engine to steam rallies and had another one or two of them he kept in Wales. The works in question were left to Lady Rose Emily Maryon Wilson by her aunt Constantia Smyth, the widow of the captain.
Once the private garden of the Astronomer Royal, the first of which was John Flamstead in 1675, the Observatory garden is now part of the public Greenwich Park, London's oldest royal park. Initially destined to be a lorry park, the land was given to the London Wildlife Trust to create a wild space that can be enjoyed by all.
The Skip Garden is currently located to the rear of the University of the Arts and now has a cafe and regular plant sales.
With the redevelopment of Kings Cross railway lands Camley Street has a new set of neighbours who can come and enjoy pond dipping and watching wildlife.